With the new 8190, Algo Communication Products has built the perfect paging speaker for classrooms, cafeterias, and other places where you want HD audio paging plus a digital clock.
The wall-mounted speaker also has a built-in microphone with call button for ambient noise monitoring and two-way audio.
Algo 8190 comes in two models, one with integrated strobe lights for visual alerting and one without:
Let's take a closer look!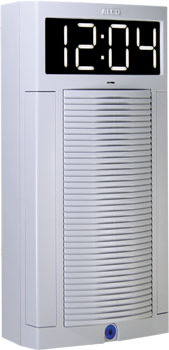 Algo 8190 Classroom IP Paging Speaker & Digital Clock
In this blog, we're going to cover the primary features of Algo 8190:
4-Speaker Array with Asymmetric Sound Dispersion
Network-Updated Digital Clock
RGBW Strobe Lights
Built-In Microphone & Call Button
SIP & Multicast Support
4-Speaker Array with Asymmetric Sound Dispersion
8190 isn't a single speaker: it's actually four self-amplified speakers in one.
The four-speaker line array is used to disperse sound in an asymmetric fashion, which helps the speaker to fill the classroom better than comparable speakers.
It controls the audio being projected upwards to reduce reflections, which can cause muddling. The sound is thus projected more directly into the ears of students and teachers.
8190 supports HD wideband audio, which makes voices sound richer, more natural. Improving the quality of voices has been shown to improve comprehension. In other words, 8190 is ideal for paging in emergency, safety, and security situations, or for playing background music.
This isn't marketing speak.
Algo has tested 8190 according to industry specifications like STIPA. STIPA, or the Speech Transmission Index for Public Address Systems, is a well-respected test for speech intelligibility.
And the speaker are held in a UV-stable, fire-retardant plastic enclosure.
Network-Updated Digital Clock
Algo 8190 has an integrated digital clock.
The digits are designed for high visibility. They are 2.3" tall with high-contrast white LEDs on a black background. The numbers are dimmable.
Using a network-connected clock provides one real benefit: you never have to set the clock.
8190 supports NTP (Network Time Protocol), which automatically updates the clock to keep it precisely on time, including for daylight savings.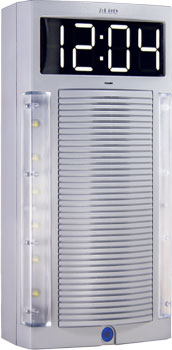 RGBW Strobe Lights (on Algo 8190S)
Algo 8190S includes built-in LED strobe lights on the edge of the speaker for visual alerting.
The strobes help improve accessibility for hearing challenged students. They also provide an additional mode of alerting, improving security.
These multi-color lights can be set to flash red, blue, green, amber, and white.
Through the browser-based user interface, you can select flash patterns, color combinations, and more, tailoring them to the specific event.
Built-In Microphone & Call Button
The speaker has a built-in microphone.
The microphone is primarily used to monitor ambient noise levels, adjusting the volume of the pages to suit the circumstances.
If the students are busy with groupwork with everyone talking, the pages are louder. If the students are quietly reading, the pages are quieter.
The microphone can also be used for talkback. In other words, you can set the speaker for two-way audio. The call
This feature is disabled by default, but it's simple to enable in the admin interface.
SIP & Multicast Support
Algo 8190 uses the open SIP protocol, allowing you to integrate it with any hosted or premise-based system that supports third-party SIP endpoints.
It supports up to 50 SIP extensions, so you can use it as part of a large zone paging deployment. It also supports 10 SIP extensions for playing .wav files for custom ringtones or set notifications.
To use 8190, you set the speaker as a paging extension over a VoIP system.
8190 can also be integrated with a multicast system for large-scale deployments. It supports standard RTP multicast, as well as Polycom Group Page and InformaCast. It can receive up to 50 zones.
Algo is well-known for making devices that integrate with an extensive range of VoIP systems and services. For a full list, visit Compatible Hosted / Cloud & Premise VoIP Phone Systems with Algo SIP Endpoints >
The speaker connects to the network using a standard Ethernet cable. It supports PoE/PoE+.