Polycom VVX x50 Series OBi Edition IP Phones are the first and only VoIP phones that are certified for use with Google Voice by G Suite.
Poly and Google have made configuring the OBi Edition phones with Google Voice by G Suite simple and straightforward.
Read our blog on How to Set Up Poly OBi Edition Phones with Google Voice by G Suite >
But what if you already have VVX x50 Series phones? Can you use them with Google Voice by G Suite?
Yes. But you need to convert the phone to the OBi Edition software first. (Note: Support for VVX 150 is forthcoming. It is not yet supported.)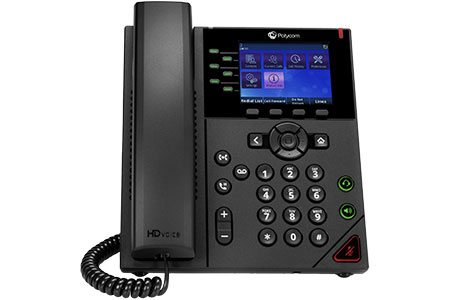 How to Convert Polycom VVX 50 Series Phone to OBi Edition Software
Here's how you do it:
Find the IP address of the phone

Go to Settings > Status > Network > TCP/IP Parameters, or
Press and hold 1, 4, and 7 simultaneously

Enter the phone's IP address in a web browser to open the phone's port site
Select Admin as the login type

The default password is 456

Go to Utilities > Software Upgrade
Under Server Type, select Custom Server
In the Custom Server Address field, enter the following URL

https://www.obitalk.com/VVX-OE/6.3.1.1/release.xml

Select Check for Updates
The phone will reboot, then you're good to go!