Axis C8210 is a revolutionary new device that makes any passive speaker into an amplified, network-connected speaker.
The passive speaker then gets all the benefits of network audio including:
Centralized management as part of a SIP system or service
Simplified and flexible control over features like zone paging
Integration with other network speakers
Built-in health monitoring to ensure your system is working properly
Using C8210 can help you establish a modern, network audio system without needing to purchase all new equipment.
Best of all: Axis C8210 works with any passive speaker.
Let's take a closer look!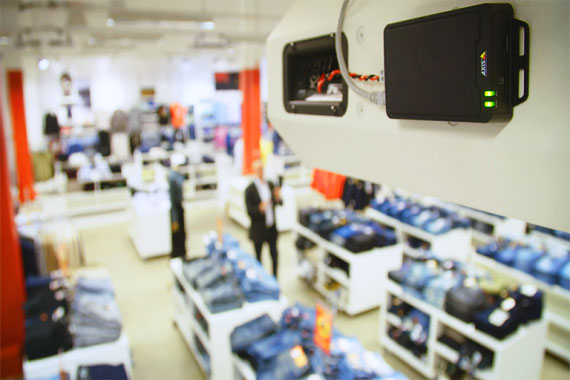 Axis C8210 Network Audio Amplifier
In this blog, we're going to give you an overview of the primary features of the C8210:
15W Amplifier
Digital Signal Processor (DSP)
Centralized Management
Scalable
Simple Connectivity
I/O Connector & IP Camera Integration
SIP Support
15W Amplifier
C8210 is a 15W amplifier for paging speakers. It fits in the palm of your hand and comes with Velcro tabs that allow you to mount it on the back of the speaker or right next to it.
If you daisy-chain speakers together, C8210 can amplify more than one speaker. Make sure to check the combined impedance and wattage required by the speakers. It does have over-current protection, but you should still check.
C8210 supports 4-16Ω impedance speakers. When you install the amplifier with a speaker, you can test the impedance to make sure everything is ok. Here's how to test impedance:
When you install the amplifier, the "SPK" light will flash green
Press and hold the "Control" button until you hear tones from the speaker
If everything is ok, the "SPK" light will turn solid green
Note that for the full 15W amplifier, it needs to be powered using PoE Class 4. When used with PoE Class 3, it has a maximum output power of 6W. If you don't need the full 15W, you can save on energy costs by using the lower PoE class.
Digital Signal Processor (DSP)
C8210 has a built-in digital signal processor (DSP) to clarify the sound. Because of the DSP, you might notice a significant improvement in audio quality compared with your old setup.
It supports a fullband frequency response range of 20 Hz to 20 kHz, which means music in particular will likely sound much better than before.
You can use the amplifier to play background music, including playlists.
It supports MP3 files up to 320kbps or WAV files. You can stream music either through the network or offline using music stored on a microSD, microSDHC, or microSDXC card (up to 128GB).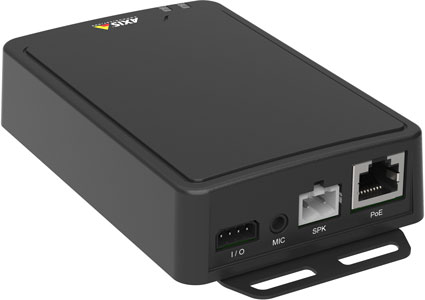 Centralized Management
Using audio management software like Axis Audio Player, you can centrally manage all the Axis network audio devices in your system from a single workstation.
For example, zone paging becomes much easier to set up. Because nothing is hardwired, you can also change which speakers are in which zones via the audio management software as circumstances dictate.
You can broadcast live, scheduled, or triggered announcements.
The system can synchronize audio for up to 30 speakers using unicast or for literally 100s of speakers using multicast with no additional hardware needed.
C8210 supports system health monitoring, which makes sure that all your speakers are connected and running properly, reducing management costs and streamlining maintenance.
Scalable
Network audio systems are much, much simpler to scale than traditional audio systems.
All you need to do is connect a compatible network audio device to your network and it will show up in your audio management system.
You can set up an essentially limitless system, including controlling all the speakers on split campuses via a VLAN and more.
Simple Connectivity
How do you connect a speaker to the amplifier?
To connect the passive speaker, use the C8210's 2-pin terminal block for speaker output.
The amplifier comes with a 2-pin connector that makes connection simple and secure. Screw the positive and negative wires into the connector, then plug the connector into the amplifier. The amplifier drives power to the speaker using PoE.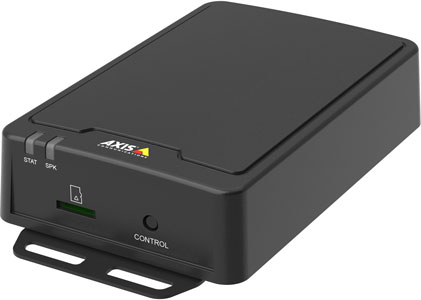 I/O Connector & IP Camera Integration
C8210 also has an I/O connector that lets you integrate external devices to enable extended functionality. The possibilities are nearly endless: passive infrared sensors, door contacts, glass break detectors, LEDs, and many more.
One highly useful integration is with an Axis IP camera. When you connect a compatible camera to the amplifier, you can, for example, set the speaker to play a message or sound an alarm if the camera detects motion.
SIP Support
Axis prides itself on their open-standards approach to network integration. C8210 is an open SIP device, which means it's compatible with a broad range of VoIP systems and services. Axis has tested it with Cisco, Grandstream, Asterisk, and other systems.
If you only need a single speaker, you can set it up as a Peer-to-Peer SIP client. This means you could, for example, connect a speaker to a SIP phone, then use the SIP phone as the paging microphone.
C8210 also supports VAPIX, which is Axis's API for controlling nearly all the functionality of Axis devices.