Fanvil has emerged as one of the most forward-thinking and reliable manufacturers of network-connected intercoms on the market today.
With the i10 Series, Fanvil has designed an elegant, ultra-compact intercom that fits in your hand: it measures less than 3.5" square.

In that small package you get a full-duplex HD speakerphone with one or two configurable buttons, plus an option with an HD video camera.
Fanvil ensures broad compatibility with VoIP systems and services using the open SIP protocol.
The compact design means Fanvil i10 intercoms work not only for offices, but are also excellent for apartments, schools, hospitals, nursing homes, and hotels.
The Fanvil i10 Series consists of three models: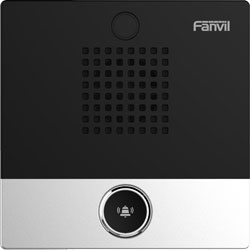 Fanvil i10 IP Intercom
Fanvil i10 is a SIP intercom with one button. Through the web interface, the administrator can set the button, which is a DSS key, to call an extension and other functions.
It is full-duplex speakerphone with a 1W speaker that broadcasts HD audio. Acoustic echo cancellation clarifies the sound.
The intercom is built to last: it meets the IP54 standard against dust and water ingress. It also has an extended operating temperature range of -4°F to 122°F, so you could use it in a warehouse, hangar, or other indoor space that might be exposed to cold or heat.
i10 is simple to deploy, configure, and manage centrally using the secure browser-based interface. You can control a whole fleet using the Fanvil Device Management System.
It connects to your network using Ethernet and you can power it using PoE. It has short-circuit input/output interfaces for connecting additional devices.
i10 supports two SIP accounts. Fanvil ensures compatibility with an unbeatable range of VoIP platforms: 3CX, Broadsoft, Asterisk, Elastix, Yeastar, OpenVox, and many more.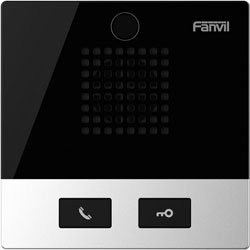 Fanvil i10D IP Intercom
Fanvil i10D is identical to i10, except that it has two buttons instead of one: call send or call answer and unlock door.
As with i10, the buttons are DSS keys and so configurable by the admin.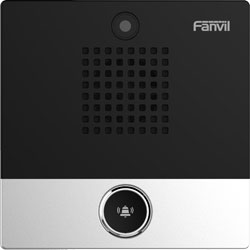 Fanvil i10V IP Video Intercom
Fanvil i10V adds an integrated HD video camera to the excellent audio performance and network connectivity of i10 and i10D.
The camera's 1MP color CMOS sensor takes 720p HD video. The camera's lens provides a 90° viewing angle for capturing faces that are close to the intercom.
The lens lets in lots of light: you get video down to 0.1 lux, which is roughly equivalent to nighttime with a full moon.
Backlight compensation ensures that faces will not be obscured if they are in shadow with light behind them.
The video is sent to a connected device through the network.
You could, for example, connect a Fanvil X7 IP Video Phone for door entry security. When a guest presses the intercom's button, the receptionist would receive HD video and audio from the i10V. They could then screen visitors and let them in from the phone.
All with an intercom less than 3.5" square!