Yealink continues to push the envelope for VoIP phone technology.
With the newly revamped Yealink SIP-T58A IP Video Phone, they've produced a VoIP desk phone worthy of the C-level.
T58A is available in three editions:
Yealink has worked with Microsoft to earn certifications for the Skype for Business and Microsoft Teams editions. The three use the same hardware and provide the same features, as detailed below.
The Microsoft editions take on the familiar interfaces of Skype and Teams, providing a seamless communications experience and reducing training time.
The SIP edition can be configured with a huge range of standards-based VoIP phone systems and cloud phone services, including 3CX, Asterisk, BlueJeans, BroadSoft, Fuze, Metaswitch, and Zoom.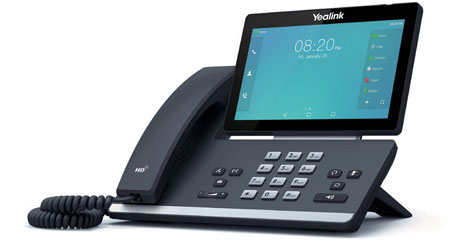 Yealink SIP-T58A IP Phone
When we say that the T58A is "worthy of the C-level," what do we mean?
Exquisite Audio Performance
HD Touchscreen Display
Video Conferencing Support
Forward-Looking Integrations
Exquisite Audio Performance
The most important feature of any business phone is sound quality.
You know the sound of a traditional phone: tinny and distant. It sounds bad and people don't sound like themselves. But the problem goes deeper: studies have shown poor audio quality decreases comprehension.
The reverse is true: better audio quality increases comprehension.
Thankfully, Yealink T58A features three excellent audio technologies:
Optima HD Voice
Acoustic Shield
Noise Proof
Yealink Optima HD Voice is a set of technologies that together provide rich, natural, wideband audio. Voices sound lifelike.
Yealink Acoustic Shield uses an integrated microphone to sense how far away sound is coming from. It then sets a virtual perimeter around the conversation, blocking out noises from beyond the "shield." The result is greatly reduced background noise for a much clearer conversation.
Yealink Noise Proof determines what sound is produced by humans and what isn't. It then eliminates non-human sounds. It's particularly useful for group conversations and when you're using the built-in HD full-duplex speakerphone.
Headset Support
For hands-free communications, T58A supports headsets in three different ways: Bluetooth, USB, and RJ9.
Bluetooth lets you use a wireless headset for maximum freedom in the office. USB headsets are plug-and-play devices, the simplest to use. RJ9 headsets are the traditional wired headsets for offices, reliable and cost-effective.
HD Touchscreen Display
The most visible feature of T58A is its large HD display. It measures 7" on the diagonal and has an HD resolution of 1024x600 pixels.
The display features 5-point capacitive multitouch support. In other words, it's like your phone has a small tablet attached to it.
Yealink designed the display for ergonomics: you can adjust the angle of the display. Which may not seem like a big deal but think about how often you've had to crane your neck to see what's being blanked out by reflections. Instead of having one angle for both short and tall people, now everyone can have the display at the most convenient angle.
The display also makes the phone perfect for video conferencing.
Video Conferencing Support
Yealink T58A is an HD video phone. It supports 720p HD video, including Skype for Business or Microsoft Teams video conferences on those editions.
Video conferencing is the most natural form of business communications, because you both hear and see who you're talking to. With T58A, you have HD video conferencing available at the touch of a finger.
Note that T58A does not come with a camera. It requires the Yealink CAM50 USB Camera, which plugs into the USB port on the top of the phone. CAM50 is a plug-and-play camera with a 1080p Full HD sensor, wide 70.2° field of view, and a 50° vertical adjustment range for getting the correct shot.
Forward-Looking Integrations
Yealink is making the desk phone into more than just a desk phone.
You can use the USB port with the Yealink DD10K DECT Dongle to enable support for up to four Yealink wireless handsets. Using the dongle, you can switch calls between desk phone and handset, giving you another option for mobile telephony.
The USB port also works for adding feature keys via a Yealink EXP50 Expansion Module. Or you can record calls directly at your phone using a USB flash drive.
Share content like images or charts directly through T58A. This simple method speeds up collaboration.
T58A can be integrated with IP intercom systems, making the desk phone into a control center for door entry control. Because it's a video phone, you can even integrate it with a camera for seeing visitors right at your desk.
The phone runs an Android-based operating system, which means you can add Android apps on your business phone, massively expanding the possibilities for what you can do on your phone.
On top of which, Yealink has developed an open software development kit (SDK), which allows T58A an expansive ability to integrate with third-party applications. You can customize and optimize your business telephony experience.