Polycom RealPresence Trio 8800 is the first conference phone to be Microsoft Certified for use with Skype for Business. But it's much more than just a Skype for Business conference phone. It's a collaboration hub, enabling audio conferencing, video conferencing, and content sharing. And all of this can happen with a native Skype for Business interface using an intuitive, smartphone-like display.
For businesses who use—or want to use—Microsoft's popular unified communications platform, you can't find a better solution for conference rooms and executive offices. It's a testament to user-centered design and enterprise expertise.
People ask what "Microsoft Certified" means. The Trio has been thoroughly tested to work with Skype for Business, earning Microsoft's endorsement. They advertise it on their website. You get software updates and support, a full feature-set, simple importation of contacts, and much more.
When used with Skype for Business, the Trio shows the Skype for Business interface, including colors and icons, so you have a seamless experience shifting between smartphone app, PC program, and the Trio.
The Trio does more than work with Skype for Business: it enhances the Skype for Business experience. We're going to discuss the three primary solutions that the Trio provides for SfB users.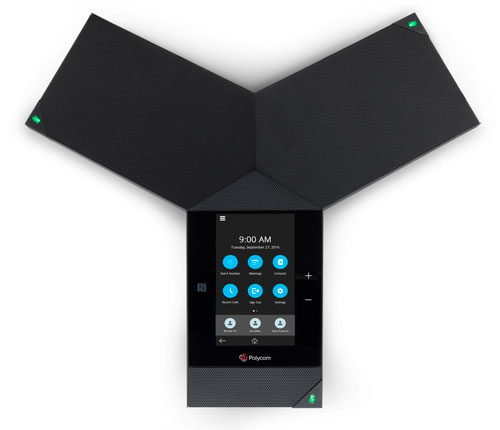 Polycom Trio + Skype for Business
The Trio is named the Trio because it enables the three most requested collaboration features for business: audio conferencing, video conferencing, and content sharing.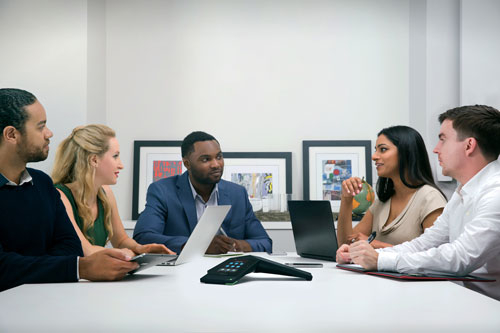 Audio Conferencing
The Trio 8800 is a top-class audio conferencing device. A recent Wainhouse Research analysis put it this way: "audio performance was exceptional during audio calls, video calls, and when used as a USB or Bluetooth speakerphone (group add-on mode) with personal devices and third-party collaboration software."
Pretty much everyone who uses a Trio—or is talking with someone using a Trio—comes away thinking that Polycom has outdone themselves with the Trio. For conference rooms, even with tricky acoustics like high ceilings or awkward angles, you get incredible audio quality. The three cardioid microphone array picks up voices in 360° out to 20 feet. Polycom Acoustic Clarity and NoiseBlock technology have been engineered to clarify the sound of full-duplex conference calls in the real-world conditions of a busy office.
Using Skype for Business, you can use the Trio to place any type of VoIP call you would normally be able to place, including 5-way local conferencing.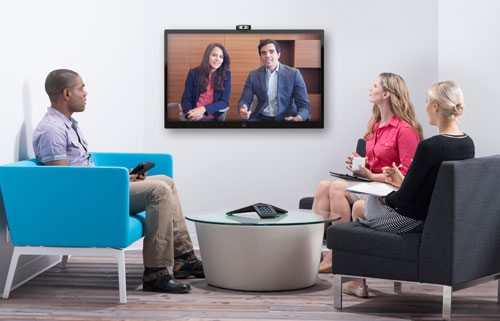 Video Conferencing
When used with the Polycom Visual+ accessory, the Trio enables video conferencing and content sharing.
The Polycom RealPresence Trio 8800 Collaboration Kit used with Skype for Business provides a complete video conferencing solution for smaller groups. The Collaboration Kit includes a Trio, a Visual+, and a Logitech C930e USB camera. According to the Wainhouse report, it takes less than two minutes to pair a Visual+ with a Trio.
The Visual+ can then support 1080p30 video conferencing, connecting to an HD display using HDMI. You can perform point-to-point or multi-point teleconferences, and these conferences can be performed with participants using PCs or mobile devices like tablets or smartphones. Because the Trio features native Skype for Business integration, you get full feature controls like scheduling meetings, additional participants, and enabling or disabling self-view.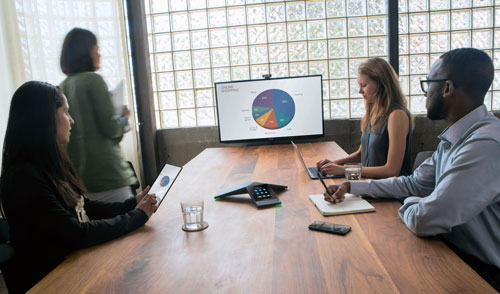 Content Sharing
The Polycom Visual+ also enables local content sharing through Skype for Business, both when you're in a call or when you're not. Sharing in both ways is as simple as tapping the Present icon (it looks like a computer display), then choosing how you want the information to display. As with video conferencing, your content is shared in 1080p Full HD resolution.
What kind of content can you share? PowerPoint presentations, Excel spreadsheets and charts, photos, HD videos, and more. You can share content with members in the room, with remote participants, or both simultaneously. You can share from endpoints connected on the same VLAN, including PCs, tablets, and smartphones. You can also share content wirelessly using Bluetooth or NFC, or using simple USB plug-and-play connectivity.
So it's clear to see: Polycom RealPresence Trio 8800 with Skype for Business is a complete collaboration solution for business.