Talkaphone makes VoIP call stations that provide network-connected solutions for emergency communications.
Talkaphone call stations are manufactured in the USA. They're trusted for critical communications in the most important places: college campuses, public parks, subway and train stations, business campuses, healthcare facilities.
Using VoIP means Talkaphone intercoms offer notable advantages over traditional intercoms.
First off, because the VoIP call station uses a standard Ethernet cable for connectivity, you don't need a whole separate wiring system. You can power the call station using PoE (Power Over Ethernet) with a PoE switch or PoE injector. Doing this means you only need to run a single Ethernet cable to the call station to connect it to the network and power it.
Because they're connected through the network, you're able to centrally manage your whole fleet. Talkaphone IP call stations are controlled using a web-based user interface.
All Talkaphone VoIP products support the open SIP communications protocol and are compatible with VoIP systems like Cisco UCM.
Let's take a look at a couple of specific models to give you a better idea of the advantages Talkaphone call stations offer.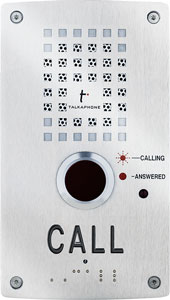 Talkaphone Network-Connected Call Stations
Talkaphone VOIP-200C
Talkaphone VOIP-200C is a compact, flush-mounted call station with a single call button. VOIP-200C is useful anywhere you need an ultra-reliable intercom: lobbies, gateways, toll booths, and more.
Because the call station is a VoIP device, it has notably improved audio quality compared with traditional intercoms. Better sound quality leads to increased comprehension, improving security that much better. All you need to do to initiate a call is press the button. After that, it's a hands-free full-duplex experience.
VOIP-200C is built for long-term outdoor installation. It's IP66 rated against water and dust ingress. The faceplate is made from marine grade stainless steel. It has an extended operating temperature range of -40°F to 158°F.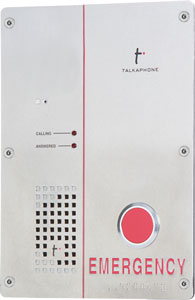 Talkaphone VOIP-500E
Talkaphone VOIP-500E is a flush-mounted emergency station for outdoor installation. As with VOIP-200C, VOIP-500E has incredible two-way hands-free audio.
Use VOIP-500E for emergency communications for vital applications: campus security, hospital and elderly housing complexes, industrial parks or factories, and more.
VOIP-500E meets ADA standards for accessibility. The letters spelling EMERGENCY are raised with the word in braille underneath to help sight-challenged people. The call station has LED lights to indicate call status to help hearing-challenged people.
Self-diagnostic technology tests the button, microphone, and speaker on a configurate schedule, so you'll always know that the call station is working properly.
The call station has two Ethernet ports. One port serves to connect it to the network and provide PoE power if you're using it. The second enables the simple connection of a network device like an IP camera, which means you can improve security while keeping your infrastructure lean.
It also has three auxiliary inputs and three auxiliary outputs. These allow you to connect devices like a door strike, making the VOIP-500E into an access control or door entry solution, as well.
VOIP-500E is IP66 rated and has an operating temperature range of -40°F to 131°F.
Of course, every call station must be mounted in something. Talkaphone also makes some of the best mounts and housings in the business.
Talkaphone Emergency Phone Towers
Talkaphone also makes an extensive selection of mounts and housings for specific applications. Particularly notable are their emergency phone towers, which house emergency phones in rugged, highly visible towers.
Emergency phone towers are found in use in locations like public parks, college campuses, business campuses, and healthcare facilities.
Let's take a closer look at an example.
Talkaphone ETP-MT/R-SOLAR
Talkaphone ETP-MT/R-SOLAR is an emergency phone tower with a solar panel to power the emergency phone, lights, and other electronics. It holds a single Talkaphone call station in a solid quarter-inch steel tower.
It stands over nine feet high and has a high-gloss Safety Blue coating. The coating is resistant to fading and graffiti. The 3.25" letters spelling EMERGENCY are a highly reflective white with wide-angle visibility.
The included solar panel sits above the tower. It can be angled for optimal exposure. The solar panel is a simple, green way to get power in high-risk areas or spaces that are difficult to reach with traditional power lines.
The tower comes with a blue LED light that sits atop the tower. The light is designed to be continuously illuminated for increased visibility and to give people peace of mind. The power-efficient LED has a 50,000 hour rating. When someone is using the phone, the light flashes.
The tower also has an LED panel light that illuminates the emergency phone, so it'll be usable even in the middle of the night.
Related Blogs