Eve is VP, finally. She's worked for years, put in the hours, built trust, built respect — built the business. And the business is moving up. In fact, she now gets to set up a new conference room.
First step: get a conference table. The budget allows for some beautiful solid maple with a red-hued finish. Big enough for twenty people, it'll be their center for collaboration for years to come.
Second step: communications.
Yealink CP960 IP Conference Phone fits the budget, as Yealink phones always do. Eve appreciates the Yealink Optima HD and Yealink Noise Block audio technology. Optima HD means rich sound. Noise Block means far fewer distractions.
The sleek silver design with a bright, color-rich touchscreen sets it off on the maple table. It runs a version of Android, which makes it familiar. Bluetooth and WiFi support comes built-in. Call recording either locally or using a USB stick is also supported.
The three-point design means the CP960 picks up voice in 360° out to 20 feet. Which is great, but the conference table is big. Eve is worried that even with the CP960's excellent pick-up, it's still just one device. It's still going to sit in the middle of table.
What really sells Eve on the Yealink CP960 is an accessory that solves the problem of picking up all the voices while retaining the nice looks: the Yealink CPW90 Wireless Microphones. Why drill holes in the conference table for wired mics when you could use wireless?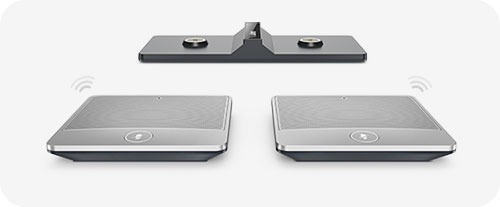 Yealink CPW90 Wireless Microphones
CPW90 is a full-duplex DECT microphone with 360° pick-up out to 10 feet. The mic supports Yealink Optima HD audio technology and features echo cancellation. With an 800mAh battery powering 19 hours of talk time or 11 days of standby time, CPW90 can easily handle even a sardine can day stuffed with meetings.
CPW90 is sold in pairs with a convenient dual charging cradle, which doubles as a storage cradle. It's available in a bundle with a CP960 or separately. If you purchase the CP960-CPW90 bundle, the CPW90 microphones will be registered with your conference phone out of the box. If you purchase the mics separately, you'll need to register them yourself.
Here's how to use it.
How to use Yealink CPW90 wireless microphones
CPW90s are simple, elegant devices. They feature only one button: a capacitive mute button. (Capacitive means it functions by picking up electrical impulses, like a smartphone's screen; it's not a mechanical button.)
There are two ways to turn on a CPW90.
Long press the mute button on the microphone for 3 seconds, or
Put the microphone in its charging cradle
This means, if you want, you can always have the microphones on and available whenever you're having a conference call. Just mute or unmute the microphone as needed.
To turn off the microphone, long press the mute button. A solid red light will appear for 3 seconds to indicate it's turning off.
Charge a CPW90 by putting it in the charging cradle. The charging cradle works by connecting to the conference phone using a Micro USB to USB cable. (The Micro USB end plugs into the cradle.)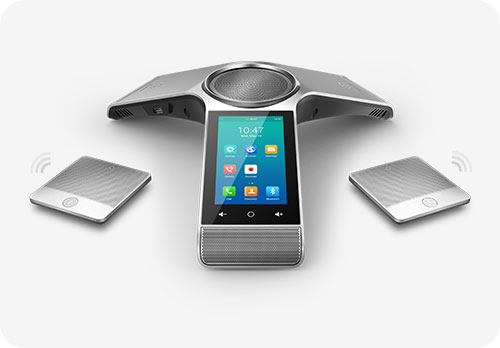 Recommended placement for Yealink CPW90 wireless microphones
CPW90 has a wireless connectivity range of over 60 feet when not obstructed. This gives you an amazing amount of flexibility in terms of placement.
The microphone has a pick-up range of 10 feet, which means it needs to be closer to speakers than the conference phone. They're omnidirectional microphones, so you don't need to worry about facing the microphone correctly.
Manually registering Yealink CPW90 wireless microphones
Registering a CPW90 is a simple process.
First, on the CP960 conference phone:
Tap the Settings button
Select Wireless Microphone
Tap the plus-sign button, which will make the CP960 search for microphones
Then turn on the CPW90. The indicator light will flash yellow. When registered, the indicator will turn off.
You'll know the microphone is registered when the screen on the CP960 shows the information of the CPW90: battery, talk time remaining, and standby time remaining.
If you have multiple CP960 conference phones, know that a CPW90 can only be registered with one phone at a time.
Checking the status of Yealink CPW90 wireless microphones
You can check how much battery life is left in each microphone on the conference phone.
All you need to do, starting from the home screen, is tap Settings > Wireless Microphone > Detail. You'll get the following information.
Register status
Microphone model
IPEI (international mobile equipment identity) number
Battery level in percentage
Standby time remaining
Work time remaining