Enabling your smartphone to connect to wireless access points, whether at work or at home, lets you save on precious data usage. What you may not have considered is how VoIP telephony through wireless access points can also save you from using your minutes, or turn your cell phone into another on-site phone extension.
Downloadable apps can transform your personal cell phone into an important business tool. When you walk into your business, it can instantly connect to the network via Wi-Fi and act as a phone extension. All the while it can still connect to your cellular network. If you are a business with remote locations, a VoIP cell phone lets you take your company network's phone extension with you, connecting to wireless access points in each location.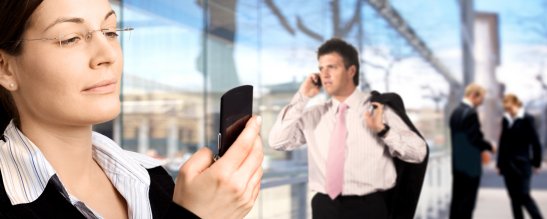 Personal and Business Solutions
Some online services offer free IP calling through your computer, cell phone or any other connected device. Feature-rich paid services are also available, and are sometimes a cheaper alternative to landline phone services.
For your business, the best direct solution may be a service from name brand VoIP solution providers such as Switchvox or Cisco.
Cell Phone Apps and Off-Site Connections
Switchvox Mobile is available for Android, iPhone and BlackBerry. With this downloadable app, your cell phone can leverage your existing IP network to make and receive VoIP calls. Switchvox Mobile provisions your smartphone to share the same extension as your primary desktop phone, and view emails, call details, voicemails and more.
Cisco Mobile is also available for Android, iPhone and BlackBerry. This app also works by leveraging your existing IP network. With Cisco Mobile, you can host or attend meetings while on the go. Enjoy video conferencing, file sharing and a fully interactive experience.
These are two examples of popular VoIP mobile applications. Both work via wireless access points or the cellular network, but wireless access points provide a more cost-effective and uninterrupted connection. Applications such as these may also require additional hardware such as Switchvox or Cisco IP PBX devices.
VoIP Cell Phone Benefits:
Cut costs associated with expensive cellular plans
Leverage existing equipment (cell phone, network, etc.)
Access on-site networks from cell phone
Switch seamlessly between VoIP and cellular connections
Ideal for teleworkers and mobile employees
Vs. Wireless Phones
Traditional wireless phones for business connect via DECT or wireless access points, but do not have access to a cellular network. VoIP cell phones enable the user to take their phone extension from the office to anywhere a cellular network is available (and today, that's pretty much everywhere).
What cell phones are notoriously bad at are battery life and longevity. Smartphones usually last a day per charge and have an average lifetime of only one and a half years. VoIP cell phones may not be a permanent VoIP solution, but they offer a high-tech means of making sure mobile employees never miss a beat.