2N makes network-integrated answering units that combine an intuitive touchscreen Android interface with an elegant style that could enhance a luxury apartment.
When shopping for an answering unit or intercom for an apartment, you need to ask several questions:
How simple is the device to use?
Is the audio quality up to snuff?
Does it improve security?
Does it provide additional benefits like displaying the weather or integrating with video?
Does it look good on the wall?
Does it connect with the IP network or do you need separate wiring and power systems?
We believe 2N answering units answer all these questions positively.
In this blog, we're going to cover the full range of Axis answering units, which are designed for installation in apartments, condos, and similar locations.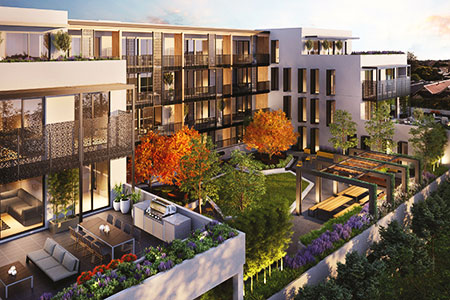 2N IP Answering Units
2N IP answering units simplify installation and management while offering a range of features beyond what traditional intercom systems can offer.
For example, you can integrate the Indoor Touch 2.0 and Indoor Compact with the 2N Mobile Video cloud-based app for secure door control anywhere using an Android or iOS smartphone.
The user can customize their experience, including selecting widgets on the Indoor Touch 2.0, making the display brighter or dimmer, choosing personalized ringtones, setting parental controls to prevent children from accidentally unlocking the door, and much more.
For administrators, 2N saves a lot of headaches. The units are managed centrally from an intuitive web-based interface.
The answering units connect to open SIP systems and services. They have been tested with a wide range, including 3CX, Asterisk, BroadSoft, Cisco UCM, and many more. Confirm compatibility with the 2N Interoperability Manual >
Because 2N makes network-connected answering units, installation is simplified. You don't need separate wiring for the intercom system. You can use Ethernet cables.
The units can be powered by PoE (Power Over Ethernet), which means you can reduce the amount of electrical cabling, as well, saving big on electrician costs.
2N makes three different models of answering units:
2N Indoor Touch 2.0
2N Indoor Compact
2N Indoor Talk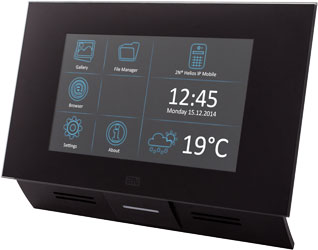 2N Indoor Touch 2.0
2N Indoor Touch 2.0 is an HD video intercom with Android interface. This award-winning communications solution adds class to any apartment.
The device offers two-way HD audio with ambient noise suppression.
Indoor Touch 2.0 has a beautiful 7" color touchscreen display with a 16:9 aspect ratio and HD 1024x600 resolution. The display is made from 0.157" tempered glass, which is scratch resistant.
The display shows video from a connected video intercom or IP camera. The video is one-way. It can be integrated with the 2N Mobile Video app for video communications anywhere. More on that at the end of the blog.
The home screen displays the time and weather, and the user's choice of five widgets. You can also access settings to edit the widgets and information on the top bar. The bottom bar provides the familiar Android navigation bar – back, home, and recent apps – as well as volume control. When idle, the device dims to conserve power.
You can install Android apps on the answering unit itself, which means you can, for example, integrate home automation systems with your intercom, providing a central touchscreen interface.
Indoor Touch 2.0 comes with either wired Ethernet or wireless 802.11n Wi-Fi connectivity.
2N Indoor Touch 2.0 comes in four versions:
If you don't want to mount the Indoor Touch on the wall, 2N also offers a table stand in black and white.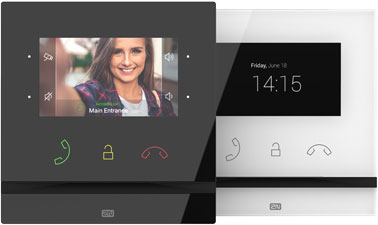 2N Indoor Compact
2N Indoor Compact is an unobtrusive HD video intercom. It has a minimalist design that fits contemporary home design perfectly.
Compact features a 4.3" touchscreen display. The glass is chemically strengthened at 788° in a salt bath to increase durability and scratch resistance.
Unlike the Indoor Touch, Indoor Compact does not support Android. That does not mean, however, that features are lacking.
Like the Indoor Touch, Compact can display video from a connected video intercom or IP camera. It can also be integrated with the 2N Mobile Video app for video communications anywhere. More on that in a second.
The interface remains clear and simple to use. It displays the date and time. Along the bottom are large, RGB backlit icons for call answer, door unlock, and call end.
The four controls along the edge of the time display provide quick access to the directory, a call list (to check missed calls), do not disturb mode, and settings, where you can adjust screen brightness, customize the ringtone, and so on.
While small, Indoor Compact still offers two-way HD audio.
Indoor Compact also works well as a small, secondary intercom in a larger apartment. Instead of making someone go to the front door (where answering units are typically placed), you could have a Compact in the living room.
2N Indoor Compact comes in two versions:
2N Indoor Talk
2N Indoor Talk places the emphasis on audio quality and simplicity. The streamlined design
The device supports two-way HD audio. The innovative 2W speaker plays communications loudly and clearly.
Rather than the Android interface of the Indoor Touch 2.0, Indoor Talk keeps things simple.
The capacitive touchscreen display with bright RGB backlighting shows 7 clear icons: call answer, door unlock, call end. A second row lets you adjust the volume up and down, mute the microphone, and mute the ringer.
You can connect it to the doorbell, which can then activate a ringtone from the Talk. You can then speak to the visitor or unlock the door.
When mounted properly, the unit lies almost flush with the wall, protruding just 0.39".
2N Indoor Talk comes in two versions: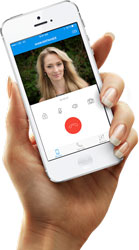 2N Mobile Video
2N offers the 2N Mobile Video app. This simple to use app allows the user to see what's happening at their doorway from anywhere using a connected video intercom or IP camera.
You can communicate with the visitor with excellent sound quality.
Using the app, you can securely open your door.
Image preview lets you decide if you want to take the call.
Mobile Video is a cloud-based service available for Android and iOS.