Algo Solutions manufactures highly reliable paging and intercom solutions that are simple to manage. From paging speakers to door phones to zone paging adapters, Algo builds complete solutions for a professional public address system.
In this blog, we're going to give you an overview of Algo's IP solutions.
Algo IP Solutions
All Algo IP products supports the open SIP protocol. This means you can integrate them with an enormous range of VoIP systems and cloud services. A few of the options include:
3CX
Asterisk
Avaya
BroadSoft
Cisco
Mitel
Polycom
Yealink
For a full list, visit Compatible VoIP Phone Systems on Algo's website >
By using native IP equipment, you eliminate the need to employ FXS devices or ATAs to integrate your whole paging system. Instead, you connect the devices to your IP network, then centrally manage the entire fleet using a premise-based or cloud-based VoIP system.
This makes the system limitless. You can connect as many devices — speakers, door phones, anything — as your management system supports. Using VLANs, you can securely manage all the devices even across campuses or across the country.
Let's take a closer look at specific lines.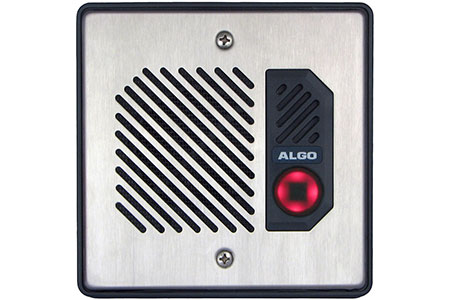 Algo IP Door Phones
Algo makes a range of door entry devices and intercoms for communications and access control in lobbies, gateways, delivery entrances, and similar locations. Here are three:
Algo 8039 Video Intercom
Algo 8036 Touchscreen Video Intercom
Algo 8021 provides reliable communications for indoor or outdoor spaces. It has a stainless steel faceplate, plastic enclosure, and conformal-coated internals, making it a long-lasting, rugged option. 8021 has a single, backlit button, making it usable in all lighting conditions.
Algo 8039 has an integrated 720p HD camera, giving you visual security on top of audio communications. The camera has a fisheye lens, which gives you digital pan, tilt, and zoom options. The keypad enables a number of access control options, including calling extensions or one-touch intercom. It meets the IP66 standard and is designed for indoor or outdoor installation.
Algo 8036 takes it even further with a 5.7" capacitive touchscreen display and WVGA camera. The display was designed for viewing even in bright sunshine. 8036 uses an invisible light beam to detect presence and automatically wake up the device.
Algo also brings this excellence to speakers.
Algo IP Speakers
Algo speakers provide options for indoor or outdoor paging. Here are two network-connected speakers, one for indoors, one for outdoors:
Algo 8188 is an 8" ceiling speaker for paging, playing music, and broadcasting alerts in locations like schools, hospitals, offices, or airports. It provides wideband audio to increase comprehension, meeting NFPA 72 intelligibility requirements. Use it in a multicast deployment with any of the following types: RTP, Polycom Group Page, InformaCast, and SA-Announce.
8188 has a built-in microphone, making it a full two-way audio solution. The microphone also means that the speaker, when not playing music, can detect ambient noise levels and adjust the volume accordingly. It is rated for installation in air handling spaces. It comes in white or black.
If you want essentially the same speaker as 8188 but in a surface-mount configuration, check out Algo 8189.
Algo 8186 is a weatherproof horn speaker for loud, dispersed broadcasting in large spaces like stadiums, warehouses, car lots, and factories. Designed for all-weather performance, it meets the IP66 standard against dust and water ingress and has an operating temperature range of -40°F to 122°F.
8186 has a dispersion angle of 76° x 51° and a three-axis rotation design means to angle it appropriately. It also has built-in microphone to detect ambient noise levels to adjust the volume.
On top of producing speakers, Algo makes other important components for public address systems, including visual notification solutions.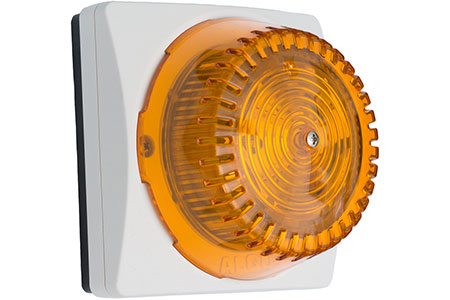 Algo IP Strobes
Algo IP strobes are highly useful for two situations in particular:
Signaling in loud spaces
Improving accessibility
Factory floors, train or subway stations, airports — all these spaces can be too loud for people to reliably hear pages or ringers, even when they're amplified. Strobe lights make sure that even in extreme noise levels, alerts will be received.
Hearing-challenged individuals can miss important or even vital alerts. Using a strobe improves accessibility for everyone.
Algo SIP strobes integrate with their paging and intercom systems, so you can set them to signal when calls come in, customize the light patterns, and more.
Algo strobes come standard with a clear cover. They also provide amber, blue, and red covers to let you choose what color the light will be.
Related Blogs