Axis Communications has done it again.
With Axis Q1700-LE License Plate IP Camera, the Swedish security giants have produced their first network security camera dedicated to reading license plates.
What applications does Q1700-LE work for? Here are some examples:
Tollways and traffic control
Parking lot security
Forensic evidence for police and law enforcement
Tracking cars or goods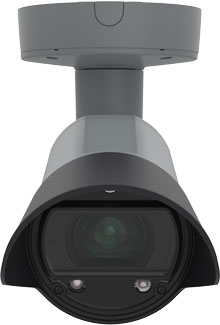 Axis Q1700-LE Network Camera for License Plate Capture
Do you need a dedicated camera for license plate capture? Many cameras have worked over the years.
But Axis makes a compelling argument for why you should consider the Q1700-LE. They've thought through every detail:
Optimized Optics and Sensor
Built-In Infrared Support
License Plate Capture Assistant
Extreme Weather Resistance
Third-Party Software Integration
Optimized Optics and Sensor
Axis optimized Q1700-LE for license plate capture.
It has been tested to provide clear images of license plates moving at up to 81 mph.
At the base level, the most important feature for license plate capture is pixel density, which means there are enough pixels to display each character to make them readable by software.
Q1700-LE offers highly detailed 1080p Full HD video at high frame rates.
The lens has a narrow field of view with 8x lossless optical zoom range, which gives the camera excellent focus and reach. It wastes no pixels on extraneous information.
It can be mounted up to 10m (33ft) high and 10m (33ft) from the road.
Electronic image stabilization and barrel distortion correction further clarify the picture.
Because of the professional optics, it has a range of 100m (328ft) during daytime. It also comes with built-in infrared lights.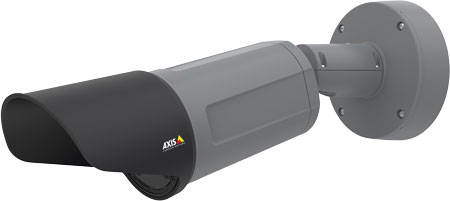 Built-in Infrared Support
Q1700-LE comes with built-in infrared LEDs for license plate reading in complete darkness.
With the built-in IR LEDs, the camera has a 50m (164ft) range in zero-light conditions.
Axis OptimizedIR technology adapts the infrared lights for different focal lengths. If the lens is set to a wider field of view, the camera adjusts the IR lights to reduce the range but provide better coverage.
The 850nm IR LEDs are highly power efficient and long-lasting.
If you want extended infrared coverage, check out Axis T90D20:
This external IR illuminator gives you a potential IR reach of 144m (472ft).
License Plate Capture Assistant
Axis includes their license plate capture assistant on the camera. This lightweight application is used on a connected workstation.
This simple assistant helps to align the camera properly when installing it. It tells you the vertical and horizontal angle, camera alignment, and capture distance. The assistant alerts you when the camera is outside the optimal parameters.
For best performance, you need to reduce capture distance as much as possible while maintaining good vertical and horizontal angles.
Camera alignment (roll angle) compensates for any side-to-side tilting so the license plate will be parallel with the bottom of the video frame.
After you finish adjusting the camera, the assistant calculates and applies the best camera settings for reading license plates.
Extreme Weather Resistance
Traffic installations are surprisingly harsh. Q1700-LE is designed for outdoor installation in rough weather conditions.
It withstands hurricane-force winds of more than 134 mph.
The unit comes with an extra-long weathershield with anti-glare coating to protect against rain and sunlight. The camera meets the IP66 standard against dust and water ingress. The aluminum enclosure makes it IK10 rated against impacts.
The glass front window is IK08 rated against impacts. (There is an optional IK10 rated front window available for extra protection.)
An integrated dehumidifying membrane reduces damage from condensation.
The camera offers an extended operating temperature range of -40°F to 140°F, making it as suitable for both Alaska and Arizona.
The gray design with black weathershield blends into traffic environments.
Third-Party Integration
Axis Communications is devoted to an open platform philosophy. A police district, for example, might already use a specific license plate capture system. Rather than force the district to buy an Axis system, Axis lets them keep their system.
Q1700-LE is designed to integrate with third-party edge or server analytics software. You can run the software on the camera or on connected servers or workstations.
There are benefits and drawbacks to both.
Running the software in camera reduces bandwidth load, because only the letters and numbers from the license plates need to be sent, rather than a full HD video feed. Because the network load is less, the system is more scalable.
But running the software in camera also limits the camera's processing power and increases processing time. This can reduce possible video resolution and the number of lanes a single camera can cover.
Server-based software can also be improved and upgraded much more easily, because the servers are much more powerful than the camera. With algorithms now bringing AI and neural networks into the fold, running server-based software can improve license plate capture.