Poly Sync 20 is a personal speakerphone with dual Bluetooth and USB connectivity.
We got our hands on a Poly Sync 20 UC USB-C and I've been testing it over the past few days. Here's our hands-on review.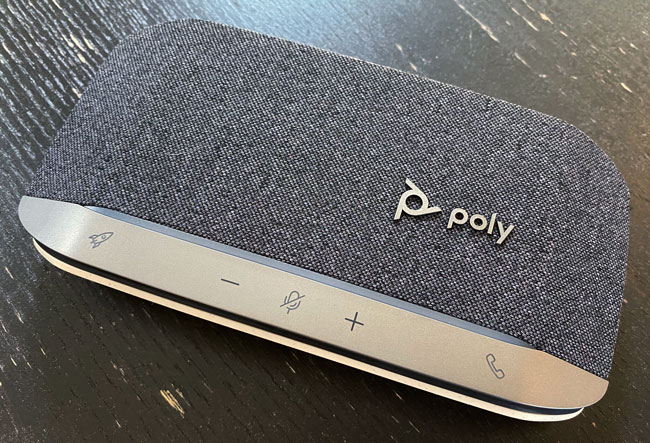 Poly Sync 20: first impressions
I really like the design. The speakerphone has a pleasing solidity to it. I've tried other speakerphones in the past that felt lightweight and cheap. The heathered grey fabric cover looks great and sets it apart from the competition. The speckled white plastic base also looks great. The two together give it a bit of a classic, almost retro vibe that I dug.
Between the fabric cover and the row of buttons, there's a translucent bar that lights up to let you know the speakerphone's status. During normal operation, it displays a light blue, but it changes color when you do other stuff. For example, if you mute it, the bar becomes red. When you're on a call, it's green. One nice touch is that when you change volume, it becomes a volume indication bar, letting you know visually that you have it turned up, say, to 70%.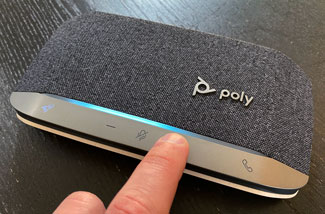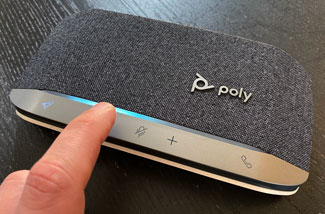 The buttons on top are capacitive touch buttons, indicated with clear glyphs. I do wish that the glyphs were a bit easier to see when not illuminated, particularly because the volume up, volume down and mute buttons are rather close together. Not a big deal at all, but a bit annoying.
There are five capacitive buttons: volume up, volume down, mute, answer/end call and the customizable "rocket" button, which is, oddly, the only one to be permanently illuminated. (Rockets… "launching" actions… get it?)
When you open the box, this button is covered by a sticker saying, "Customize in Poly software". Using Plantronics Hub (more on that in a bit), you can choose from six functions:
Play/Pause
Redial (mobile only)
VPA (Siri, Google Assistant, etc.)
Clear trusted device list
Status Check
Hold/Resume Call
The rocket button is a nice feature, letting you personalize your speakerphone experience in a meaningful way.
On Microsoft Teams editions of Sync 20, there's a sixth button: the Teams button. This button has the Teams logo for a glyph and launches the service directly. It's not on my model so I couldn't test it out.
There are two more buttons, physical not capacitive, on the right side of the speakerphone: Bluetooth and power. To pair Sync 20 via Bluetooth, hold the Bluetooth button down for two seconds. Select "Poly Sync 20" in your Bluetooth settings. It works as smoothly as every other Bluetooth device.
You have to hold the power button for two seconds to turn it on or off. This feels a bit longer than it should and was a bit confusing when I first used it. But I'm used to it now and it's fine.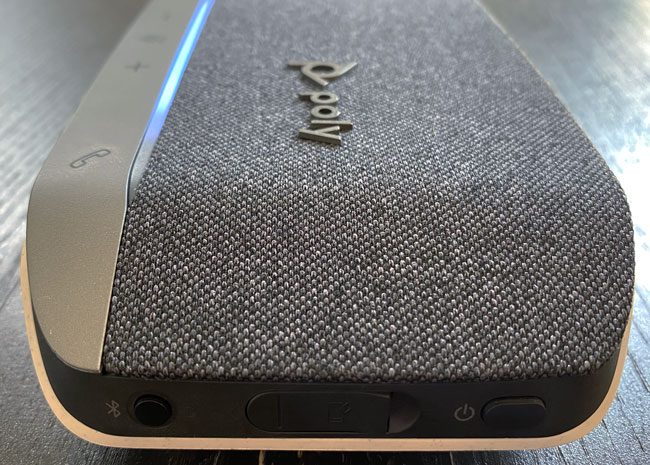 Sync 20: microphone range
Poly lists a microphone range of 7 feet. When we tested this out, the microphones picked up my voice clearly when I was standing around 15 feet away. That's twice as far! I spoke at my normal voice and the person at the other end could hear me just fine. I didn't adjust the placement at all; it was just sitting on the desk like normal. Importantly, I could also hear them very clearly without cranking the volume.
Sync 20 is advertised as a personal speakerphone, in other words, it's intended for use by one person. However, with that much range, you could probably use it in the huddle room, focus room or smaller conference room for small groups of a few people. Now, we didn't test it with a group, but this much range is crazy good.
Sync 20: sound quality
How does it sound on calls? Well, it sounds great. I've tried it out a bunch of times and voices are clear on my end, much better than I get with my iPhone's speakerphone. The people I've spoken to have said my voice is clear on their end. A bit of a pat answer but I don't have much more to say. Voices are clear, both ways, almost certainly an improvement on your smartphone.
How does Sync 20 work for music? I've listened to a variety of music and podcasts and, while I don't think the speakerphone beats the best Bluetooth speakers dedicated to music, it compares favorably. It's certainly better than a lot of other speakerphones I've heard. I could definitely see me using it to play music at home.
One important thing: you can set the audio equalizer to bass, flat or bright. To my ears, flat sounds the best. The bass setting makes voices and music somewhat muddy and bright somewhat brash. Of course, your ears may tell you something different. It comes set on bass, so if you think it's sounding a bit muddy, try changing the equalizer setting to flat.
How do you change the equalizer setting? Use Plantronics Hub.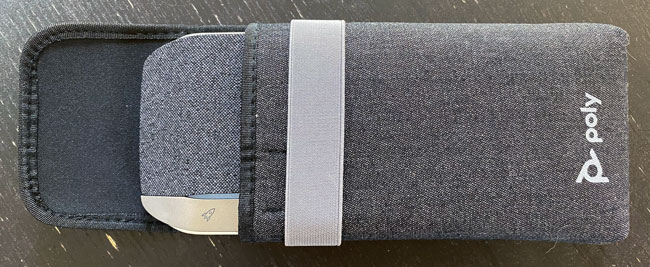 Plantronics Hub
Plantronics Hub is the control program for Poly speakerphones and headsets. It's available for Windows or macOS computers and Android or iOS smartphones.
When you first connect Sync 20 to your phone via Bluetooth, it'll direct you to download Plantronics Hub, a free app that lets you adjust settings, update firmware and so on.
Why does "Poly" Sync 20 need "Plantronics" Hub? In 2019, Plantronics merged with Polycom to become Poly. It's a bit disappointing that they still haven't yet updated the app to be "Poly" Hub. Using it on my iPhone 11, it's also very noticeable that they haven't updated the app to deal with newer style displays with the notch. There are big black bars on the top and bottom.
The app, however, works just fine. When you first use it, it'll have you update the speakerphone's firmware, which took me a couple of minutes, no wired connection required.
On a computer, just go to the Plantronics Hub download page (external link) and get it for Windows or Mac. Install it like any other program. It's a lightweight, easy to use program. Note that if you want to change the audio equalizer setting as I mentioned in the last section, I believe you can only do that using the computer app. I can't find the option on the iPhone app.
Sync 20: USB vs Bluetooth
One thing you might be curious about is the difference between using Sync 20 via USB or Bluetooth. Is there a difference? The answer: No, not really. There's no sound difference that I could detect, nor any difference in experience.
I didn't have any problems with Bluetooth while using it. I could go to another room maybe thirty feet away with multiple walls in between and the connection was stable. The connection has never been less than perfectly stable.
I could answer calls from my phone using Bluetooth that came in while I was listening to music from my computer using USB. In other words, it gives you simultaneous dual connectivity.
While I didn't test battery life, I was never in a situation where battery life became a concern. For what it's worth, Poly lists 20 hours.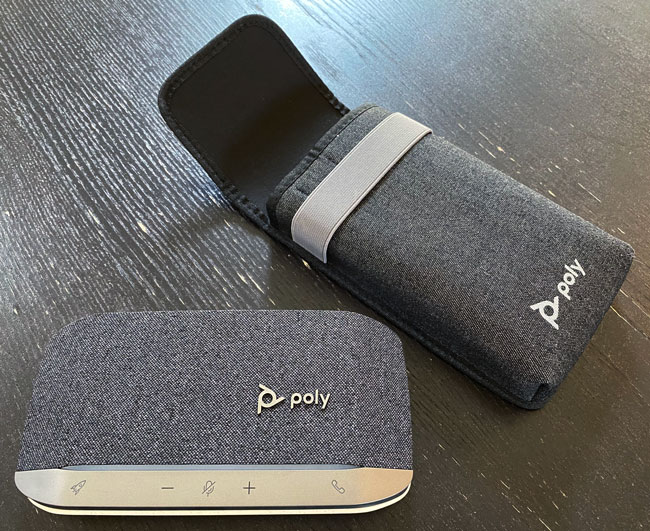 Sync 20: stray observations
The package includes a carrying case and a lanyard. The carrying case is made from a nice material that matches the heathered grey fabric on the speakerphone itself. The speakerphone fits snugly into the case. While not a hard case, it'll certainly protect your Sync 20 on the go.
The lanyard attaches on the left side of the speakerphone. Honestly, I don't see myself carrying around Sync 20 with it hanging off my wrist, but you might? (And I'm someone who has a smartphone case with a lanyard that I actually use!)
The speakerphone can act as an external battery. It has a USB-A port with a rubber cover on the right side. You can plug a USB cable in, connect it to your smartphone and charge it. Honestly, I don't know if I'll ever use it as an external battery. However, when I had the Sync 20 plugged into my Mac and daisy-chained a USB cable from the speakerphone to charge my iPhone, it worked really nicely, streamlining the cabling. In other words, Sync 20 can work as a kind of wired charging hub for your smartphone. Neat!
Its USB cable wraps around the base neatly. The USB plug fits snugly into its space and doesn't fall out. You wouldn't know the cable is there. I like that.