The latest conference phone in Poly's legendary line-up, Trio C60 features their signature audio quality — conference in up to 22 kHz. Voices are rich, full, natural — crystal clear.
Trio C60 features both Poly NoiseBlock and NoiseBlockAI. NoiseBlock mutes the microphone when a participant stops speaking. NoiseBlockAI gets rid of background noise when a participant is speaking.
Combined, the technologies mean elite audio performance.
Trio C60 has a three-microphone array with 360° pickup out to 20 feet — more than enough for conferences of 8 to 12 people. Poly Trio C60 Expansion Microphones give you even more coverage.
But for extra large conferences, you require extra reach — without compromising audio quality.
Daisy chain up to three Poly Trio C60 Conference Phones together.
Each phone has a 20-ft range with the signature Poly audio quality and all the advanced noise reduction technologies that set the phone apart.
How do you daisy chain them? Read on!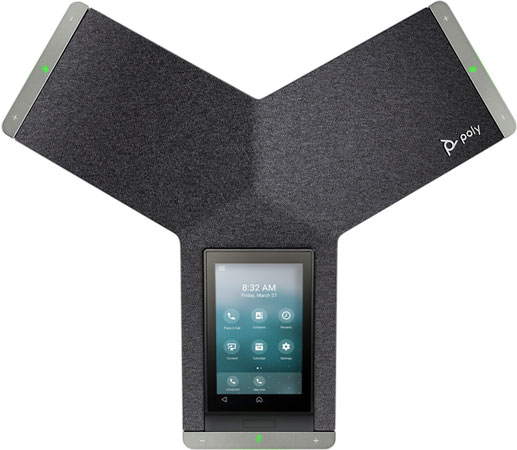 How To Daisy Chain Poly Trio C60 Conference Phones
To daisy chain the conference phones, one phone needs to be configured as Hub. The other phone(s) needs to be configured as Device.
Here's how to do it:
Go to Settings > Advanced > Networked Devices
Set Networked Device Role to Hub or Device
If the phone is set to Device, it will automatically reboot
On the Hub, go to Settings > Advanced > Networked Devices
Under Available Devices, select a Device
Select Pair
If you want to daisy chain a third phone, repeat steps 3 to 5
The user interface for the daisy chained system will appear on the Hub. In other words, call control for all three is located on the Hub.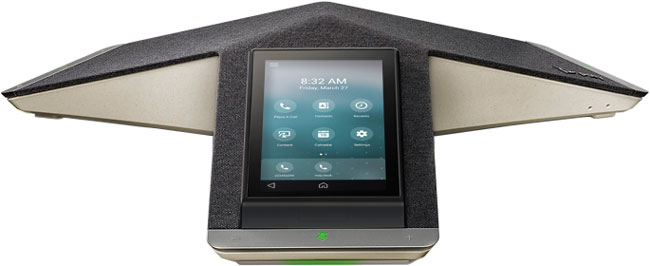 Trio C60 Daisy Chain Requirements
There are a few ground rules before daisy chaining the phones:
Multicast must be enabled for the network
All phones must be connected to the same IP network and network subnet
All phones must have the same software version
All phones must be configured to the same Base Profile
When daisy chained together, Trio C60 can only be used for audio conferencing, not video conferencing.