With the new T5 Series, Yealink provides your business with professional IP phones with both Ethernet and Wi-Fi connectivity to give you maximum flexibility in the office.
Yealink T54W Wireless IP Phone is the Goldilocks' bowl of porridge of the T5 Series, neither too basic nor too overloaded with features you'll never use.
T54W has a large HD display with 16-bit color. You can adjust the angle of the display to avoid glare and fit your height. The 10 feature keys with dual-color LEDs and 4 soft keys make it a pleasure to use.
You get incredible audio quality with Optima HD technology. Acoustic Shield creates a virtual "shield" around your conversation, eliminating noise beyond that perimeter. For you, that means your audio is greatly improved, particularly in busy environments like open offices.
If you want to use a wireless headset, you have Bluetooth. If you want a wired headset, you can use USB or RJ9.
But the stand-out feature is native 802.11ac Wi-Fi support.
In this blog, we're going to provide clear, simple to follow instructions on how to enable Wi-Fi on Yealink T54W.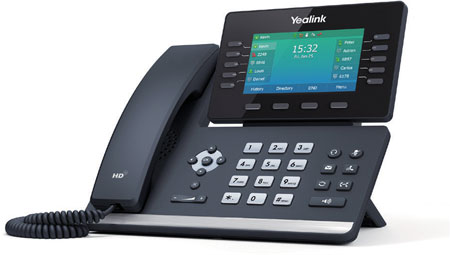 Enabling Wi-Fi on Yealink SIP-T54W IP Phone
Here's how to connect to your Wi-Fi network on your Yealink T54W. These instructions apply to all Yealink wireless-capable phones:
Go to Menu > Basic > Wi-Fi

On Yealink T53, go to Menu > Settings > Basic Settings > Wi-Fi

Choose [x] Available Network[s], "x" being the number of available networks
Choose Enter
Choose the desired Wi-Fi network
Choose Connect
Enter the password
Choose Ok
Here's how to add a Wi-Fi network manually:
Go to Menu > Basic > Wi-Fi

On Yealink T53, go to Menu > Settings > Basic Settings > Wi-Fi

Choose Known Network[s]
Choose Add
Choose the appropriate Security Mode
Enter the Wi-Fi network name, password and, other applicable information
Choose Save
And that's it!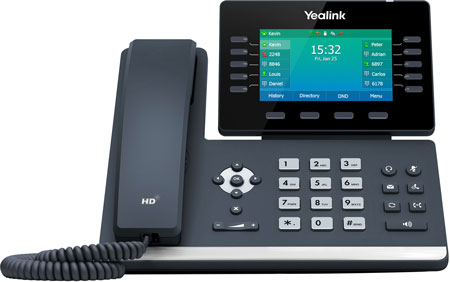 How to Connect to Wi-Fi Using the Yealink WF50 Dongle
Many Yealink IP phones don't natively support Wi-Fi. But you can easily add Wi-Fi connectivity using the Yealink WF50 Wi-Fi USB Dongle. This plug-and-play accessory supports dual-band 802.11ac Wi-Fi. It has a high transmission rate to provide stable voice communications.
Yealink WF50 is compatible with the following phones:
Yealink SIP-T27G
Yealink SIP-T41S
Yealink SIP-T42S
Yealink SIP-T46S
Yealink SIP-T48S
Yealink SIP-T52S
Yealink SIP-T53
Yealink SIP-T54S
Here's how to set up Wi-Fi using the Yealink WF50 dongle.
Plug the WF50 dongle into the phone
Go to Menu > Basic > Wi-Fi

On Yealink T53, go to Menu > Settings > Basic Settings > Wi-Fi

Under Wi-Fi, choose On
Choose Save
Then follow the standard instructions as given above.
Related Blogs