In the past two years, the home office has become an increasingly common work location for an enormous number of Americans. Whether it's a remote worker who works entirely from home or a hybrid worker who splits their time between home and the office, they'll need a professional communications device: a VoIP phone for the home office.
While softphone applications are certainly gaining in popularity, the familiarity and simple usability of the desk phone still makes it the go-to choice for many if not most workers. Rather than searching through windows or tabs for your softphone when you need to place a call, just pick up the phone. Simple.
But home office workers have certain requirements that need to be addressed. We're going to cover some features to look for in home office VoIP phones:
Platform compatibility
Wi-Fi vs Ethernet
USB phones
BLF keys
If you want a full introduction to VoIP phones in general, check out our clear, detailed VoIP Phones Buyer's Guide.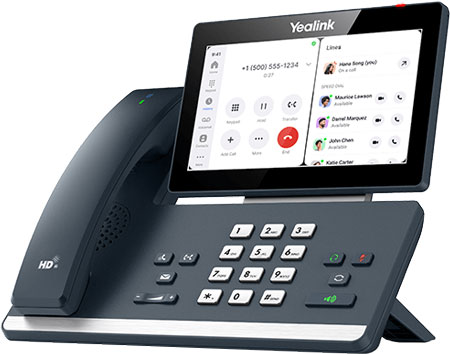 Platform compatibility
The most important feature to look for is platform compatibility: will the phone work with your VoIP phone system or cloud phone service? We have extensive VoIP phones by service categories on our website to help you find a compatible home office phone for services like 3CX, 8x8, RingCentral, OnSIP and many more.
Two ultra-popular platforms are worth a separate mention: Zoom and Microsoft Teams. Both of these have certification programs. When you see Zoom Certified or Microsoft Teams Certified, that means the phone has been tested for native integration with the platform.
Yealink MP58 Zoom Edition with Cordless Handset is a great example of a home office Zoom phone. It has a 7-inch touchscreen display that makes using Zoom as easy to use as it would be on a smartphone or tablet. Your Zoom contacts and calendar are synchronized. It really is a seamless experience. And this model has a convenient cordless Bluetooth handset, which is perfect for people who like to pace when they're on the phone and don't want to wear a headset.
As an example of a Microsoft Teams phone, check out Poly CCX 505 Microsoft Teams Edition. This phone has a smartphone-like display that you can customize to make it work for you. Poly has integrated an advanced chipset to improve audio performance: Acoustic Fence, NoiseBlockAI, Acoustic Clarity. You get a native Teams interface, reducing friction between devices. It really is a simple solution for a Microsoft Teams home office phone.
Importantly, both MP58-Zoom and CCX 505 support Wi-Fi, which is a big plus for the home worker.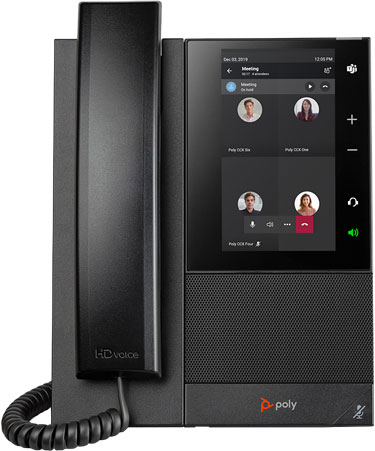 Look for a Wi-Fi VoIP phone
Traditionally, VoIP desk phones connected to the network via an Ethernet cable. Nowadays, professional Wi-Fi VoIP desk phones are increasingly common.
For most home office workers, Wi-Fi is preferable. Back in the day, Wi-Fi speed and reliability could be an issue. For most people now, though, their home wireless network will be sufficiently fast and reliable that VoIP calls and even video conferencing won't be an issue. In exchange, you don't need to worry about running Ethernet cables from a router or anything like that. You only need to sign into your Wi-Fi network.
Wi-Fi phones come in two varieties: ones with built-in Wi-Fi and ones that use a USB dongle to enable Wi-Fi. Yealink T54W Wi-Fi IP Phone is a great example of one with native 802.11 ac Wi-Fi support. This SIP phone has a large color display, offers Optima HD and Acoustic Shield audio enhancement, supports both Bluetooth and USB headsets and more. T54W also has ten line keys and supports three additional expansion modules, which makes it excellent for determining the availability of your colleagues, as we'll cover in just a second. First, however, a gentle warning: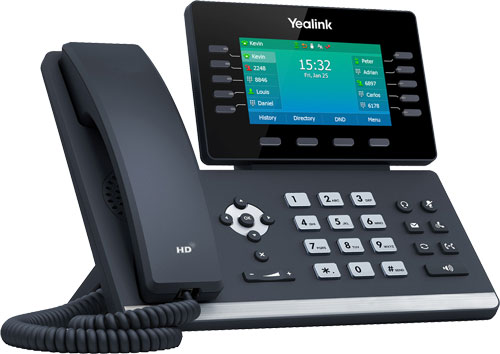 Remember to get a power supply
If you use a Wi-Fi phone at home, know that you'll have to get a power supply to power the phone. Many VoIP phones don't come with a power supply in the box because the manufacturer expects it to be powered via Power Over Ethernet (PoE) using a PoE switch or PoE injector.
When you use a Wi-Fi phone, however, you must power it with a power supply. So doublecheck the package contents to see if you need to buy a separate power supply. Many Wi-Fi VoIP phones do have one in the package, but you always want to make sure. We recommend you get a power supply from the phone's manufacturer to guarantee compatibility and protect your investment.
If you're looking for a cost-effective home office VoIP phone that comes with a power supply, check out Grandstream GRP2612W. This entry-level desk phone meets all the basic requirements without the flash and dash extras that you might not want to pay for. Dual-band Wi-Fi means you'll be able to establish a solid connection for worry-free talking.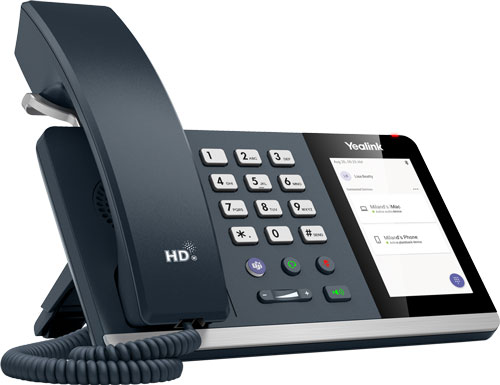 A USB phone is a great option, too
Another option for a quick-and-easy setup is to use a USB phone. These phones just plug directly into your computer using a USB slot rather than connecting to your network. You use it the same way as a USB headset but you get the familiar display, keypad and handset of a desk phone. It's a plug-and-play solution.
Take the Yealink MP50 Microsoft Teams USB Phone as an example. This Microsoft Teams Certified phone has a 4-inch display in portrait ratio like a smartphone. You get a Teams button for launching the service. You can use Teams like you would on a smartphone, seeing all your contacts and so on. Bonus: it has three additional USB-A ports to acts as a USB hub for adding more devices.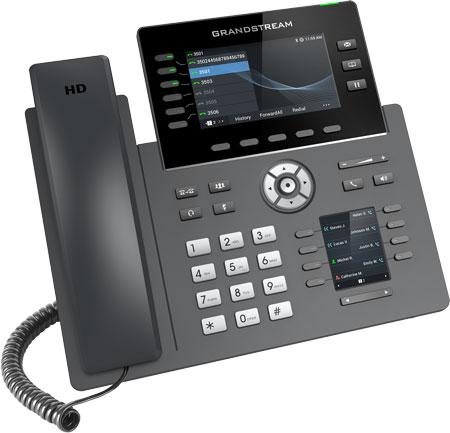 BLF keys to know your colleagues' status
When you're working from home, it can be nice to know if your colleagues are free. In the office, you can just look. What do you do at home?
BLF keys are your friend. BLF stands for Busy Lamp Field. A BLF key is one that shows an extension on the same phone system's name and status: green for available, red for busy and so on. You can think of it as a line key that shows presence information.
The important thing to know is that when you set up a BLF key for a coworker, you'll know whether their extension is busy or not at a glance. You'll never need to call them and get shunted to voicemail or disrupt a sales call. They're really useful!
So we recommend that you make sure that the VoIP phone you choose has enough line keys that work for the number of BLF fields you want to set up.
If you require extra keys, there are a couple of options. First, you could get an expansion module (also known as a sidecar or attendant console). These devices plug into your phone and provide additional keys. Alternately, you could go for a phone that has an integrated sidecar. What do we mean?
Some VoIP phones have a secondary display that's essentially a built-in expansion module. Take the Grandstream GRP2616 Dual Display IP Phone as an example: it has a secondary display to the right of its keypad with eight additional keys. The keys have multicolor LEDs to let you know the status of the other line. Better yet, the phone supports six pages of contacts, so you're actually getting 48 additional keys without needing to pay for an extra sidecar. It has 6 standard line keys for the primary display, too. And it supports Wi-Fi natively!
Related Blogs