Polycom Trio supports hybrid registration. You can connect Trio to your SIP phone system for telephony, Skype for Business for unified communications, and Zoom for video conferencing—all at the same time.
Hybrid registration provides incredible flexibility to use the Trio as your conferencing hub, no matter what platform you want to use. You get the Trio's crystal-clear audio for all of them.
For example, let's say you have a conference call with clients over SIP at 9am, a video conference with overseas manufacturers using Zoom at 10am, and a meeting with external workers using Skype for Business at 11am. Before, you'd have to factor in the time it'd take to switch between platforms, reducing collaboration time. Or you might have to use different devices altogether.
Polycom Trio solves this problem. You can register all the platforms to the Trio and switch to each right on the phone.
Even better, each call platform or ecosystem shows up as an icon on your Trio's homescreen. To switch between the different systems, you only need to tap the service's button. That's it.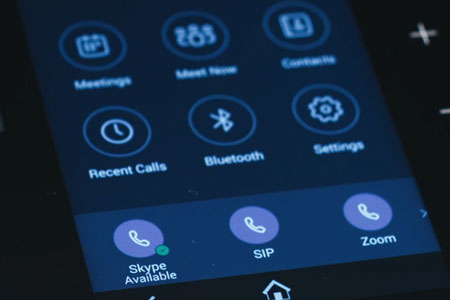 What platforms can you register Trio to?
This is not a full list, because Trio works with so many platforms. If you use a standard SIP phone system, Trio will work with it. Here are some of the many VoIP, UC, and video conferencing services that you can use Polycom Trio hybrid registration with:
Skype for Business
Microsoft Office 365
Cisco WebEx
Cisco UCM
BroadSoft
Avaya
Mitel
RingCentral
Zoom
BlueJeans
8x8
Vonage
Metaswitch
How do you convert Polycom Trio to Skype for Business?
If you want to switch your Polycom Trio from SIP to Skype for Business, it's a simple process that takes only two minutes. Here's a clear, step-by-step video explaining how to do it:
To legally use Polycom Trio with Skype for Business, you need to have a Polycom Microsoft Device License, available at IP Phone Warehouse.