Poly UCS 6.0 is a major firmware upgrade for your Poly (Polycom) VVX IP Phones.
Available now, the latest edition of Polycom UC Software enables call parking, streamlines using headsets, provides an expansion module experience without requiring the additional hardware, lets you save your eyesight with a larger font, and much more.
In this blog, we're covering only four of the numerous new features:
Key System Emulation
Better Together
VVX Pagination
Font Size Customization
To download the latest version of Poly UCS, visit the Polycom UC Software Support Center >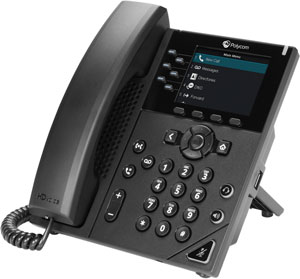 Key System Emulation
Key system emulation is a primary feature of UCS 6.0 that enables call parking on your VVX phones when it's registered to a BroadSoft BroadWorks server.
For businesses and workers who are used to using Panasonic KX Series Key Systems and similar traditional PBX solutions, key system emulation provides a familiar interface for taking calls.
With only one tap, you can park a call. You have two options for parking calls:
You can park a call on another user's line. You can then use your line to place another call or otherwise use your phone.
You can park a call on a shared line. Every user of that shared line can see the call and answer if they want to.
Better Together
Polycom and Plantronics joined to become Poly. The fruits of that marriage are starting to be realized.
UCS 6.0 is a prime example. With UCS 6.0, you get the first taste of what Poly calls "Better Together."
Better Together means the Poly phone will automatically detect your Plantronics headset and let you customize the settings of your headset. You no longer have to unplug the headset from your phone then plug it into your computer to change your headset features.
Essentially, Better Together is Plantronics Hub installed on your desk phone. For more about Plantronics Hub, read our blog >
Better Together in UCS 6.0
Note that Better Together in UCS 6.0 is just a taste of what's to come.
In UCS 6.0, Better Together only available on VVX 501 and 601 to start. It only works with Plantronics Blackwire C3225, Savi W740, and Savi W420 headsets.
Also in UCS 6.0, you can't update the firmware of your headset. This feature is forthcoming, and when it arrives, you'll never have to unplug your headset again.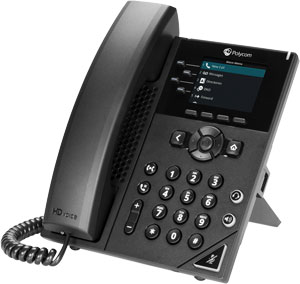 VVX Pagination
With UCS 6.0, your VVX phone can display lines across up to 4 pages. In effect, this feature gives your VVX phone an internal expansion module.
Your customizable feature keys can show contacts, registrations, BLF lines, and more. You navigate by tapping the Next button.
The phone clearly displays what page you're on, including changing the color of the page indicator to show which page has an active call (red) or which page has an incoming call (green).
VVX pagination is not available on VVX 101, 150, and 201. The feature is disabled with an expansion module is connected.
Font Size Customization
For users with VVX 250, 350, or 450 phones, UCS 6.0 lets you change the size of your font to improve readability and save your eyesight.
You can choose between Normal or Large. On VVX 250, the font will appear 3px larger. On VVX 350 and 450, the font will appear 2px larger.
Supported Phones
Poly UCS 6.0 is supported on the following Poly (Polycom) VVX IP Phones:
VVX 150
VVX 250
VVX 350
VVX 450
VVX 101
VVX 201
VVX 301
VVX 311
VVX 401
VVX 411
VVX 501
VVX 601
Note that UCS 6.0 is not supported on VVX 100, 200, 300, 310, 400, 410, 500, 600, or 1500 or on SoundPoint IP phones.