With the Elara 60 Series, Poly (formerly Plantronics) has defined a new category of workplace technology: the mobile work station.
For many of us, the smartphone is the primary tool for business, far more important than a desktop or laptop. We email, video conference, and text from our phones — from anywhere.
Why do so many business solutions still tie the smartphone to your computer?
At the same time, you want desktop-class performance for workers. You want professional audio using a headset. And you want an integrated solution with communications services.
Elara, named after one of Jupiter's moons, answers the call.
To date, Poly has released Elara 60 with wireless charging and a speakerphone, which you can get with or without a Plantronics Voyager Focus Headset. These models are available for pre-order today:
Poly have plans for the following models:
Elara 60 E —wired charging (E)
Elara 60 W — wired andwireless charging (W)
Elara 60 WS — wired and wireless charging + speakerphone (WS)
Elara 60 WSH — wired and wireless charging + speakerphone + handset (WSH)
This blog gives you a detailed look at the features that Elara offers to the mobile-first worker. Because they've only released the WS model to date, we're only discussing that model.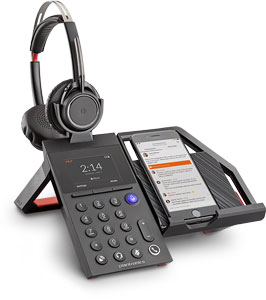 Poly Elara 60 WS Mobile Work Station
Looking at Elara 60 WS, you see a keypad with 2.8" display, plus a wireless charge pad that doubles as a cradle for a smartphone. Above the display is a wireless headset charging cradle.
Elara doesn't need to connect directly to an IP network, because it pairs to a mobile device.
Charge Pad & Wireless Charging
Elara 60 has an adjustable charge pad that holds your smartphone. It has a multi-coil wireless charger that lets you charge your phone (if the phone supports wireless charging) in portrait or landscape.
Just place the phone in the cradle to the left side.
A "Charging" notification will pop up on the Elara display. As always with wireless charging, you'll want to double check that the phone is actually charging.
You can adjust the angle of the pad using the orange handle behind it on the right side.
The charging pad has a tacky backing that holds your phone in place, which is useful when you want to tilt your phone, for example, for video conferencing.
You can also charge a phone using a USB cable. Plug the cable into the back of the Elara unit behind the display, then connect it to your phone.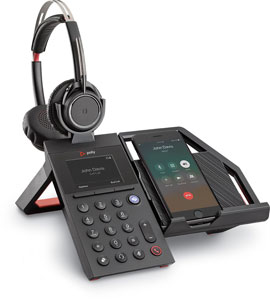 Pairing Bluetooth Devices
Elara 60 supports Bluetooth 4.2, including A2DP and AVRCP for excellent audio quality. It gives you up to hi-fi stereo audio quality.
Pairing a Bluetooth headset is simple. Here's how to do it:
On Elara, go to Settings > Bluetooth > Headset Pairing > Add New
On the headset, put your headset in pairing mode

For Voyager Focus, flip the Bluetooth pairing switch (see image below)

Follow the voice prompts
If you get the Elara 60 WS bundle that comes with a Voyager Focus headset, the headset will already be paired.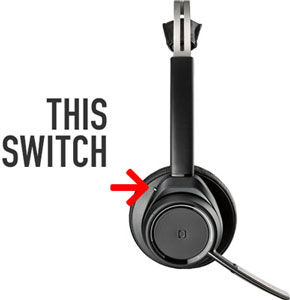 Pairing a mobile device is just as easy:
On Elara, go to Settings > Bluetooth > Headset Pairing > Add New
On the mobile device, go to Bluetooth settings
Select PLT Elara 60 Series
Note that if you want to take advantage of the native Microsoft Teams support that Elara offers, you'll need to download the Microsoft Teams app for Android or iOS.
Microsoft Teams Integration
Elara is designed for use with Microsoft Teams.
Elara has a dedicated Microsoft Teams button, which launches the Microsoft Teams app on the paired mobile phone. You can also use it to view Teams notifications.
It's the purple button to the upper right of the keypad.
Here's how to place a call through Teams:
Dial the number or extension you want to reach
Press the Line softkey until it reads "Microsoft Teams Call"
Press the Call button (bottom right of the keypad)
You can also dial using the Teams app on a paired phone. Just select the contact you want to reach.
Headsets & Headset Cradle
When you pair a headset with Elara, you still get advanced headset features like dynamic mute alert, hi-fi stereo sound, and active noise cancellation (if the headset itself supports the features).
You can stream music, podcasts, and other media through Elara. When you play media on a paired phone, it will launch a media player on the Elara, which allows you to play, pause, and skip tracks.
Elara 60 WS simplifies your desktop by having an integrated headset charging cradle .
Using a business headset gives your calls professional audio quality.
At launch, the Elara 60 headset cradle is compatible with the Plantronics Voyager Focus wireless headset. Poly plans to expand compatibility to additional Voyager and Blackwire headsets.
To charge the headset, just place it in the cradle with the headband facing away from you.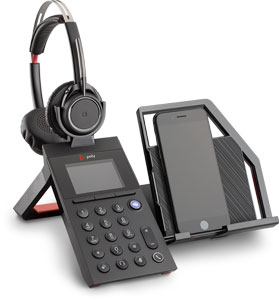 Keypad & Display
The keypad gives you a familiar interface for placing and answering calls. You don't need to unlock your mobile device to place a call, interact with phone menus, and so on.
Elara 60 WS comes with a speakerphone. To use the speakerphone, just press the Speakerphone button in the bottom left of the keypad.
To use a headset, press the headset button.
You can switch between the two by pressing the appropriate button when on a call.
The 2.8" display has three softkeys for selecting actions like Settings or Media. These softkeys will change based on context, for example, becoming media controls when streaming music.
If you want to return to the home page while using a menu, just press the Call button in the bottom right of the keypad at any time.
You can customize settings through your Elara base, including:
Customize headset sensor settings
Customize Microsoft Teams settings
Customize media player settings
Change base language
Note that you can't (as of now) update firmware through the base station. For that, you need the Elara 60 Series Companion app.
Elara 60 Series Companion App
Poly offers the free Elara 60 Series Companion app for Android and iOS.
The lightweight app lets you do the following:
Update firmware for both base and headset
Customize headset sensor settings
Customize Microsoft Teams settings
Customize media player settings
Sync time and date
View user guide for the system
If you want to use your computer, you can still customize settings and update firmware via Plantronics Hub for Windows or macOS.
It has a Kensington lock slot for physical device security.