Yealink produces targeted solutions for business needs at exceptional prices. Take the new Yealink WH6X Series of Wireless Headsets.
These elite business communications devices provide HD audio quality, advanced noise reduction, DECT connectivity, all day comfort, choice of wearing style and more. The series includes both mono and stereo options with either a simple or full featured base station. There are UC models for use with almost any softphone or unified communications platforms. There are also Microsoft Teams Certified models that seamlessly integrate with the popular communications service.
In addition, Yealink has released two new accessories: a Qi wireless charging stand and a busylight.
But we're getting ahead of ourselves.
Here's a quick breakdown of the series:
Let's take a deeper look.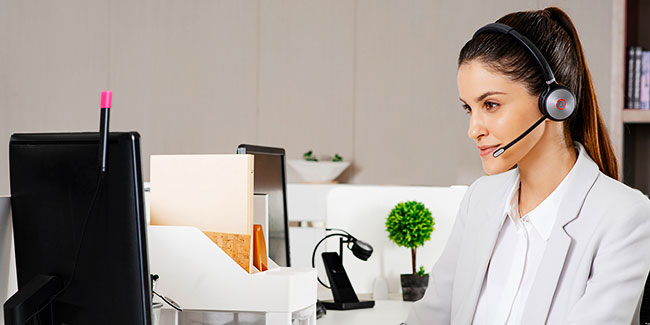 Yealink WH62 & Yealink WH63
Yealink WH62 and WH63 are wireless headsets that provide exceptional audio quality and business conveniences. WH62 comes in either mono or stereo. WH63 is a mono headset with a convertible wearing style: headband, earhook or eartip. An optional neckband will be available. You can use it on either ear. The lightweight headsets are made with soft leather ear cushions that are easy to replace and a breathable design for all day comfort.
WH62 and WH63 come with a simple base station that's easy to setup and use. Yealink WH6X headsets use DECT 6.0 to communicate with the included base station. The base station offers simultaneous dual connectivity to a computer and phone.
DECT is a powerful, secure wireless standard. It has two real advantages:
Wireless Range. DECT headsets have a much greater wireless range than Bluetooth. WH62/66 have a wireless range of up to 524 ft. WH63/67 have a wireless range of up to 394 ft.
Reduce Spectrum Density. Because wireless devices are so common in offices now, spectrum density has become a major problem. If too many devices use the same part of the wireless spectrum, their signals start to conflict with each other, leading to loss of signal. Most wireless devices in the office use Bluetooth or Wi-Fi. DECT uses a different part of the wireless spectrum from those two, so your headset signal will be strong and clear. Additionally, by having headsets that use a different wireless protocol, you're freeing space for Bluetooth and Wi-Fi.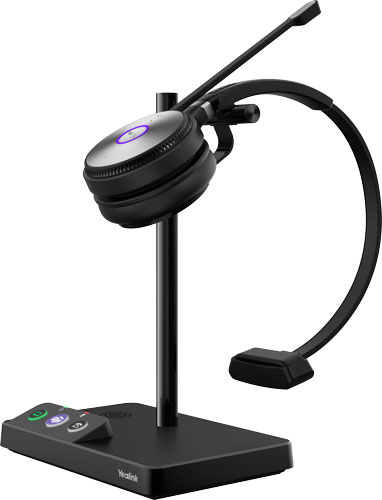 Acoustic Shield
The wireless headsets offer professional audio quality.
All headsets in the series feature Yealink Acoustic Shield noise reduction. Acoustic Shield uses the headset's two microphones to improve how it filters out background noise vs your voice. The result is much clearer audio quality.
Call Controls & Busylight
Both headsets have call controls built into the headphones: volume up/down, answer/end call, mute and so on. It also has a busylight built into the headphones, which signals to coworkers your status: on call, busy, available and so on.
Additionally, WH62 lets you lift the microphone boom to automatically mute it. The microphone boom has a 320° rotation range, which allows you to use it either side of your face. When the boom is positioned within 30° of the headband, the headset mutes the microphone. This quality of life feature is one more example of the attention to detail with which Yealink has designed these headsets.
WH62/63 Base Station
The included base station is more than just a charging cradle. It has a built-in ringer, so you can hear incoming calls without needing to have the headset on.
It offers dual device connectivity via its two Micro USB ports: phone and computer. These let you use the headset for either one or both at the same time.
Switch between phone and computer using the buttons on the base. It has a third button for use with your softphone or unified communications service.
Microsoft Teams Certified
Both WH62 and WH63 come in Microsoft Teams Certified models. These models seamlessly integrate with Teams. The third button on the bases of these models is a dedicated Teams button. There is also a Teams button on the headsets. These Teams buttons launch the service to answer calls, check notifications and more. If you hold it down for two seconds, it will launch the Cortana voice assistant.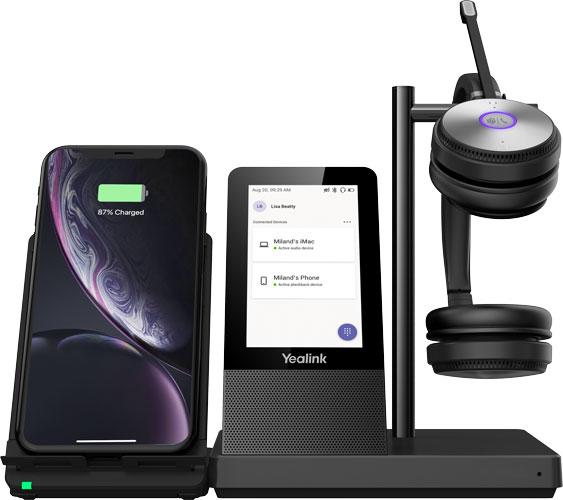 Yealink WH66 & Yealink WH67
Yealink WH66 and WH67 build on the audio performance and all day comfort of the WH62 and WH63. They add Bluetooth connectivity and come with a more functional base. WH66 comes in mono or stereo. WH67 comes with your choice of wearing style: headband, earhook, eartip or neckband. Both are also available in Microsoft Teams Certified models.
The audio quality and call control features described above are all present on these headsets. Let's take a look at what's different.
Bluetooth Connectivity
These two headsets are DECT 6.0 headsets that communicate with the base station to connect to your devices, just like the two models previously discussed. But these also have Bluetooth. Because WH66 and WH67 have Bluetooth connectivity, you can use them with your smartphone or other Bluetooth device. You can connect directly to your desk phone or computer if they support Bluetooth.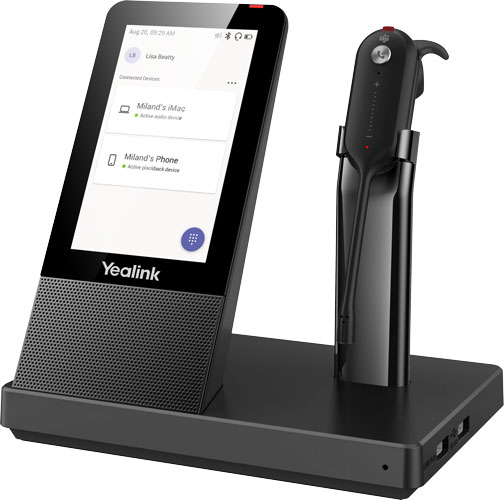 WH66/67 Base Station
The base station has a 4-inch color display that gives you a convenient, highly functional interface for answering or placing calls, operating the headset, changing settings and so on.
The base station has a powerful speakerphone built in, giving you a secondary option for hands free communications.
The base has a USB-A port for connecting to a computer or phone. Because you can also connect the headset via Bluetooth, you get the same dual device connectivity as the other headsets.
The base station also acts as a USB hub. It has two additional USB-A ports on the side that you can use to connect peripherals to your computer.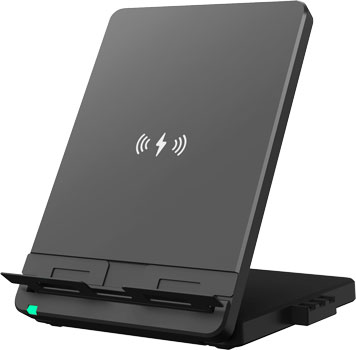 Yealink WHC60 Wireless Charging Stand
Yealink WHC60 Wireless Charging Stand lets you charge your smartphone as you work. This charging stand is compatible with the base station of the WHC66 and WHC67 headsets. It connects to the side of the base, looking seamless.
You can use your smartphone while it's sitting in the charger's cradle. The angle of the charger is adjustable, so if you want to, for example, participate in a video conference on your phone, you can get the camera angle right.
WHC60 is compatible with the Qi standard. This means it should be compatible with your iPhone, Samsung Galaxy and so on. Check your smartphone's information to ensure compatibility.

Yealink BLT60 Busylight
With the WH6X Series, Yealink has also released the Yealink BLT60 Busylight. Busylights reduce interruptions and allow workers to focus better.
Both base stations described above have a dedicated 2.5 mm port for connecting the busylight. This plug and play device signals your call status to coworkers. You can mount it on a monitor, cubicle partition or wherever is most visible.
As of March 2021, BLT60 is compatible with all four models of the Yealink WH6X Series. It is also compatible with the Yealink MP50 Microsoft Teams USB Phone. If you use it with WH66/67, you can set it to signal your presence status, depending on platform compatibility. This means it can glow orange when you're away, red when busy and so on.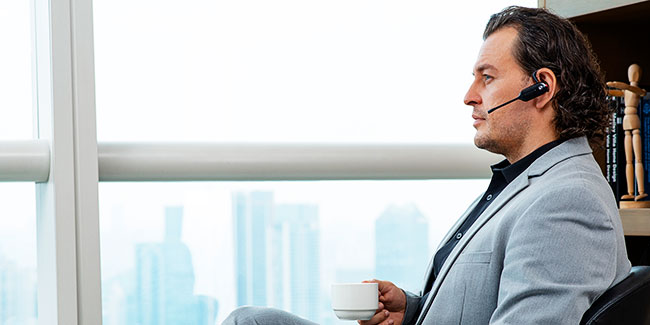 Yealink USB Connect
You can manage your headset, and any other compatible Yealink speakerphone or webcam you have, using Yealink USB Connect, a free application for Windows or macOS. Yealink USB Connect lets you customize your headset experience and update firmware.
For more information on how easy it is to manage USB devices using Yealink USB Connect, check our blog: Yealink USB Connect Makes Managing Your Devices Ultra-Simple >
Related Blogs