Poly Sync 20 is a personal smart speakerphone with Bluetooth and USB connectivity, crystal-clear sound with professional noise cancellation, voice tracking microphones and more — wherever you need it.
In this blog, we're going to cover how to upgrade Poly Sync 20 to the latest firmware version.
But a bit more about the device itself:
Use Sync 20 for more than just calls — the sound quality for music or movies will amaze you. 20 hours of battery life means all-day performance. In fact, its battery is so powerful that you can use the USB charging port to charge your smartphone — it doubles as external battery.
Slim, modern and highly portable, Sync 20 is built to last: it's IP64 rated against dust and water ingress. It comes with a carrying case and an optional lanyard, so you can take it on the go without worrying about damaging it.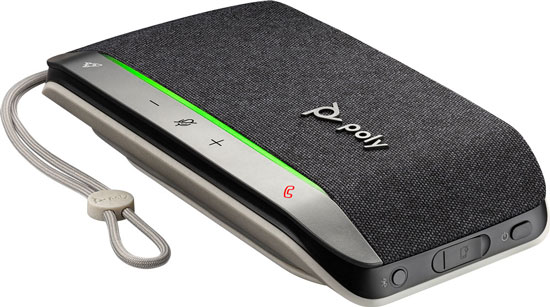 Sync 20 is Zoom Certified, making it the perfect speakerphone for Zoom calls. And it works for almost any other softphone. There are Microsoft Teams Certified models that have a dedicated Teams button — simple.
It's available in standard UC or Microsoft Teams editions with either USB-A or USB-C connectivity via a USB cable that wraps around the speakerphone neatly when not in use. Every model supports Bluetooth to connect with a smartphone or tablet. There are also versions with USB-A or USB-C Bluetooth dongles included to use the speakerphone wirelessly with a computer or laptop.
Here's a full breakdown of the Poly Sync 20 Smart Speakerphone series:
Want to know more about Poly Sync 20?
Check out our blog: Meet Poly Sync 20 Smart Speakerphone: Portable Perfection >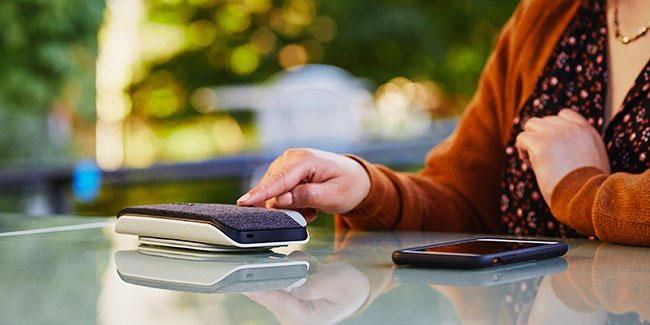 How to Update Firmware of Poly Sync 20 Smart Speakerphone
Update firmware for Poly Sync 20 Speakerphones using Plantronics Hub, a free application for Windows or macOS computers and Android or iOS smartphones. Using the smartphone app, you can update firmware wirelessly — make sure your Wi-Fi signal is strong and stable.
Hub does much more than let you update firmware. You can customize settings, check status, manage sensor options and more for Poly headsets and speakerphones.
Learn more about Plantronics Hub on our blog: Plantronics Hub: Personalize Your Headset Experience >
Plantronics Hub Compatibility
Hub is compatible with Poly/Plantronics Headsets, including the Voyager, Savi and Blackwire series, and Poly/Plantronics Speakerphones, including the Calisto series — as well as today's speakerphone: Poly Sync 20.
Follow the links to Hub Desktop and Hub Mobile below for full compatibility information.
Plantronics Hub Download
Download Hub Desktop from the Poly website >
Download Hub Mobile from the Google Play Store or Apple App Store. Find links to Hub Mobile on the Poly website >
Before Updating Poly Sync 20 Firmware…
Before updating the speakerphone, make sure you do the following:
Disconnect it from all paired devices, including phones, tablets and computers
Do not use it for streaming media or for calls during update process
Do not initiate another update from second Poly device during update process
Wait until the update process is complete before using it again
Plantronics Hub Firmware Update Process
Once you have installed Hub and connected the Sync 20, it's a very simple process:
Just click Update, follow the prompts and wait for the update to finish.
That's it!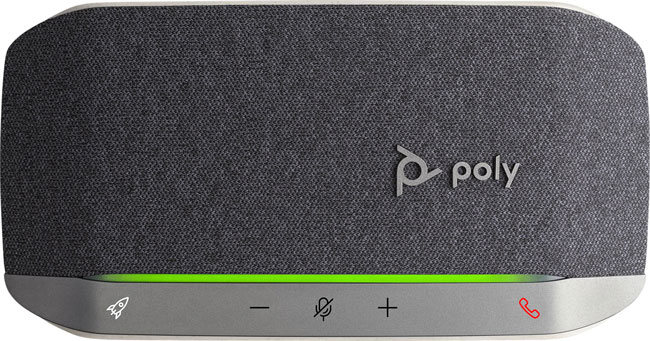 Why Update Speakerphone Firmware?
Firmware updates are a very important yet often ignored element of the business device lifecycle:
New Features. Poly releases new features to improve their products. By updating the firmware, your device will have all possible features.
Improve Security. As new attacks occur and old bugs are uncovered, it is vital to upgrade firmware to prevent bad actors from harming your device.
Compatibility. As new devices or services come out and existing platforms are updated, you want to make sure your speakerphone is compatible.
Device Stability. With technology, there is always something to fix. Firmware updates ensure optimal performance.