With the new Trio 8300, Poly provides the huddle room with a professional conference phone that
Trio 8300 joins the 8500 and 8800 as the premier series of business conference phones with unmatched audio performance.
More than that, they provide a consistent user and admin interface across devices while allowing your business to use a conference phone that fits the specific deployment:
Poly Trio 8300 — small room, 2-5 people
Poly Trio 8500 — medium room, 6-8 people
Poly Trio 8800 — large room, 8+ people
They also support video conferencing and content sharing.
It is estimated that 70% of video conferencing will take place in huddle rooms by 2022 (Frost & Sullivan). You need to be prepared.
Trio 8300 is the solution.
Let's meet the brand new Poly Trio 8300 IP Conference Phone!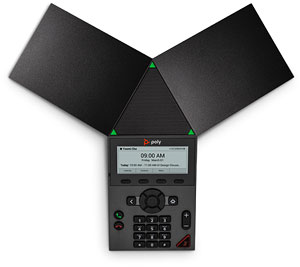 Poly Trio 8300 IP Conference Phone
This blog introduces you to the standout features that make Trio 8300 ideal for professional communications in huddle rooms.
We're going to cover the following aspects:
Incredible Audio Quality
Wireless Connectivity
SIP & Hybrid Registration
Video Conferencing & Content Sharing
Incredible Audio Quality
Poly is tops when it comes to professional audio quality for group calls. Trio 8300 continues this legacy.
Poly HD Voice ensures you have rich, wideband sound quality with support for many audio compression technologies, including the adaptive Opus codec.
Increasing sound quality improves comprehension, especially important in group situations where voices overlap and the variance between people's voices increase.
Poly NoiseBlock greatly reduces background distractions. It senses when nobody is speaking and mutes the microphones. When someone speaks again, the microphone are instantly turned back on.
Poly Acoustic Clarity combines enhanced acoustic echo cancellation and background noise suppression to provide clear full-duplex audio.
Trio 8300 uses a three-microphone array to pick up voices out to 12-feet in 360°.
Intelligent microphone mixing technology blends the three audio feeds into a seamlessly natural experience.
Wireless Connectivity
To simplify the conferencing process, Trio 8300 supports Wi-Fi and Bluetooth.
The conference phone has an 802.11n Wi-Fi radio that supports both 2.4 GHz and 5 GHz bands with full enterprise-class security options.
You can use Wi-Fi for audio calling.
Trio 8300 also features built-in Bluetooth 5.0 support for use with wireless devices like mobile phones.
For plug-and-play wired connectivity, the conference phone has a USB-A port.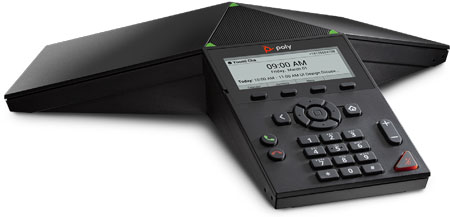 SIP & Hybrid Registration
Poly Trio 8300 is an open SIP conference phone. It is thus compatible with an enormous range of VoIP platforms and cloud-based phone services, including Zoom, 8x8, BroadSoft, Vonage, RingCentral, BlueJeans, and many more.
Like the other models of Trio, 8300 supports hybrid registration.
Hybrid registration means you can configure the conference phone with multiple platforms and services at one time.
If your business uses, for example, Zoom for video conferencing and a premise-based SIP platform for audio calls, you can register the Trio to both.
Then all you need to do is tap a button to switch between the two.
Hybrid registration saves an enormous amount of admin time and user frustration when a business uses more than one communications system.
Video Conferencing & Content Sharing
The "Trio" in Poly Trio stands for Audio Conferencing, Video Conferencing, and Content Sharing.
We've covered audio conferencing, but what about the other two?
When you connect the Poly Trio Visual+ Accessory, Trio 8300 supports two-way 1080 Full HD video conferencing and 1080p Full HD content sharing at full frame rates.
So you get a professional video collaboration experience on top of the crystal-clear Poly Trio audio quality.