Who doesn't love wireless? Poly extends wireless connectivity to their class-leading business phones with the brand new Poly VVX D230 Wireless IP Phone.
This standalone IP phone gives you up to 165ft (50m) of indoor wander range and up to 980ft (300m) of outdoor wander range.
VVX D230 is available in two options based on whether you need a base station or not:
Why are there two options? We'll get into it.
Let's take a deeper look.

Poly VVX D230 Wireless IP Phone
Who is VVX D230 for? Here are a few examples.
In warehouses, you need to have mobility with excellent wireless range, and the VVX D230 fits this need.
The phone also works wonderfully in healthcare environments where doctors or nurses need move from room to room.
Sales attendants and managers who work in retail stores need to be available for customers, both in person and on the phone. VVX D230 enables such availability.
VVX D230 consists of a wireless handset and a base station. Let's take a look at each.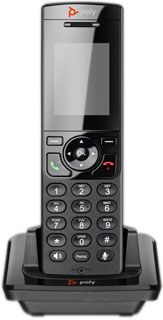 VVX D230 Wireless Handset
The VVX D230 handset provides full-duplex wideband audio in a convenient, fit-in-your-hand device. Because it's a Poly device, you get incredible audio quality.
You get the full range of VoIP features at your fingertips: hold, forward, call transfer, call park, call pickup, intercom, and more.
It supports 3-way local conferencing for collaboration.
The handset offers two methods for hands-free communications: a 2.5mm headset jack and a speakerphone. Poly includes a 2.5mm to 3.5mm adapter in the package.
The handset is very lightweight, weighing only about 123g, and fits nicely into the hand. It's two inches wide, one inch deep, and a pleasant 6.7 inches long.
It has a high resolution 2-inch color display.
For controls it has a full 12-key keypad, plus speakerphone, mute, redial, place call, and end call buttons. It also has two soft keys and a directional button for navigation.
The battery provides 10 hours of talk time and 100 hours of standby time.
The handset connects to the base station using DECT. DECT is a well-established wireless communications protocol that provides a more extended wireless range than Bluetooth. It uses a separate spectrum from Bluetooth and Wi-Fi, which lessens spectrum density where there are too many wireless devices in a single space.
So the handset doesn't directly connect to your network. That's the base station's job.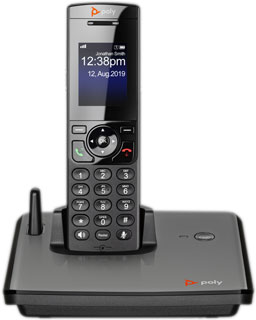 VVX D230 IP Base Station
The VVX D230 Base Station enables network connectivity and doubles as a handset charger.
If you already have a base station, you can get additional handsets and pair them with the base station.
Each base station can support up to ten VVX D230 handsets with eight SIP lines and eight concurrent calls, including intercom calls.
If you want to take advantage of the full Poly audio experience with wideband HD Voice audio, you can only pair five handsets. This is because each wideband call requires two DECT lanes.
The base station has two Fast Ethernet ports to connect to the network and enable data pass-through.
VVX D230 offers simple, native device management via PDMS-SP (Polycom Device Management Service for Service Providers). For more information on PDMS-SP, see our blog on Polycom VVX OBi Edition IP Phones, the first VoIP phones certified for use with Google Voice by G Suite. We cover PDMS-SP thoroughly in that blog.
How Is VVX D230 Different from VVX D60?
VVX D230 is an independent IP phone. It does not require a VVX desk phone to connect to the network. VVX D60 was not independent. It connected through a VVX desk phone.
Pairing VVX D230 with a VVX phone is done via the SIP phone system.
The VVX D230 base station supports 10 handsets for base, 8 SIP lines, and 8 concurrent calls. The VVX D60 base station only supports 5 handsets, 5 lines, and 4 calls.
Finally, VVX D230 is managed via PDMS-SP.
Related Blogs