Working from home doesn't mean sacrificing the professional technology you use in the office.
Yealink, the worldwide leader in VoIP phone sales, is currently offering an incredible promotion on their business communications solutions for the home office.
Get a discount of up to 50% off MSRP on any two devices listed below (one discount per device model).
Yealink VC210 Video Bar
Yealink CP700 Speakerphone
Yealink CP900 Speakerphone
Yealink UH36 Headset
Yealink T55A Microsoft Teams Phone
Yealink VP59 Video IP Phone
Just fill in the Yealink Work From Home form >
Let's take a deeper look at the devices.

Yealink VC210 Microsoft Teams Video Bar
Yealink VC210 is an all in one solution for professional Microsoft Teams video conferencing at home. It is Microsoft certified for a seamless Teams experience.
VC210 provides rich video up to 4K Ultra HD resolution. The extra resolution means it has 3x ePTZ capability. Automatic framing technology, well, automatically frames your face.
In other words, you'll transmit a more professional image of yourself with no extra effort. Image quality is superior to what you get from your laptop — by a lot.
The video bar supports Wi-Fi, so you don't need to worry about running Ethernet cable. It also supports Bluetooth for connecting with your smartphone.
To connect it to your laptop or PC, just plug in the USB cable — simple.
If you want to connect it to your TV, it has an HDMI output. Using a TV at home is a great idea if a lot of people are on the call. That way you can see all the faces much better.
For audio pickup, VC210 requires the CP900 speakerphone.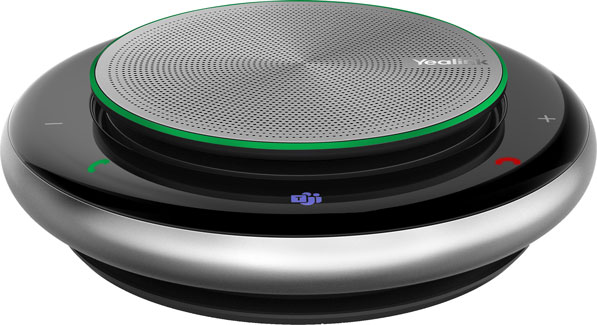 Yealink CP900 & CP700 Speakerphone
Yealink CP900 and CP700 are portable speakerphones with dual USB and Bluetooth connectivity.
CP900 uses a six-microphone array with beamforming technology to pick out voices. For working at home, it means extreme convenience. Just tap one of the capacitive buttons on the ring of the phone.
CP900 is certified for Microsoft Teams. The CP900 Teams model has a dedicated button for launching Teams, accessing notifications or voicemail — and more.
CP700 offers similar audio performance and the same convenience as CP900 in a lighter, more portable package.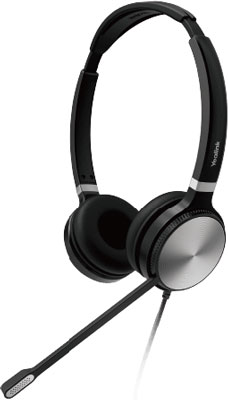 Yealink UH36 Headset
Yealink UH36 is a plug and play wired headset that comes in mono or stereo.
The headset offers both USB-A (Standard USB) and 3.5 mm connectivity. The 3.5 mm jack plugs into the inline call controller, which then plugs into your PC or laptop.
The noise cancelling microphone clarifies the audio quality. Dynamic EQ and Wideband HQ technology means your voice will be much fuller and more natural than you can possibly get with your computer's built-in microphone.
UH36 works with pretty much any softphone platform, including Microsoft Teams.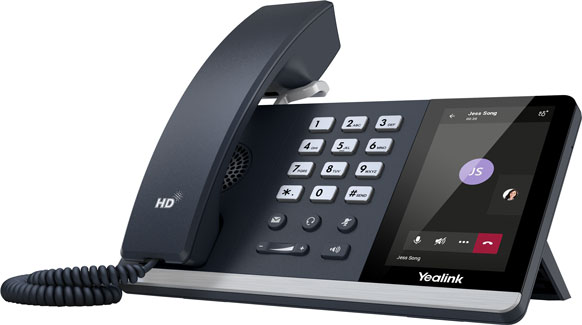 Yealink T55A Microsoft Teams Phone
Yealink T55A is a desktop phone designed specifically to make your Microsoft Teams experience as familiar and simple as possible.
The large HD display is oriented vertically, so it's like a smartphone. Because the phone's operating system is based on Android, it's as easy to use as a smartphone, too.
The phone features Optima HD and Noise Proof technology, meaning wideband audio quality without all the distractions.
T55A has a USB port with several functions. Using a dongle, you can connect the phone to Wi-Fi. Or you can use a Bluetooth dongle to connect a wireless headset. Or you can use a USB headset.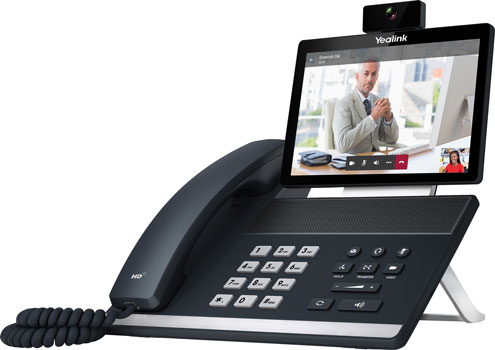 Yealink VP59 Video IP Phone
Yealink VP59 is the first video phone certified for Microsoft Teams.
The phone features an 8-inch touchscreen display and Android OS, making it as easy to use as a tablet.
As with T55A, the phone offers Optima HD and Noise Proof technology for superb audio performance.
The camera supports 1080p Full HD video for exceptionally detailed video conferencing.
It supports Wi-Fi and Bluetooth natively, so you can place it where you want and use a Bluetooth headset. The USB port can be used with a headset.