In our latest unboxing video, Dylan shows you what you get with the amazing new Jabra Evolve2 65 Flex, a premium Bluetooth headset purpose-built for hybrid workers.
Check out the Jabra Evolve2 65 Flex unboxing video today!
Want to know what the three most important features of Evolve2 65 Flex are? We cover them after the video…
Three amazing features you get with Jabra Evolve2 65 Flex
Why does Jabra claim that Evolve2 65 Flex is built for hybrid workers? Here are three reasons:
One.
Jabra Evolve2 65 Flex has Hybrid Active Noise Cancellation.
It uses microphones placed both inside and outside the earcups to sense and then cancel external noises. (Most ANC headsets only use outside microphones.) This allows the Evolve2 65 Flex to offer best-in-class active noise cancellation.
ANC is one of the most popular and sought-for features in professional headsets by all workers. However, for hybrid workers, active noise cancellation is essential. Think of using a headset in a café, shared workspace, airplane, hotel lobby, public park — any place that work now happens.
On top of Hybrid ANC to help the audio you hear, it uses ClearVoice microphones plus a premium chipset and tuned algorithms to clarify the audio you send.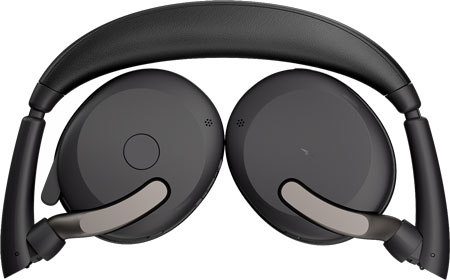 Two.
Jabra Evolve2 65 Flex has a fold-and-go design.
For this headset, Jabra modified its hinge and made the headband collapsible to make it fold flatter than other comparable headsets. This makes it more portable — perfect for hybrid workers.
Its microphone boom is shorter and flips up when not in use.
Despite giving you exceptional stereo audio, it weighs only 136 grams.
And it comes with a carry pouch to protect it in your bag.
Three.
Jabra Evolve2 65 Flex features Air Comfort technology.
They have not only improved the hinge to make the headset more portable, they've also improved the headset's comfort.
Improved comfort is, of course, amazing, but also necessary for hybrid workers who use the headset not only for communications, but to listen to music or block out background noise while they work in public spaces.
Air Comfort incorporates ultra-soft perforated foam in the collapsible headband to reduce pressure on your head. The earcups rotate to better fit your ears while you move.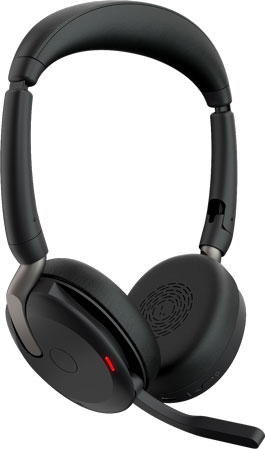 Four…
Wait, four? To learn more about Jabra Evolve2 65 Flex, check out Dylan's video today!