IP conference phones enable professional voice conferencing in the office.
Polycom Trio is the premier VoIP conference phone for business today. For smaller spaces like huddle room, Polycom Trio 8500 is your ticket. For medium to large spaces, look to Polycom Trio 8800.
Polycom — now Poly — has worked to make both models of Trio compatible with cloud-based phone services like RingCentral and cloud-based video conferencing services like Zoom.
Many services offer unified communications, so you can get both voice and video conferencing with the same, convenient service.
Trio makes the hardware half of the equation just as convenient.
It works for both voice and video conferencing with hosted services. You get a simple, consistent interface at the conference table that provides world-class audio.
And with Trio's hybrid registration support, you can even switch between services with just the tap of a finger.
Why pay for multiple devices when Trio does it all?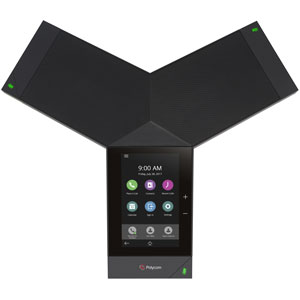 Using Polycom Trio for Cloud-Based Video Conferencing
Polycom Trio is more than a conference phone. It's named the Trio, not the Solo. When used with a Visual+ or VisualPro video conferencing accessory, it supports content sharing and video conferencing. Connect a camera and you have a full professional video conferencing system.
Using a single conference phone for both voice and video conferencing saves you money while maintaining first-class performance. You don't need separate devices
Polycom offers collaboration kits that make getting started with professional video conferencing simple:
World-Class Audio Quality
Trio laps the field when it comes to audio quality. Trio uses advanced noise cancellation technology, echo cancellation, and sensitive microphones to provide crystal-clear wideband HD Voice sound. The classic three-point design picks up voices in 360°.
When you're on a conference call, you need the audio to be excellent. Improving audio quality has been shown to increase comprehension, which means fewer misunderstandings and less wasted time. The same goes for a video call.
Consistent Interface
Trio has a 5-inch touchscreen display that is used just like a smartphone. The interface is designed to be effortless to use, reducing training time. You can start meetings with just the tap of a finger.
The system can interpret dialing strings automatically and launch the appropriate platform to place the call. Or you can place calls manually. If you schedule a meeting using Microsoft Outlook, all you need to do is tap "Join" — and you're in the meeting.
For Zoom and Skype for Business, the Trio will take on the interface of the service, further simplifying the process.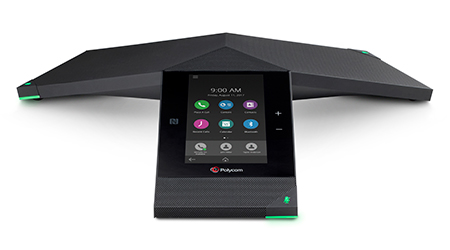 Hybrid Registration
If you use multiple services or platforms for your communications, Polycom Trio offers a major feature: hybrid registration.
You can register Trio to, for example, a SIP system, Skype for Business, and Zoom all at the same time. The services appear in a bar at the bottom of the display. To switch between services, just tap.
Hybrid registration greatly reduces administrative overhead and simplifies the entire meeting process for users.
To learn more, read our blog on Hybrid Registration on Polycom Trio >
Compatibility
Polycom Trio is compatible with basically any VoIP platform that uses the open SIP communications protocol. It is also compatible with Microsoft Office 365 and Skype for Business.
Among the many platforms that Trio is compatible with are:
Avaya
BlueJeans
BroadSoft
Cisco Webex
Mitel
RingCentral
Vonage
Zoom