9:36am. Your muscles are sore from barre class last night, but it's a good sore. Your first coffee's already hit your brain. The second's about to. You're finishing an email. Boom. The idea comes to you. This is how we need to pitch it. You've got to tell the team, right away.
But colleagues around you are hard at their own work. You don't want to disturb them. The open floor office means voices carry everywhere, and you do get worked up when talking about ideas. Grayson and Emma are at the other campus today, anyways.
Thankfully your business has a solution: the huddle room.
Huddle rooms are smaller work spaces that empower collaboration in a looser setting than the traditional conference room. Rather than having to schedule a meeting where everyone files in at the appointed time and quietly takes their place around the table, a huddle room lets you collaborate when the lightning strikes. The ideas are fresher. The talk more spontaneous.
This is why huddle rooms are rapidly growing in popularity for businesses of all sizes.
Video conferencing in huddle rooms enables this exciting, impromptu work even when your collaborators aren't in the office. There are, however, specific considerations to take into account when setting up a huddle room for video conferencing. What's good for the board room doesn't cut it for the huddle room.
That's where we come in.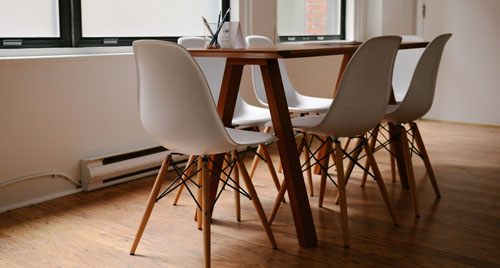 How to set up a huddle room for video conferencing
Huddle rooms are small spaces. They generally don't accommodate more than five or six people. This is a good thing, because smaller groups are more agile. But it also means that there are specific challenges when choosing video conferencing technology.
Here are some tips.
Get a wide-angle camera
Mount your display on the wall
Look into all-in-one video conferencing devices
Use a conference phone as the microphone…
…or a USB speakerphone
Emphasize flexible technology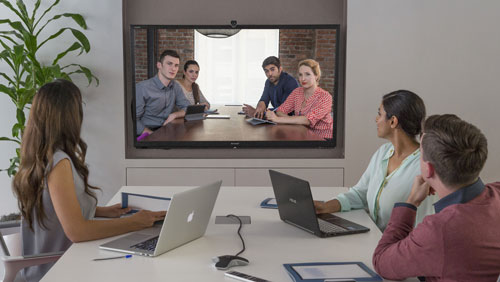 Get a wide-angle camera
A wide-angle camera is necessary for video conferencing in a huddle room. Why? Huddle rooms are smaller spaces, so people are going to be closer to the camera than they would be in a traditional conference room.
If your camera's field of view is too narrow, you're going to cut off the people who are standing close to the camera on the sides.
No zoom is necessary
The flip side of needing a wide-angle camera is that you don't need to worry about zoom cameras when shopping for the huddle room. If you zoom in the huddle room, you're just going to cut people out of the frame.
Zoom is a heavily advertised spec with professional webcams and video cameras: 10x optical zoom! You can shop smart and ignore those flashy specs. It might save you some money.
Mount the camera on the display
To save even more space, try to find a camera that you can mount on a display. Many companies provide display mounting brackets in the package. Otherwise, you can find official mounting brackets at IP Phone Warehouse. We stock authorized accessories from the top video conferencing brands. If you don't see a bracket listed, get in touch. If they make it, we should be able to get it for you!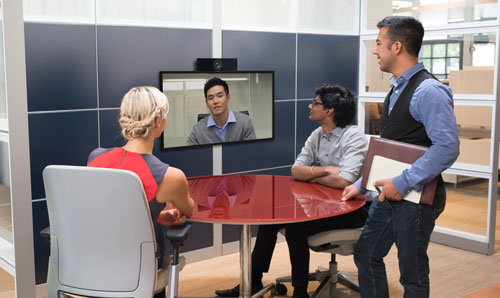 Mount your display on the wall
This one is simple: mounting the display on the wall saves a lot of space.
Mount it at a comfortable height. People's heads should be at roughly the same height, both the people on the display and the people in the room.
A natural height
Many people think a video conferencing display is like a TV, so they place them where they would place a TV. Try to think of a video conferencing display as another person in the room. The top of the displayed person's head will be around one-fifth of the way down from the edge of the display.
When installing the display, have people sit around in the room and try to position the display at a natural height.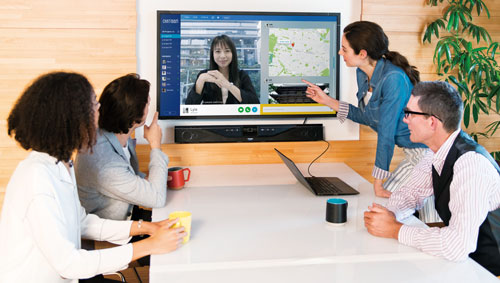 Look into all-in-one video conferencing devices
Some companies make integrated video conferencing devices. A typical example of this type includes a codec, video camera, microphone, and speakers all in the same device. The ones we sell are professional-grade video conferencing solutions.
Using an all-in-one device can save you a lot of headache, particularly in businesses that don't have dedicated tech support. They can be easier to move around, letting you get more out of your investment. Many of them can be mounted on the display, too, to save space.
Great, unless you need modularity
The drawback to an all-in-one device is that you're stuck using its camera, its microphone, its speakers. Some people prefer modular solutions. You get to choose which camera and so on you get to use. When you upgrade, you only need to upgrade a single component, not the whole system. If something goes wrong, you only need to fix one part.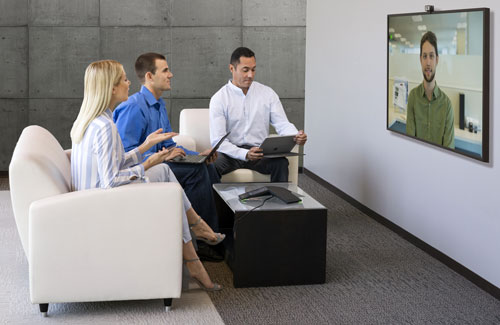 Use a conference phone…
Audio in the huddle room is simpler to manage than in the traditional conference room.
A conference phone that integrates with your video conferencing system is an excellent solution for the huddle room.
Conference phones capture audio in the round, clarifying the sound to eliminate background noise. They have distance limitations, but because huddle rooms are small, you don't need to worry about that.
A primary advantage of a conference phone over a microphone is that it provides centralized call control that is accessible and familiar for everyone.
IP conference phones are even better
IP conference phones are particularly useful for the huddle room.
VoIP phone systems make it much easier for you to integrate mobile devices into the conversation than traditional phone systems. Because huddle rooms are less formal spaces and because the younger generations are mobile first, having a collaborative space that's designed to integrate mobile devices is key.
Also, IP conference phones connect to the phone system by plugging into an Ethernet cable. The identity of the device automatically follows it as you plug it in elsewhere. You don't need a separate telephone line. This makes them very easy to move.
Many are Power over Ethernet (PoE) compatible, which means you can power the conference phone through the same Ethernet cable that connects it to your network, if you have a PoE switch or injector set up. You no longer have to worry about power cords.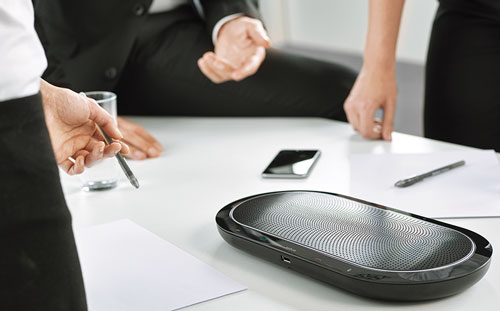 …or a USB speakerphone
Another great option for getting great audio in a video conference call in a huddle room is a USB speakerphone. These are wonderful low cost, high flexibility audio solutions.
A USB speakerphone plugs into a computer. If a conference phone is the equivalent of a desk phone, then a USB speakerphone is the equivalent of a headset.
Speakerphones once were considered to be low quality. Today, however, they can provide incredibly good audio. They're lightweight, portable, and very easy to use.
Look for Bluetooth speakerphones
Manufacturers are starting to produce Bluetooth speakerphones for business. Similar to the highly popular Bluetooth speakers that are omnipresent at the beach and the backyard patio, these can connect wirelessly to your video conferencing system.

Emphasize flexible technology
You'll notice a thread in this article: flexibility.
Traditional conference rooms are formal, dedicated spaces. Huddle rooms are less formal and oriented to a newer style of work. Because of this fact, you should emphasize flexible technology when purchasing video conferencing technology for the huddle room.
What do we mean by flexible?
Build an open system
Interoperability is important. You want a system where people can use their smartphones, tablets, laptops—whatever. Your system should let people video call into a conference no matter where they are. The system is giving people flexibility to use their devices.
Interoperability also gives you flexibility when shopping for and upgrading components. If you're not tied to a single vendor's system, you have more options.
A system that's open to change
Huddle rooms are prone to change. What's a huddle room today might be an office tomorrow or a storage room the day after.
If you think that your business might be prone to reorganizing space more frequently, you'll want technology that doesn't take a lot to tear down and reconnect. USB devices like webcams and speakerphones can be really handy in this case.
IP devices like conference phones are simple to migrate from one area to another. They're inherently more flexible than traditional technology.