Viking Electronics turns 50 this year. What started as a basement business in western Wisconsin has blossomed into one of the premier door entry companies. Their focus on making the most reliable electronics has guided them through the half-century.
Viking door entry and paging devices are still proudly designed, manufactured, and supported in the US.
In 1998, they came out with Enhanced Weather Protection or EWP. When you see a Viking product with EWP, you know the internals are sealed, there is gasketing to prevent water getting in, the connectors are filled with an anti-corrosive gel, and more. Viking EWP meets the IP66 industry standard against water and dust ingress.
They've kept innovating. In 2015, Viking released their first IP door entry devices. Let's take a closer look.

Viking IP Solutions
Viking's network-connected door entry and paging equipment provide numerous advantages over analog equipment.
It is simpler to manage a fleet of IP devices, because you have centralized control of the entire fleet from a single PC workstation. You can program IP devices remotely, for example, scheduling announcements or updating extensions for them to call.
Viking applies automatic noise canceling to clarify voices, increasing comprehension, which is particularly vital for emergency phones. Viking has developed proprietary VOX switching technology to get rid of the need to hold the push-to-talk Call button for full-duplex conversations.
The VoIP intercoms can be powered using Power Over Ethernet (PoE) by connecting them to a PoE injector or PoE switch. This helps reduce infrastructure costs, because you only need a single Ethernet cable to both connect it and power it.
Viking VoIP devices run the open SIP communications protocol. Because they support SIP, they are compatible with an enormous range of premise-based and cloud-based VoIP systems: 3CX, RingCentral, Callcentric, Cisco UCM, Avaya Aura, Asterisk, and many, many more.
You can upgrade the devices' firmware through the network.
With such advantages, you can see why so many people are choosing Viking Electronics. Let's take a closer look at specific products.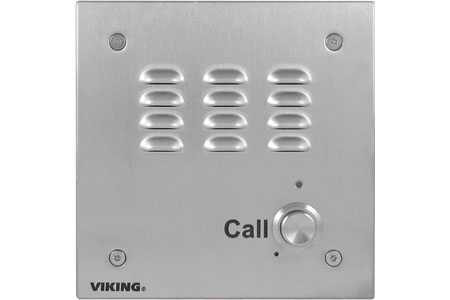 Viking IP Door Phones
Viking IP door phones come in a variety of configurations to match your needs.
Viking E-30-IP is a flush-mounted entry phone with a vandal-resistant stainless steel faceplate and louvres over the speaker to guard against rain damage. It has a single button labelled "Call," so everyone will know how to use it. You can remotely program up to 5 phone numbers for the phone to call if there's a busy signal or no one can pick up.
If you want to mount the same door phone is a standard double gang box, saving you on infrastructure costs, check out Viking E-32-IP.
Viking E-20-IP is a surface-mounted door phone for indoor or outdoor installation with a UV-stable plastic chassis. Viking E-10-IP features a black powder painted aluminum faceplate.
The Viking K-1205-IP Series of Entry Phones include options with 12-button keypads and video cameras and proximity card readers, storing up to 1000 entry codes or card numbers.
All of these options include two set of SPDT 2A relay contacts, which means you can connect additional devices like a door strike for unlocking a door or gate.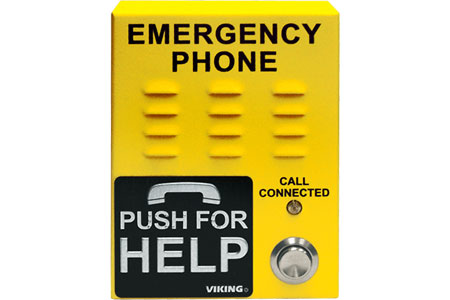 Viking IP Emergency Phones
The Viking E-1600-IP Series of Emergency Phones comprises highly reliable, simple to use solutions for police stations, university and college campuses, schools, and similar applications.
If you need a highly visible phone, Viking offers E-1600-IP models in red, yellow, and blue with large lettering: EMERGENCY PHONE or POLICE. You can get them in a tower phone configuration with EWP for high visibility outdoors, for example, in a public square or on a college campus.
E-1600-IP models also include flush-mounted emergency phones with vandal-resistant faceplates and Torx security screws. These classic-looking emergency phones have clearly labelled buttons. If you want an emergency phone with two buttons — Info and Help — check out Viking E-1600-22-IP.
E-1600-IP emergency phones are compliant with the ADA (Americans with Disabilities Act). ADA compliance improves accessibility with features to help users. A "Call Connected" LED lights up when a call is placed for hearing-challenged people. Grade 2 braille lettering helps sight-challenged users. You can set it to broadcast a voice announcement. The emergency phone automatically transmits a unique location ID code.
Viking IP Speakers
Viking has released network-connected paging speakers, including talk-back speakers with two-way audio. These speakers support both SIP and Multicast.
Viking 22TB-IP is designed for installation in a standard 2' x 2' ceiling tile. Viking 40TB-IP is a classic circular ceiling speaker.
Working equally well for paging or for background music, these speakers feature a built-in 6W amplifier and high-sensitivity microphone. The microphone not only enables two-way conversations, but can also be used to detect ambient noise levels and intelligently adjust the volume of the pages.
The Class D amplifier lets you power an additional five analog speakers through a single 22TB-IP or 40-IP. Set a hardware button to initiate calls by using the auxiliary switch input. Program the relay outputs for door strikes, strobe lights, and more.
These speakers are designed for installation indoors in schools, hospitals, retail stores, elevators, offices, and similar environments.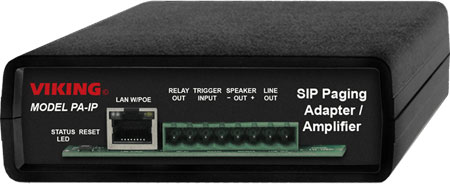 Viking PA-IP Paging Adapter
The Viking PA-IP Paging Adapter helps you integrate legacy analog paging systems with your SIP paging system. It connects to your IP network using a standard Ethernet cable, and supports PoE. You can then connect analog devices to it. Think of it as a VoIP gateway for paging systems. And it supports Multicast, as well.
It has a 6W Class D amplifier that can drive up to 6 analog speakers. You can play background music or paging announcements through PA-IP. Auxiliary inputs and outputs allow you to trigger loud ringers or similar devices.