VoIP conference phones are becoming an everyday device for businesses of all sizes. They improve productivity and keep you in touch with clients and customers.
The midsize room is the most common use-case for conference phones. It's where small-to-midsize businesses hold their weekly meetings. It's where enterprise teams collaborate.
What do we mean by midsize rooms? We're talking about conference rooms that accommodate around 6-12 participants. Board rooms might apply. The meetings might be less formal. They might be held in multi-use spaces.
This blog is the second in a three-part series on conference phones for different sizes of rooms. We've already covered conference phones for large rooms. Stay tuned for our upcoming blog on conference phones for small rooms, including huddle rooms!
Features to Look for with IP Conference Phones in Medium-Sized Rooms
What features should you emphasize when shopping for a midsize room conference phone? Here's a starter list:
Voice pick-up. Your microphones don't need to be as sensitive as large room conference phones. A 12 to 15 feet range is ideal.
Noise reduction. You need professional noise reduction technology like background noise suppression and echo cancellation.
Intuitive control. You want whoever's closest to be able to manage the conversation, so emphasize familiar controls.
Mobility. If your business is strapped for space, look for a conference phone that's easy to move and store.
Unified communications. Streamline your communications investment by choosing a conference phone that works with UC applications. For many systems, your phone can act as the microphone and control center during video conferences.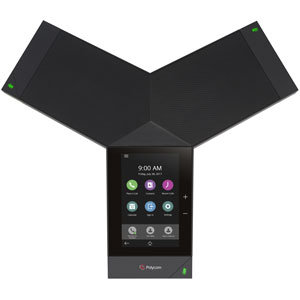 Polycom Trio 8500 Conference Phone
Polycom Trio 8500 takes the legendary voice quality that's made Trio 8800 so popular and brings it to the midsize to small conference room.
The classic Polycom triple-mic array gives you 360° pick-up out to 14ft.
Trio 8500's audio quality is incredible. Start with Polycom HD Voice. Add Polycom Acoustic Clarity, which adds full-duplex echo cancellation, noise reduction, and advanced voice processing. And then add Polycom NoiseBlock, which clamps down distractions even more.
The large touchscreen display provides a simple, intuitive user interface.
The conference phone is more than just a phone. When combined with a Polycom Trio Visual+ and a compatible video camera, Trio 8500 acts the center for a multimedia collaboration experience: audio, video, and content.
Trio 8500 comes in two models: Open SIP and Microsoft. The Open SIP model works with a huge range of standards-based VoIP phone systems.
Polycom Trio 8500 Skype for Business Edition comes preloaded with firmware to provide a seamless experience with Microsoft's unified communications platform. It's been certified by Microsoft for Skype for Business and Office 365 Cloud PBX. And a Microsoft Teams Edition is on the way!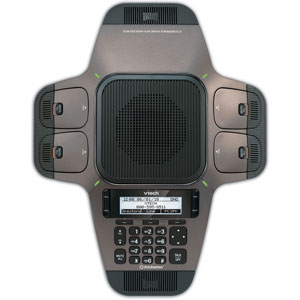 VTech ErisStation VCS754 Conference Phone
VTech VCS754 makes it simple to get all the voices in the conversation. This unique conferencing solution includes dual microphones in the base and four wireless microphones.
The phone itself acts as the charging bay for the microphones, which has the added effect of making the system highly portable, convenient for storing the phone out of sight in offices with constrained space. If you want a movable conference phone with top-class audio, VCS754 checks that box, too.
The microphones connect to the base phone using DECT, which increases security and reliability and reduces spectrum density in offices with lots of WiFi and Bluetooth devices.
VTech's improved on DECT, actually. With Orbitlink Wireless Technology, VCS754's microphones are as reliable as wired mics.
As a conference phone, VCS754 delivers. It's a 3-line SIP phone that is compatible with BroadSoft, Asterisk, Metaswitch, and more. The user interface is familiar and simple to use.
You can even attach it to a PC for use as a softphone speaker using USB, making it flexible for multiple applications.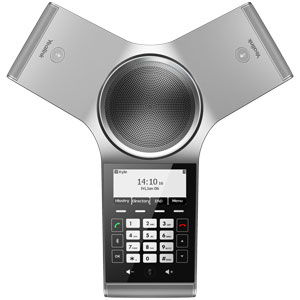 Yealink CP920 Conference Phone
Yealink CP920 is a network-enabled conference phone that offers cutting-edge technology at an amazing price-point.
With 360° audio pick-up out to 20ft, CP920 gives you plenty of coverage for the medium-sized conference room.
CP920's stylish metallic silver design sets the tone: a classic look with contemporary power. The touchscreen interface is refreshingly familiar, making the conference phone intuitive to use.
Yealink Noise Proof technology improves your conferencing experience. It reduces background distractions like fans or typing. It also turns off microphones until it detects a voice.
CP920 has built-in 802.11n WiFi and Bluetooth 4.0 for wireless connectivity. Yealink's Hybrid UC Meeting technology enables inter-device connectivity. You can route calls from smartphones or softphones to the conference phone, escalating calls to conferences in an instant.
Related Blogs