Conference phones for huddle rooms are a business necessity.
Why? Huddle rooms provide an essential space for increasing collaboration. They create open spaces that aren't as staid as formal conferences.
If you want professional communications in the huddle room, a conference phone is your best bet. Sound quality alone makes all the difference.
When we talk about huddle rooms, we mean spaces that accommodate groups of no more than six people. Small groups, ideation sessions, ad-hoc meetings—all these require a similar conference phone.
This blog is the last in a three-part series on VoIP conference phones for different sizes of rooms. Previously, we covered VoIP conference phones for large rooms and VoIP conference phones for midsize rooms.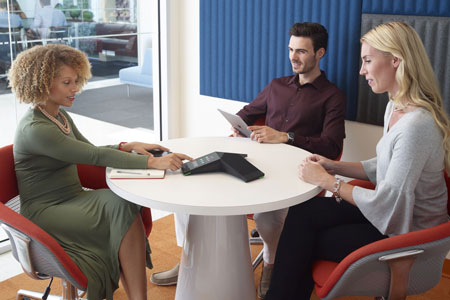 Features to Look for with IP Conference Phones in Huddle Rooms
Conference phones for the huddle room need to take specific challenges.
Voice pick-up. Distance is not the key with huddle rooms. Prioritize noise reduction and audio quality.
Mobility. Huddle rooms are often impromptu spaces. Because space is limited, you might need to move things around to make space. Having a conference phone that you can easy move is key.
Mobile integration. Your employees will want to use their smartphones for work. Why deny them? Get a conference phone with Bluetooth or other method of connecting.
Video integration. Many conference phones can double as microphones for video conferencing. If you want to add video conferencing to your huddle room deployment, look for video compatibility.
Price. One of the primary advantages of huddle rooms over conference rooms is that they're much less formal. They help you save money. Keep the savings going by choosing a conference phone at a competitive price-point.
Expandability. You might want to use your huddle room phone for larger spaces, too. Some models can cover more area with expansion microphones or daisy-chaining phones together.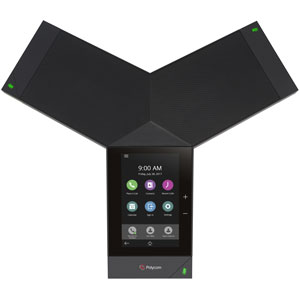 Polycom Trio 8500 Conference Phone
Polycom Trio 8500 offers incredible audio quality in a compact, easy-to-use VoIP conference phone.
Trio 8500 was engineered for modern collaboration. Polycom HD Voice provides class-leading sound, and that's just the starting point. Polycom Acoustic Clarity is designed for conferencing with advanced echo cancellation, noise reduction, and voice processing.
Polycom Acoustic Fence creates a virtual fence around the conference, blocking out sound beyond a set distance. This makes Trio 8500 perfect for huddle rooms in open offices and similar situations.
The three-microphone design provides 360° audio pick-up out to 14ft. Its large touchscreen display makes it as easy to use as a smartphone.
When you use Trio 8500 with the Trio Visual+ Accessory, it enables video conferencing and content sharing. If you want to use it in larger rooms, look for the Polycom Trio 8500 Expansion Microphones.
If you use Microsoft unified communications solutions, check out Polycom Trio 8500 Skype for Business Edition. It is Microsoft-certified for use with Skype for Business and Office 365 Cloud PBX. It comes with the Skype firmware preloaded, making it simple to get up and going. Keep your eyes open for Polycom Trio 8500 Microsoft Teams Edition. It's coming soon!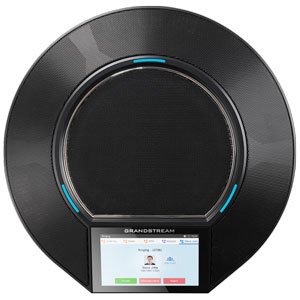 Grandstream GAC2500 Conference Phone
Grandstream GAC2500 is a compact VoIP conference phone that runs the open SIP protocol. In fact, it gives you 6 SIP accounts.
GAC2500 is an Android device, giving you access to Google Play Store apps like Skype or Google Hangouts.
The circular design with three cardioid microphone array allows the phone to pick up voices in 360° out to 12ft. Grandstream's HD audio technology provides natural wideband sound.
The conference phone has a 4.3" capacitive touchscreen display. Because GAC2500 operates Android, the controls feel like a smartphone. Such familiar interfaces are essential in the huddle room. Anyone can manage the conversation.
GAC2500 is simple to move. It features built-in support for WiFi, which means you don't need to worry about network connections when moving the phone around.
It also features a built-in 7-way conference bridge for multipoint conferencing. You can daisy-chain two GAC2500s together to cover more space.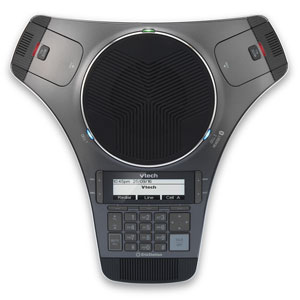 VTech ErisStation VCS752 Conference Phone
VTech VCS752 provides maximum flexibility in the huddle room. VCS752 is a VoIP conference phone with two wireless microphones. The two mics fit into the conference phone base for charging and storage, creating a compact, movable solution.
If there are only a couple of people, you can just use the base conference phone. If more people join, use the microphones.
The conference phone gives you wideband audio with automatic gain control. VCS752's mics use DECT 6.0 with Orbitlink Wireless Technology to provide a stable, high-quality connection. They offer up to 12 hours of talk time each.
The base is a full-duplex speakerphone with an intuitive design. Bluetooth support lets you connect to headsets and mobile devices. In fact, you can receive or place cellular calls through VCS752 to improve audio quality over your phone.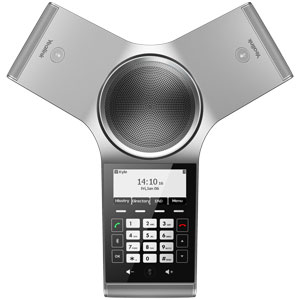 Yealink CP920 Conference Phone
Yealink CP920 offers forward-looking technology and classic style at a budget-friendly price.
CP920 is a SIP conference phone with a silver three-point design. The touchscreen interface calls back to a traditional phone, making it easy to use.
The sensitive microphones capture voices in 360° out to 20ft, more than enough for the huddle room. Yealink Noise Proof technology reduces background noise and keeps the mics off until it picks up a voice, greatly improving your audio quality.
Hybrid UC technology lets you use CP920 in a variety of ways. You can pair with mobile devices using Bluetooth. You can also use it with softphones using a USB cable. The USB port also lets you record meetings using a USB stick.
CP920 natively supports five-way conferencing for even greater collaboration.