Assisted living facilities have specific technological demands because of their dual nature: part home, part hospital.
When researching what are the best VoIP phones for assisted living residences, you need to balance these demands. In this blog, we guide you through looking for VoIP phones for elderly residents and VoIP phones for care-givers.
At the end of the blog, we touch on VoIP phones for common areas, plus VoIP emergency phones and VoIP door entry phones to give you a more complete picture of what VoIP can offer for assisted living centers.
If you want an introduction to VoIP phones in general, we recommend our clear, detailed VoIP Phones Buyer's Guide.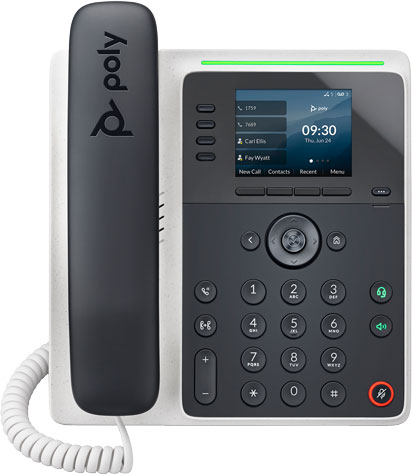 VoIP phones for elderly residents of assisted living facilities
Familiarity is the most important feature to look for when shopping for a VoIP phone for assisted living residents. A VoIP phone is a much more versatile device than a traditional phone; however, in the "home" part of an assisted living center, versatility is not a benefit. You're looking for a simple desk phone.
VoIP phones are typically categorized in terms derived from business: entry-level to everyday to executive. These terms can be translated as levels of complexity: simple to complex. More complex phones have more features and more options for customization.
For residents of assisted living facilities, simplicity is important and customization is not, so looking for an "entry-level" VoIP phone is a good starting point.
As a model for the types of features to look for, we're going to use Poly Edge E220.
Edge E220 is an excellent option as a VoIP phone for long-term care centers. With the Edge E Series, Poly focused on building an accessible phone. For more on its accessibility features, check out our blog: Poly Edge E VoIP phones offer extensive accessibility features.
This entry-level desk phone has large, familiar buttons. It features HD Voice audio quality. Wideband audio has been shown to improve comprehension.
The handset is hearing aid compatible (HAC). It has built-in Bluetooth capability. A resident with a Bluetooth-enabled hearing device would be able to pair it with the phone for an even more effective user experience.
It also has Microban antimicrobial protection for improved hygiene.
When shopping for VoIP phones for assisted living communities, simple entry-level phones with accessibility features are the goal.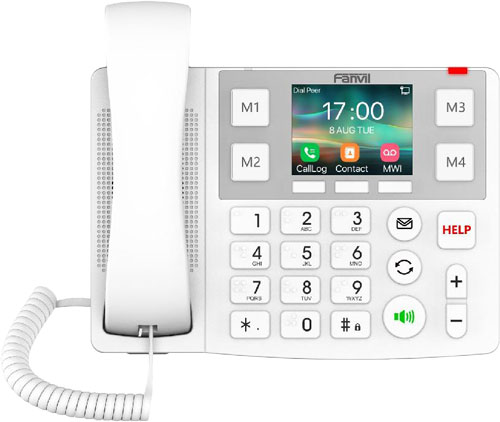 Fanvil X305
Another phone is coming soon (it hasn't been released as of the publishing of this blog on November 3, 2023) that is worth mentioning:
Fanvil X305 is a phone with extensive accessibility features. It has big buttons with braille dots to make it ultra-simple to use. It has a dedicated help button and supports 433 MHz wireless emergency pendants for alerts. The four large feature keys support images, so you can make the phone even easier to use. Like the Edge E220, it supports Bluetooth. X305 also supports Wi-Fi, making it easier to position in a room.

VoIP phones for care-givers in assisted living facilities
Care-givers for seniors in long-term care communities have very different requirements from the residents.
The primary concern with care-givers is mobility. Care-givers need to be in touch wherever they are and they have to visit many places over the course of the workday.
A Wireless VoIP Phone is ideal. What features should you look for in a wireless phone for assisted living centers?
Let's use Poly Rove 30 as an example. This wireless handset has been ruggedized, which is useful in the sometimes hectic environment. Rove 30 is drop-proof up to 6.6 feet and is IP65 rated against dust and water getting into the phone.
The 2-inch color display is backlit, making the phone easy to use in all lighting conditions.
Its rechargeable battery offers up to 18 hours of talk time, which means you don't have to worry about power over the course of a regular workday.
Like Poly Edge E220, it has Microban antimicrobial protection.
Rove 30 is a DECT handset that connects to the VoIP phone system via a VoIP base station. The Poly Rove Series offers multiple options for base stations, including Poly Rove B4.
Rove B4 is a multi-cell base station that enables seamless roaming. In other words, Rove B4 allows Rove handsets to pass from base station to base station with no hiccups. (You can think of them as roughly the equivalent of mesh Wi-Fi routers.)
Alternately, you can extend the wireless phone system using Poly Rove R8 repeaters.
In larger assisted living communities, building extensive wireless VoIP phone coverage with seamless interchange is close to essential.
When shopping for a wireless VoIP phone for assisted living facilities, features such as those found with the Poly Rove Series are exactly what you should be looking for.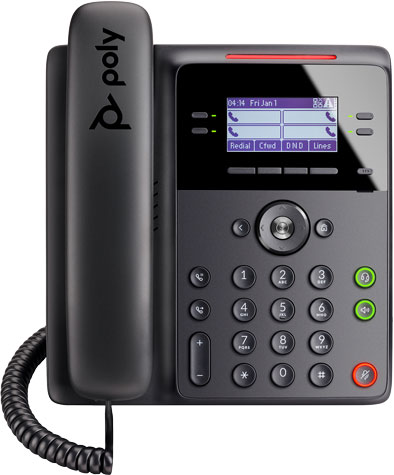 VoIP phones for common areas
In common areas like lobbies, cafeterias, meeting rooms, and creative spaces, you'll want to have a phone.
If you'd like to read about common area phones in depth, we cover them in greater detail in our recent blog: Common sense about common area VoIP phones. Let's touch on a couple features to keep in mind.
With a VoIP common area phones for assisted living spaces, you'll want simplicity like we covered above under VoIP phones for elderly residents. In fact, many of the features we mention above pertain to common area phones, like hearing aid compatibility and a familiar, button-based interface as compared to a touchscreen interface.
The one big difference is that you might want a phone with many feature keys that you can set to dial specific extensions, so there is a minimum of friction in critical situations.
An important thing to remember that we always need to mention with common area phones: almost every VoIP phone will have two Ethernet ports. One is used to connect to the network, the other is used to daisy-chain with a computer. However, a common area phone will probably not be connected to a computer. The upshot is that there will often be an open Ethernet port, which can be used by bad actors.
This sounds bad, but it is actually very simple to disable the extra port via the phone's computer interface. Make sure you disable the extra port!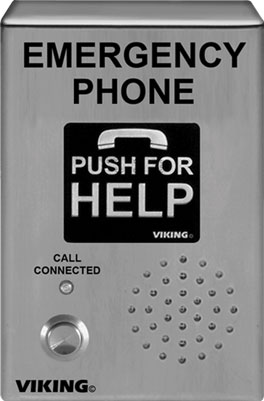 VoIP emergency phones for assisted living facilities
Lastly, we wanted to touch on a couple additional VoIP devices that can be integrated with your VoIP phone system to create a holistic communications and access control system.
VoIP Emergency Phones are high-visibility intercoms with extremely simple interfaces: typically just a single button that you press when there is a critical situation.
By having VoIP emergency phones in important locations, you protect people when it matters most. You can set the emergency call station to indicate precisely where the call is coming from, streamlining the help process.
Look for ADA-compliant emergency phones with Braille lettering and more.
If your assisted living community has shared outdoor spaces, you can look for VoIP emergency phone towers to ensure residents are never without care.
We cover emergency phones in more depth in our blog: What is an emergency phone?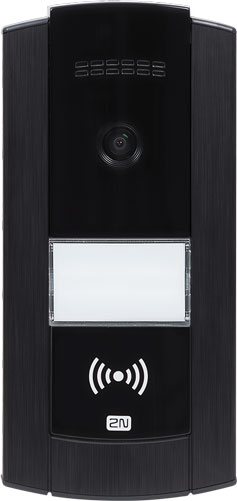 VoIP door entry phones for assisted living facilities
For VoIP Door Entry Phones for assisted living buildings, you want to make entry for residents, staff, and guests as simple as possible while maintaining security. We touch on two important features to consider: RFID and video input.
RFID support provides a contactless method for residents and support staff to enter the building while ensuring security. You could have an RFID card on a lanyard. All the user has to do is hold it near the RFID-enabled intercom to enter the building. No one has to remember any codes.
Video input helps receptionists be sure that people entering the facility, including family and friends of residents, are who they claim. They also can provide visual help in identifying residents who wander. Look for a VoIP video intercom with an integrated HD camera. You don't need to worry about two-way video: just video input.
These are two of the more important features to consider when shopping for a VoIP door entry intercom for assisted living buildings.