When it comes to IP intercoms, 2N brings the style — and never more than with their latest and greatest, the appropriately named 2N IP Style.
Let's just get it out of the way: if you want a fantastic looking intercom to grace your doorway, you can't do better than IP Style. This sleek, black intercom has a gorgeous 10-inch touchscreen. With the UI, 2N has emphasized response time and smooth animations, meaning you'll have a premium smartphone-like experience. You can choose from two optimized UI options: office or residential. The tempered glass screen and aluminum chassis provide a classy appearance.
But IP Style got much more going for it than good looks. The style is backed up by serious substance.
Let's take a look!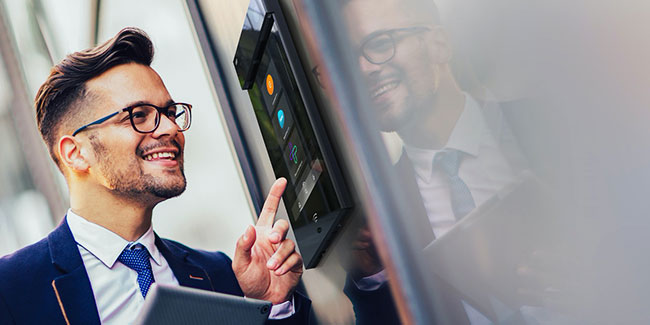 2N IP Style
At its core, 2N IP Style is a modern intercom that combines highly desirable features in one integrated unit: 10-inch touchscreen display, better than 1080p Full HD camera, RFID card reader, Bluetooth radio, dual microphones and dual 4W speakers.
According to a 2N market research study, over 80% of their customers want a 1080p camera with WDR and RFID/Bluetooth access capabilities. The third most desired feature is outdoor mechanics. IP Style meets these without requiring any peripheral devices.
The intercom makes full use of the powerful Axis ARTPEC-7 chip, which Axis developed to improve the postprocessing of video taken by their IP cameras. (2N is an Axis company.) What does the chip mean for IP Style? It means exceptional video quality with Forensic WDR technology to adapt to changing lighting conditions plus highly naturalistic color images, even in low-light conditions. For a deep dive into Axis ARTPEC-7, check out our blog: New Chip from Axis Means Better Video & Better Security.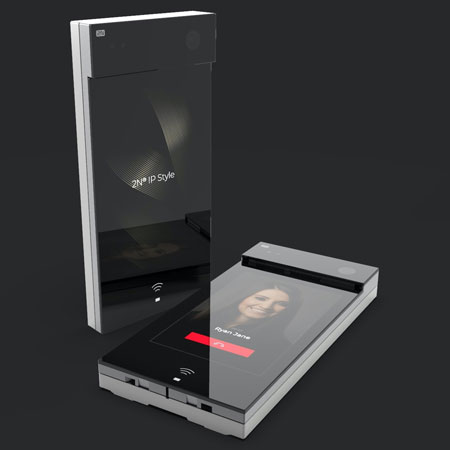 Premium Camera
IP Style has a built-in camera with a maximum resolution of 2560 x 1440 px in a 16:9 aspect ratio. This resolution is known as 1440p, Quad HD, QHD or even WQHD (Wide QHD). For comparison, 1080p Full HD is 1920 x 1080 px, which is almost half the resolution.
In other words, the camera is good, really good. Especially when compared with the competition with other intercoms.
The ultra wide-angle lens has a 144° H x 126° V field of view. This is important because users will be close to the intercom. With a FOV like that, the camera will get clear video of the faces of even very short or very tall people.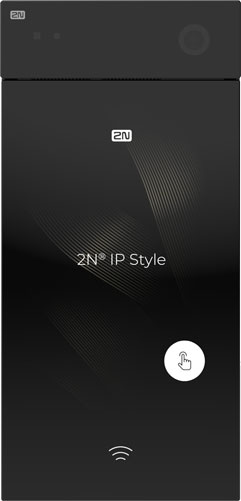 Premium Display & Premium UIs
IP Style has a 10.1-inch touchscreen display with 1280 x 800 px resolution. It's been designed for optimal viewing even from oblique angles with a 170° viewing angle, important for an intercom that might have people approach it from a bunch of different ways. Even better, the display is extremely bright, making it readable even in direct sunlight.
This is a premium intercom down to its core. We are all used to smartphones with tailor-made UIs that are fast and smooth. 2N has spent months on developing a display framework for improving animations and interactions. Using IP Style is like using a premium smartphone.
2N has developed two user interfaces for the intercom: residential and office. The residential interface shows a list of names. The office interface shows business logos that can open to folders for finding specific employees. In either mode, the intercom can handle up to 10,000 users.
The intercom will go to sleep after a set period to save energy. You can customize the idle screen to show your business's logo, the address, a slideshow of pictures and more.
This gorgeous display doesn't affect the intercom's robustness. The display is made from 4 mm chemically hardened glass. It's IK08 certified to greatly limit wear and tear from daily use, on top of resisting vandals or impacts. The intercom is also IP65 certified to resist ingress from water and dust.

Simple, Secure Access
2N IP Style offers three secure methods for user access: mobile, RFID and PIN.
For access using your smartphone, you can use the free 2N Mobile Key app for Android or iOS. Mobile Key takes advantage of 2N WaveKey technology. WaveKey has been intensively tested over time for reliability with 100 smartphone models. It also ensures speedy opening, averaging 0.3 seconds. Part of how it does this is that it pre-authenticates up to 8 smartphones within range, so there won't be lag as it switches between users. Communication between the intercom and phone is secured via AES-128 and RSA-1024 encryption keys.
WaveKey offers four different methods for using your phone to open the door:
Contactless Tap in the app. Tap the button in the 2N Mobile Key app.
Touch mode. Leave your phone in your pocket or purse. Touch the reader with a finger or elbow.
Motion mode. Leave your phone in your pocket or purse. Wave your hand in front of the IP Style's camera.
Card mode. Use your phone like an RFID and hold it next to the reader.
IP Style also has a built-in RFID radio, so you can use RFID cards or RFID key fobs. It supports both 125 kHz and 13.56 MHz RFID standards, including secured HID versions.
Finally, if you want to use a traditional PIN number, you can setup the intercom to display a keypad.
For all of these methods, the administrator adds or deletes users through the web interface.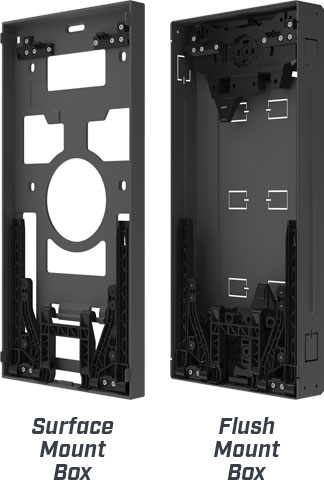 Mounting Options
2N IP Style can be surface-mounted on or flush-mounted in a wall or other vertical surface. Note that the intercom doesn't come with either mount box: they must be purchased separately:
2N recommends that you flush mount the intercom if at all possible, because it makes it more elegant looking, plus improving the physical security of the intercom. The flush mount box has an elevation system that lets you modify the depth of the box if you happen to install it too deep into the wall.
Both mount boxes utilize a patented "tilt-out" system for installation. This means that you slide the intercom into rails that tilt out of the box. You can then conveniently connect the cables, then tilt the intercom into the box. All you need to do to secure it is screw it in using an Allen key.