Yealink is known for continually innovating in the business collaboration space. Their latest innovation? Meet Yealink CTP20.
CTP20 is a professional tablet for video conferencing. It addresses three common pain-points experienced by conference attendees:
Collaborating on documents
Managing the meeting
Viewing far-end participants
How does CTP20 do this? Let's take a look.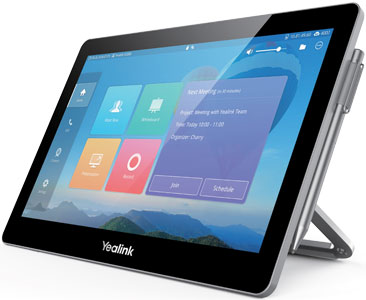 Yealink CTP20 Collaboration Touch Panel
Yealink CTP20 is an elegant 13.3" tablet with a 10-point multitouch capacitive display and 1080p Full HD resolution. The Android-based user interface is designed to be intuitive with clearly labeled apps sized for simple access.
The tablet comes with a stylus that uses 1024 touch pressure levels to provide a natural writing experience.
CTP20 works wonderfully for sharing content, providing a large screen close up. In many cases, this makes it easier to read charts and presentations than on a display at the end of the room.
Using the stylus or your finger, you can annotate shared content on the tablet. These annotations appear in real time, helping the collaboration process.
Or you can use the built-in whiteboard app to ideate collaboratively. You can start a shared whiteboard during a conference with just a tap of your finger.
With both the content annotation and whiteboard features, the canvas is scalable using common tablet gestures, so you can more precisely draw or write.
When setting up meetings, you have your contacts right at your fingertips. You can see not only your local and cloud contact lists, but also missed calls and call history.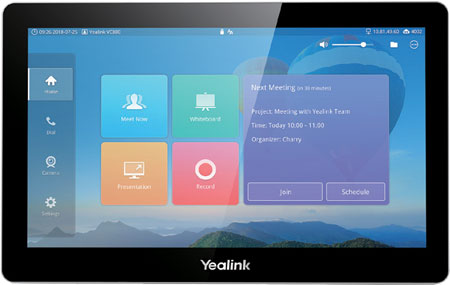 CTP20 lets you arrange the far-end video feeds with just a couple of taps, so it focuses how you want it to: picture in picture, one main picture with other pictures along the side, equal sized boxes, or active speaker.
During a call, you can mute, end call, or record with just a tap, as well as see a full participant list.
To help get the best picture, CTP20 lets you adjust the camera angles and zoom levels simply by swiping or pinching in and out — in other words, just like you would on any other tablet or smartphone.
The tablet has a USB Type-A port that you can use to record meetings directly onto a USB flash drive.
It also has a USB Type-C port for content sharing with a PC. It has an omni-directional microphone, eliminating the need for a separate microphone. (These features will be enabled in a software update.)
CTP20 has an adjustable stand that lets you position the tablet from a 15° angle, perfect for drawing on, to a 70° angle, perfect for viewing conferences.
Yealink VC880, VC800, and VC500 all support up to four CTP20 tablets at one time. Yealink VC200 supports only one.
The tablet connects to a compatible Yealink video conferencing device either through the Ethernet or Wi-Fi.
The tablet is powered via PoE (Power Over Ethernet) or a 48V/0.27A power supply (available separately).