Yealink MVC300 is an all-in-one video conferencing system for Microsoft Teams. MVC300 is designed specifically for huddle rooms.
Video conferencing is the most natural business communications technology available today and saves on travel resources, which is why offices across the country are increasingly going with it.
Huddle rooms are also growing in popularity. More casual and more intimate than the standard meeting room, the huddle room enables collaboration on a human level, allowing everyone's voice to be heard.
Microsoft Teams is the new standard for workplace collaboration. Microsoft has developed Teams into a complete platform: corporate chat, video conferencing, and more.
They are merging Skype for Business into Teams, so if you currently use Skype for Business, you need to be ready for Teams.
Yealink is always at the front of the queue when it comes to providing new solutions for the new platforms. It's no different with Microsoft Teams.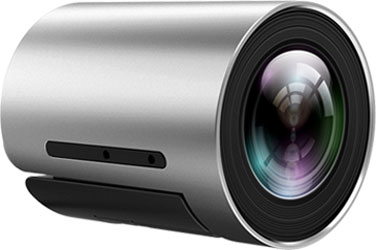 Yealink MVC300 for Focus Rooms and Small Rooms
Yealink MVC300 consists of the following components:
UVC30 Camera
CP900 Speakerphone
MTouch Tablet
MShare HDMI Hub
Mini-PC
Let's take a look at each.
Yealink UVC30 Video Conferencing Camera
Yealink UVC30 is a professional USB video camera built for the huddle room.
UVC30 is a 4k Ultra HD camera, giving you unparalleled detail. It uses the 4k video sensor to offer 3x digital zoom with minimal loss of detail.
Using intelligent design, the camera recognizes the faces of the people in the conversation and automatically frames them, giving you a natural conferencing experience without needing to fiddle with PTZ controls.
It has a wide 120° diagonal field of view, which allows it to capture people who are close to the camera, as happens in the constrained spaces of the huddle room.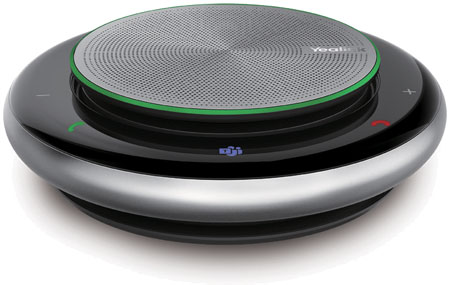 Yealink CP900 Portable Speakerphone
Yealink CP900 is a portable speakerphone that provides audio coverage for up to 6 people, perfect for the huddle room.
CP900 connects wirelessly via Bluetooth 4.0 to smartphones or tablets. It has a wireless range of 30m (98ft). It also connects via USB to computers.
As a wireless speakerphone, it has a talk time of up to 12 hours, giving you all-day performance with maximum flexibility.
The compact, portable device uses a six-microphone array to capture audio out to 2m (6.6ft).
In addition to Optima HD audio quality, CP900 uses full-duplex technology including advanced noise suppression and acoustic echo cancellation, so your conversation will be clear and easy to understand.
Integrated digital signal processing further improves audio performance.
Yealink CP900 Bluetooth & USB Speakerphone is available separately. Highly portable, it gives you professional audio wherever you are.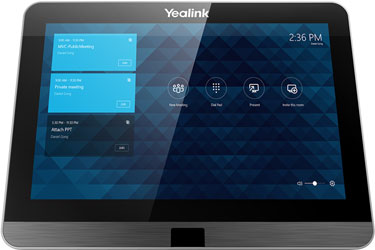 Yealink MTouch Tablet
Yealink MTouch acts as a control console for your meetings. It gives you a native Microsoft Teams interface, reducing friction and learning time.
MTouch is an 8" tablet with HD multitouch display.
It comes with a Yealink Camera Control plug-in pre-installed. You can then control the video camera from the tablet, simplifying the conferencing process.
It has a built-in human motion sensor to provide a streamlined experience in the office.
Yealink MShare HDMI Hub
Yealink MShare is a compact hub that connects to a computer via HDMI or Mini DisplayPort. It then connects to the mini-PC via a single USB cable.
It thus lets you share content from a laptop to HD displays.
MShare is also a Wi-Fi access point, allowing you to share content wirelessly via the Yealink WPP20 Wireless Presentation Pod (not included).

Mini-PC Package
Yealink includes a mini-PC to act as the control center of the video conference.
The mini-PC comes with Windows 10 IoT Enterprise with license as an operating system.
It comes with Microsoft Teams Rooms software preinstalled to get you collaborating as quickly as possible.
The mini-PC is a powerful computer: Intel Core i5 processor, 128GB SSD, 8GB RAM.
And it has a wealth of connectors: two HDMI video outputs, four USB-A ports, Gigabit Ethernet. On top of that, it supports Bluetooth and Wi-Fi.