Yealink W53P is a brand-new entry-level handset for wireless VoIP communications in the office. It joins Yealink W60P and Yealink W52P in Yealink's line of cordless phones for business.
Yealink's wireless VoIP phones seamlessly connect to your network using IP base stations, giving you excellent coverage and stable HD audio even when walking around the office, store, or warehouse.
In other words, you're getting a professional IP phone with cordless convenience.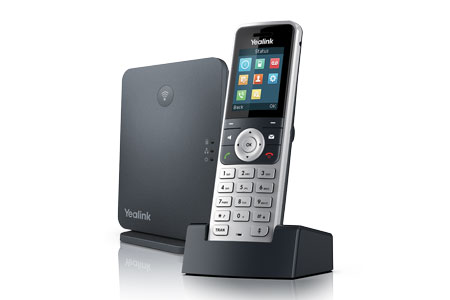 Yealink W53P DECT Handset & IP Base Station Bundle
Yealink W53P provides top-class performance at an incredible price-point.
W53P is a bundle that consists of the new Yealink W53H DECT Handset and a Yealink W60B IP Base Station. The handset connects to the base station and the base station connects to your network, so with the W53P bundle, you're getting a complete IP phone that gives you the freedom of a cordless phone.
Handsets and base stations are also available separately for scaling your deployment, because a single base station can support eight handsets. That means you can provide professional wireless VoIP for your employees while reducing infrastructure costs.
Note that a handset will not connect to your VoIP phone system by itself: a base station is required.
Read on for all the details about both!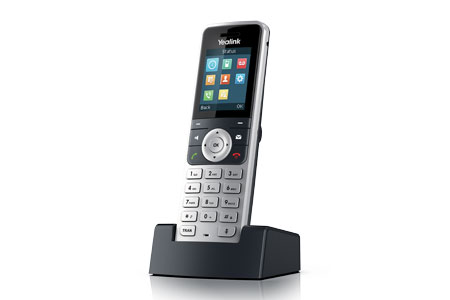 Yealink W53H DECT Handset
Yealink W53H is a stylish, silver handset with a compact, ergonomic design. It's 5.9" long and less than an inch thick. The 1.8" color display with two contextual softkeys makes it easy to use.
Of course, a wireless handset is useless without a decent wander range. And W53H delivers an excellent wander range: up to 50m (164ft) indoors and up to 300m (984ft) outdoors. It uses the CAT-iq2.0 DECT wireless protocol for HD audio and a high level of stability. The handset supports two simultaneous calls.
If you want to use the handset without holding it to your ear, it has a 3.5mm jack for attaching a headset or headphones with a microphone. It also has a full-duplex speakerphone with a nice, loud speaker that projects out the back of the handset. And it's hearing aid compatible, too.
The handset uses a rechargeable Lithium-ion battery for almost all-day use: up to 18 hours of talk time and 200 hours of standby time. Charge it using the included charging cradle.
Yealink W53H Protective Case
To protect your W53H handset, Yealink offers a protective case that is specifically designed for the dimensions of the W53H. It is REACH-certified to protect against shocks, crashes, scratches, and dirt.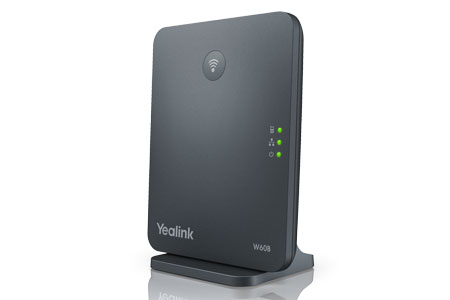 Yealink W60B IP Base Station
Yealink W53H connects to your VoIP phone system through a Yealink W60B IP Base Station.
This powerful, scalable base station communicates with handsets using DECT and to your IP network using the open SIP standard.
Each W60B base station can connect up to eight W53H handsets and drive up to eight simultaneous calls. It also supports eight SIP accounts.
An integrated noise reduction system and support for wideband audio including the adaptive Opus audio codec provide a rich sound experience.
W60B includes all the enterprise-grade networking features that you expect from Yealink. It supports Open VPN for use with secure, private networks. HTTPS provisioning and TLS and SRTP encryption protect your communications. To optimize your voice traffic and provide a more stable talking experience, you get full QoS control. Energy-saving ECO features save your company on power expenses.
The base station connects to your LAN using an Ethernet cable and supports PoE to power it through the network using a PoE injector or PoE switch.
Yealink RT20U DECT Repeater
If you need extended coverage around the office, Yealink provides a plug-and-play signal repeater: Yealink RT20U DECT Repeater. Each RT20U has a 50m (164ft) indoor range and 300m (984ft) outdoor range, greatly extending your wireless range. The RT20U uses automatic handover so your calls won't drop out.
You can use up to five RT20U repeaters per one W60B base station.