Axis Companion Line is an end-to-end security solution aimed at letting small businesses protect themselves. Featuring cameras, recorders and switches tied together by an intuitive video management program, the Axis Companion Line makes surveillance simple.
We're going to break down all the components so you can see if the Axis Companion Line is right for you and your business.
Axis Companion Line
If you've ever gone shopping for a surveillance camera, you'll know that it's almost impossible to sift through all the options. Maybe if you're a full-time IT engineer, you have the training and the time to find the precise camera that will give you that 2% edge, but for most of us, having a security camera system that just works is just what we're looking for.
Part of this is having simple software that you can run from anywhere. The Axis Companion Line is controlled using the Axis Companion Video Management Software for Windows, with apps for Android and iOS. This software, which is free when you register your Axis Companion product, lets you set up and manage up to 16 cameras per location.
Set-up is simplified because the Companion Line is unified. The software immediately identifies cameras and lets you select which ones you want to see. Secure Remote Access technology lets you access live or recorded video from anywhere with an internet connection, even on a smartphone or tablet. You can even control PTZ (pan-tilt-zoom) functions right from your desktop.
What cameras work with the software? Axis provides you with a suite of options.
The Axis Companion Cameras
With the Companion Line, Axis provides an excellent selection of cameras for general use scenarios. These options are:
Axis Companion Dome
Axis Companion Eye
Axis Companion Cube
Axis Companion Bullet
These cameras serve different, common functions, which we will go through in a second.
First, though, what do they share? They all produce 1080p Full HD video at 30 fps (frames per second) using a 2 megapixel CMOS sensor and 2.8 mm fixed lens. They all have a slot for a microSD, microSDHC or microSDXC card, which lets you record video in the camera itself. They can adapt to high-contrast scenes, scenes with dramatic differences between brightness and darkness, using Wide Dynamic Range technology. They all feature Axis's Zipstream technology, which blurs inessential parts of the video while retaining excellent detail for essential parts, to save you a whole lot of storage and bandwidth. They all support the H.264 video codec, which is highly efficient, again saving you storage and bandwidth. They all support Axis's Corridor Format, which switches the picture format from landscape to portrait and which is the appropriate format for hallways and similar spaces.
Here's a breakdown of the individual cameras:
Axis Companion Dome
Axis Companion Dome is an indoor dome camera intended for general surveillance. The camera unit can be pointed in any direction and can even see the wall or ceiling, which means that you'll be able to get the shot you need. Its big draw is that it's vandal-resistant, with ruggedized casing and Torx security screws. And it's very compact, measuring only 4" in diameter and 2.2" in height.
The Dome comes in a wired and a wireless model: Dome V and Dome WV, respectively. Dome V uses an Ethernet cable for both connecting to the network and for power using PoE (Power over Ethernet). Dome WV uses WiFi, 2.4 or 5 GHz, to connect to the network and a power supply for power. It also includes an Ethernet port if you want to connect it to the network via cable but want to power it via a power supply. Dome WV also comes packaged with a 64 GB microSDXC Companion Card for storing video locally in the camera.
Axis Companion Eye
Axis Companion Eye is a mini-dome camera for day and night surveillance, and features a flat-faced design that reduces the reflections that can sometimes mar image quality. Companion Eye includes a long-lasting 850 nm infrared LED with a range of 50 ft and an automatically removable infrared-cut filter, which means the camera can take usable video even in complete darkness. As with the Dome, the Eye can be tilted in any direction to cover any scene.
There are two models of Companion Eye: Eye L and Eye LVE. Eye L is intended for indoor placement. Eye LVE is intended for outdoor placement, so comes in a more rugged casing which is also vandal-resistant. Both models connect via Ethernet cable and are powered via PoE.
Axis Companion Cube
Axis Companion Cube, like the Eye, is intended for day and night surveillance indoors, and features two-way audio using a built-in microphone and speaker. It has a button to enable communication like an intercom. The microphone can also record audio, for richer evidence. You can adjust the intensity of the Companion Cube's infrared LED, which can reach 32 ft. The Cube has a passive infrared sensor to detect motion in complete darkness. This sensor has a range of nearly 20 ft. Cube comes with a table-top stand and a unique mount bracket that works for placing the camera on the wall or in corners.
Axis Companion Cube, like the Dome, comes in a wired and wireless model: Cube L and Cube LW. The differences between the Cube models are the same as with the two Dome models. Cube LW comes packaged with a 64 GB microSDXC Companion Card for local storage.
Axis Companion Bullet
Axis Companion Bullet is for outdoors placement and features the same infrared LED and sensor that the Eye has. Operational down to -22°F and up to 122°F, Bullet also has rugged casing that wards against tampering and weather. The flat-faced design reduces reflections. At this point, there is only model of the Bullet: Axis Companion Bullet LE. It is powered via PoE.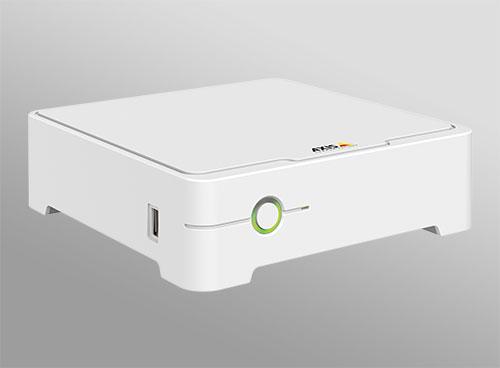 The Axis Companion Back-End
Of course, all the cameras in the world won't help you if you don't have some way to connect the cameras into a single network and to store video. Axis understands this, and has provided as part of their unified security solution the Axis Recorder and the Axis Switch.
Axis Companion Recorder
Axis Companion Recorder is an 8-channel network video recorder that doubles as a PoE switch and a wireless access point. As an NVR, it comes with either a 5900 rpm surveillance class 2 TB hard-drive or 5400 rpm surveillance-class 4 TB hard-drive. Compact and fanless, it has a recording rate of up to 80 Mbit/s for up to 8 simultaneous video channels. It was developed specifically for the Axis Companion Line, and so supports any format or frame rate that the Axis Companion cameras can produce.
As a switch, the Axis Recorder can connect up to 8 cameras and output 65W of PoE power. The Recorder itself is powered using an included power supply.
As a wireless access point, the Axis Recorder allows mobile devices to securely connect to the Recorder and view video. It also simplifies installation. Note that Axis Recorder is not a wireless router for use with a general internet scheme: it is an access point for these limited uses only. It supports both 2.4 GHz and 5 GHz WiFi, and has WPA2 Personal password protection.
Axis Companion Switch
Axis Companion Switch is a compact network switch that can connect and power four IP cameras. Even though it can pretty much fit in your palm, Axis Switch can deliver 60W of PoE+ power. It is Level VI compliant for energy efficiency.
Axis Companion Switch is intended for small systems with only a few cameras. You can use the Switch to connect and power the cameras, and use Axis Companion Cards for storage on the cameras. Companion Cards are 64 GB microSDXC cards that fit directly into Companion Cameras. The Switch is intended for desktop placement and includes a power supply.