Axis Communications has just released two new models to their top-end Q60 Series of PTZ IP Security Cameras:
Let's take a closer look!
Axis Q6075 & Q6075-E IP Cameras
Axis knows how to build on their success.
With the new Q6075 and Q6075-E cameras, Axis has manufactured an elite IP security camera for use in large, open spaces, including:
Airports
Hangars
Auditoriums
Cafeterias
Warehouses
Factories
Stadiums
Arenas
Carparks
With Q6075 you get incredibly detailed video with full PTZ functionality, including 40x optical zoom and 360° endless panning.
In other words, you need just one camera to do all the work.
The cameras record and/or stream 1080p Full HD video at a full 60 fps (frames per second), giving you excellent detail.
These cameras include Axis's 7th generation ARTPEC chip, which enables enhanced security features and much more.
The new chip, for example, enables a much more efficient video feed with H.265 (HEVC) video compression. H.265 is 50% or more efficient than H.264, which adds up to major savings on bandwidth usage and storage.
Let's get into more stand-out features:
Pan-Tilt-Zoom & Advanced Optics
Enhanced Security Features
Ruggedized Outdoor Construction
Intelligent Onboard Analytics
Pan-Tilt-Zoom & Advanced Optics
Axis Q6075 is an elite PTZ camera.
It uses a professional varifocal 4.25-170mm lens with a very wide maximum aperture of f/1.6 to let in lots of light.
The lens offers 40x lossless optical zoom, which means you could install it high in, for example, an airport's main space and still pick out specific individuals with a very high level of detail.
And if you need even more, the camera supports 12x digital zoom for a ridiculous zooming power of 480x in total.
As a PTZ camera, it supports 360° endless panning, which means it can continuously pan around without hitting a stopping point. Q6075 has a 180° tilting range and Q6075-E has a 220° tilting range.
You can configure up to 256 presets to quickly get to the optimal angles.
On top of that, you can create what Axis calls a "guard tour" – in other words, you can toggle between up to 100 presets, either in a specific order or at random.
Combined with 360° endless panning, guard tour makes it simple for a single security worker to effectively surveil large spaces.
The camera also features Lightfinder 2.0 technology.
If you've ever tried to record video in dark conditions, you know that colors get seriously messed up. But having accurate coloration can make all the difference: is the vandal's sweater green or blue?
Lightfinder 2.0 is an improved version of Axis's class-leading technology that provides naturalistic color reproduction in extreme low-light.
Enhanced Security Features
The new ARTPEC-7 chip enables enhanced security features for protecting the integrity of your surveillance camera.
The camera has a Trusted Platform Module (TPM) to protect your private keys and certificates in case the device itself is compromised. The TPM is FIPS 140-2 Level 2 certified, which verifies that the TPM has been properly implemented.
Another important feature is secure boot, which ensures that the camera can only be booted with official firmware.
Here's a tip: if you want to make sure that no one has tampered with the camera's firmware, just reset it to the factory defaults.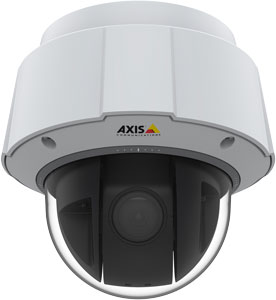 Ruggedized Outdoor Construction
Axis Q6075-E is designed for outdoor installation in harsh environments.
It meets strict industry standards: IP66/67 against dust and water ingress and IK10 against impacts.
The camera has an extended operating temperature range of -58°F to 122°F using the included 60W PoE midspan (down to -4°F with a 30W midspan). It can handle intermittent temperatures of up to 140°F.
When power goes out due to extreme cold, starting up electronics again can harm them. Not so with Q6075-E. Arctic Temperature Control slowly heats up the camera, providing secure start-up in temperatures as low as -40°F.
It comes with a sunshield to guard against damage from sunlight and to improve picture quality.
Intelligent Onboard Analytics
Axis Q6075 comes with Axis Guard Suite analytics installed on the camera. The suite includes:
Video Motion Detection
Motion Guard
Fence Guard
Loitering Guard
Let's take a look at one of these: Loitering Guard.
This technology uses an intelligent tracking algorithm to detect loiterers by tracking moving objects and triggering an alarm if the object stays in one place for too long. You can set the length of time it takes to trigger the alarm.
Axis has fine-tuned the algorithm with perspective configuration to reduce false alarms.
Another important feature is Autotracking 2, which enables active tracking of a person or object with just a click.
Note that use of Axis analytics is dependent on the platform you're using the camera on.
Axis has an open standards policy to make it as interoperable as possible with third-party video management systems. Q6075 is ONVIF Profile G, Profile S, and Profile T compliant:
ONVIF Profile G. An open standard for supporting in-device or network-attached storage, including common functions like search and playback, plus receiving audio or metadata.
ONVIF Profile S. An open standard for controlling the streaming of IP camera video, including PTZ support.
ONVIF Profile T. An open standard for supporting common video compression, security features, alarm events, and similar functions.