Updated by Jay Brant on March 25, 2022
You want the best audio quality possible on your group calls, whether they're audio conferences or video conferences. How do you achieve professional sound quality when you have large groups of people of 10 or more participants? A conference phone by itself might not pickup everyone's voices equally. A speakerphone certainly won't work.
For large group calls, there are two primary options: ceiling microphones and tabletop microphones. Each type has advantages and disadvantages. Let's take a look.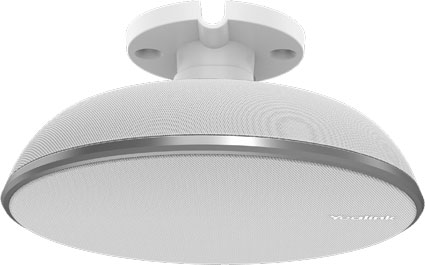 Advantages of Ceiling Microphones for Conference Calls
Ceiling microphones are installed audio solutions for professional business conferences. There are several advantages to using ceiling microphones:
Clutter-free. Ceiling microphones provide a clean working space with no cabling on the conference table.
Coverage. Because they're installed above people, ceiling microphones have to deal with fewer obstacles, which can improve audio coverage per microphone.
Always there. Because they're installed in a dedicated conference room, you'll never need to worry about someone moving the microphone to another room.
The new Yealink VCM38 Ceiling Microphone is a great example of the benefits of a ceiling microphone. VCM38 is an 8-microphone array with 360° audio pickup in a roughly 20-foot radius. The microphones use beamforming technology to locate the active speaker and elevate their voice for improved comprehension. They feature Noise Proof technology, which mutes the microphones automatically when no one is speaking, greatly reducing the amount of noise your end transmits. You can use up to 8 VCM38's in a single installation, which gives you exceptional coverage for extra-large conference rooms. The microphone is powered by PoE (Power Over Ethernet), which streamlines your infrastructure, reducing clutter even more.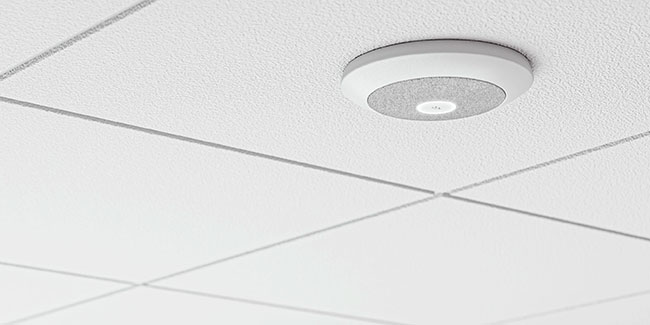 Logitech Rally Mic Pod is a versatile expansion microphone for Logitech Rally, Rally Plus, Rally Bar and Rally Bar Mini. This wired microphone has a 15-foot reach using a 4-element beamforming microphone array, backed by Logitech's RightSound technology, which levels voices and suppresses noise for optimal comprensibility. Rally Mic Pod can be used as a standard table microphone; however, if you get the optional Rally Mic Pod Mount, you can mount it on the ceiling. Both the microphone and mount come in either graphite or white.
Another example is the Poly IP Ceiling Microphone. This 3-cardioid microphone array covers a 24-foot diameter in 360°. Dynamic microphone steering picks out the voice of the active speaker with Acoustic Fence technology to create a virtual perimeter around the conversation, resulting in crystal-clear sound quality. StereoSurround technology gives you an exceptionally lifelike experience on group calls. The microphone's electronics enclosure meets the UL 2043 standard for installation in air-handling spaces and the package includes a 50-foot plenum-rated cable.
Yealink VCM38, Logitech Rally Mic Pod and Poly IP Ceiling Microphone can only be used with specific systems, so make sure to check compatibility before purchase. The Poly ceiling microphone linked to above is for use with the Poly G7500 Video Conferencing System.
There are, however, some disadvantages of ceiling microphones vs tabletop microphones. Because they're installed in the ceiling, you can't move them, so if you have a dynamic conference space where people move or non-traditional placement of participants, they might not be the best option. They also don't let participants mute and unmute their microphones easily, which might lead to more noise being transmitted.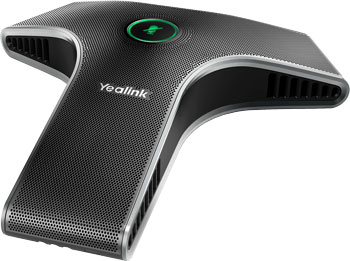 Advantages of Tabletop Microphones for Conference Calls
Tabletop microphones are the simplest way to improve audio quality in situations that demand extra coverage. They offer several advantages:
Flexible placement. You can move tabletop microphones around the conference space to capture people's voices better.
Mute button. Tabletop microphones typically have a mute button to reduce distractions from people who aren't speaking.
Simplicity. You just need to plug the microphones in to use them, no need to worry about installing them in ceilings or walls.
What are some examples of professional tabletop microphones for conference calls?
Yealink VCM34 is an easy-to-use tabletop microphone that you can position for best coverage. The 3-microphone array picks up voices in 360° out to 20 feet. Noise Proof technology greatly reduces background distractions. The microphone is powered by PoE (Power Over Ethernet) to reduce the amount of cabling you need. You can daisy-chain up to 4 VCM34's to extend coverage.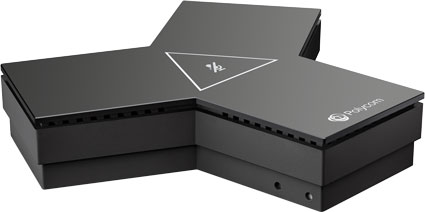 Poly IP Table Microphone is a compact, modern tabletop microphone for use with the Poly G7500 Video Conferencing System. It offers Poly signature sound quality with 360° audio pickup out to 20 feet. The microphones support NoiseBlock and Acoustic Fence, which means you won't have to put up with background noise while on a call. You can use up to 3 IP Table Microphones with one G7500 codec for extra-large spaces.
As with the ceiling microphones, these tabletop microphones are intended for use with specific systems. Make sure to check compatibility before purchase.
There are a couple of disadvantages to using tabletop microphones vs ceiling microphones. They make more clutter with cables running across the conference table. Because they're placed on the level of the participants, they might have to deal with more interference, which could affect sound quality.