Known for their cost-effective VoIP devices, Grandstream has made a big push into networking solutions for small to midsize businesses and home offices. They're bringing the best Wi-Fi experience available, Wi-Fi 6, into your office. And if you don't need cutting-edge power, you can get Wi-Fi 5 devices for excellent prices.
As Grandstream's portfolio of professional Wi-Fi access points and routers expands, we thought it'd be a good idea to provide an overview of their offerings as they stand today.
But first, we're going to cover a question you might already have: what does "Wi-Fi 6" mean?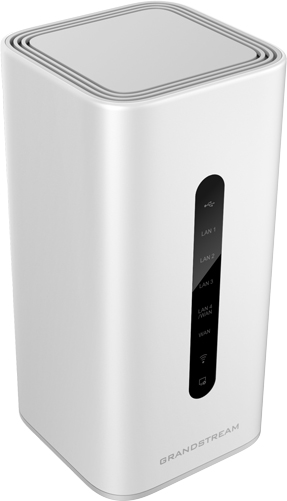 What is Wi-Fi 6?
As different Wi-Fi standards have been released, they've been referred to by the section in the actual written standard: 802.11 + a suffix to denote the section. That's why you'll see 802.11n, 802.11ac, or 802.11ax. However, these names are confusing, so the Wi-Fi Alliance came up with a simpler naming scheme: 802.11n became Wi-Fi 4 and 802.11ac became Wi-Fi 5.
Wi-Fi 6 is the simplified name for 802.11ax, the latest Wi-Fi standard. Wi-Fi 6 offers many upgrades on Wi-Fi 5. It almost triples the maximum data throughput, increases speed, decreases latency, improves security, and more. (These are all potential upgrades; real world experience depends on many factors.)
Of course, devices like computers and smartphones need to support Wi-Fi 6 for you to see these benefits. But the industry is definitely heading towards Wi-Fi 6, so the fact that Grandstream is producing wallet-friendly Wi-Fi 6 routers and access points lets you upgrade to the latest and greatest without paying a premium.
By the way, every Wi-Fi 6 device, including routers, supports all the previous versions of Wi-Fi, so buying a Wi-Fi 6 router doesn't mean devices that only support Wi-Fi 5 won't work. They'll connect just fine.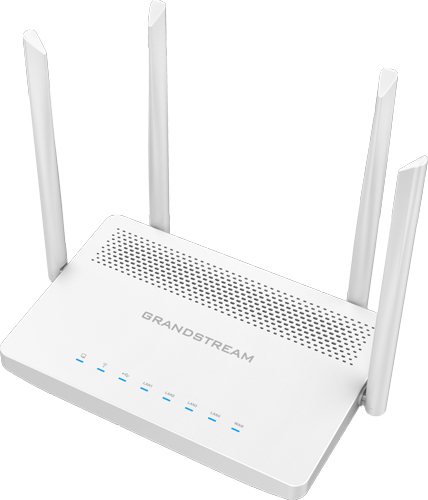 Grandstream routers
Grandstream has recently released two new Routers: Grandstream GWN7062 and Grandstream GWN7052. When would you need which one? Here are a couple scenarios:
You represent a small business with a growing workforce. You want to embrace wireless convenience in the office and retain younger talent with excellent Wi-Fi for all their devices, but you want to keep your business secure. As your business grows, you might need to expand the wireless range using a mesh network.
GWN7062 is the router for you. This high-powered Wi-Fi 6 router can handle up to 256 devices with 2×2:2 MU-MIMO using a powerful 64-bit 1.2 GHz quad-core processor. Want to improve your video conferencing, 4K Ultra HD video streaming, and other resource-intensive activities? Try GWN7062.
You have a stable workplace without excessive demands on your wireless network. You don't need to have the latest and greatest; rather, you want a proven solution. Or you might be a home office worker who requires professional Wi-Fi so you don't have to run Ethernet cables all around your house.
GWN7052 is perfect for lighter use in smaller offices or even in home offices. This simple to use Wi-Fi 5 router gives you excellent connectivity with numerous features like built-in VPN support for remote workers and powerful firewall features for protection.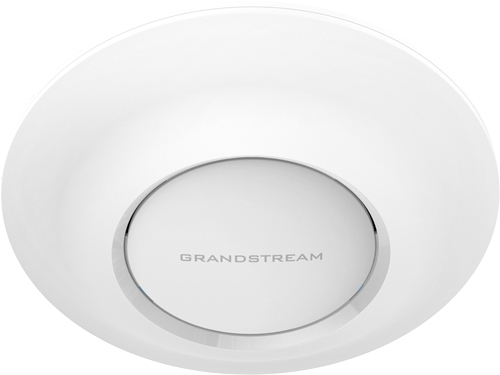 Grandstream Wi-Fi access points
Grandstream's lineup of Wireless Access Points is broken down into two primary categories with a pretty obvious distinction: indoor and outdoor. There are too many models for us to list them all here, but let's cover a few so you know what your general options are.
For an indoor Wi-Fi 6 access points, check out Grandstream GWN7664 and Grandstream GWN7660.
On top of Wi-Fi 6, GWN7664 supports 4×4:4 MU-MIMO, which means that it can connect with multiple devices simultaneously rather than in sequence, providing a stabler signal. This makes the wireless AP excellent for medium-to-high density environments. In fact, the access point can support 750+ Wi-Fi devices at the same time. It has a maximum wireless range of over 550 feet and supports mesh networks if you need more coverage. Its 3.55 Gbps aggregate wireless throughput means exceptional speed for many, many devices simultaneously.
If you want Wi-Fi 6 but aren't anticipating a high-density environment, GWN7660 is an excellent choice. It supports 2×2:2 MU-MIMO and has a 1.77 Gbps aggregate wireless throughput. It also has a 574-foot wireless range.

These same two models are available for outdoor installation: Grandstream GWN7664LR and Grandstream GWN7660LR. These outdoor Wi-Fi 6 access points feature powerful external antennas, which expand their wireless range. They're rated IP66 against dust and water ingress and have an extended operating temperature range of -22°F to 140°F.
The four external antennas of GWN7664LR mean the AP has an almost 1000-foot radius. It's rated up to 974 feet. GWN7660LR has an 820-foot range with its two antennas.
But what if you don't require Wi-Fi 6?
Grandstream GWN7625 is a Wi-Fi 5 access point that supports 4×4:4 MU-MIMO on the 5 GHz band, giving you excellent connectivity in higher-density environments. If you'd like identical performance but want to mount it in-wall for a more discreet look, try Grandstream GWN7624. This access point also supports 4×4:4 MU-MIMO on the 5 GHz band. It also has three Gigabit Ethernet ports for wired connectivity of external devices like VoIP phones or PCs, giving you an option for ultra-stable network connectivity.
And all these are less than half of Grandstream's current offerings for Wi-Fi access points!
Related Blogs