Zoom is now one of the standard applications for workplace communications. Simple, secure, reliable video conferencing: That's the name of the game with Zoom.
Zoom's business video conferencing solution is called Zoom Rooms. Many organizations —businesses, schools, NGOs, etc. — now use Zoom Rooms. The amount of Zoom Certified video conferencing equipment is increasing.
With this increased usage comes increasingly specific demands. For example, many organizations want to use a multi-camera setup with Zoom Rooms.
Is this possible? Why would you want to have a multi-camera video conferencing system?
These aren't trick questions. Yes, you can setup a multiple camera Zoom Rooms solution. Why would you want to? When the room is too big or too wide for a single camera to cover, you need to use multiple cameras.
Classrooms, training rooms, large board rooms — all of these are common scenarios where you might want to use multiple cameras with Zoom Rooms.
One really easy way to achieve multi-camera Zoom video conferencing is to use Yealink AVHub. Let's take a look!

Using Yealink AVHub for multi-camera Zoom Rooms video conferencing
Yealink AVHub is a dedicated audio/video processor for meetings. Sound nice, but what does that mean?
Basically, it means that you can connect a bunch of cameras, microphones, and speakers with AVHub, and it does the hard work of processing and unifying all these feeds into a cohesive, natural conferencing experience. In other words, it greatly simplifies connectivity, like any good hub should do. And it greatly reduces the processing burden on the computer running the Zoom Rooms application, because all the A/V feeds are going through it, rather than the computer.
And best of all: it works with Zoom Rooms!

There are two ways to connect devices to AVHub:
Plug devices directly into AVHub. It has seven standard RJ45 ports, plus one each of USB-A, RCA line-in, RCA line-out, ¼ inch (6.3 mm) line-in, and ¼ inch (6.3 mm) line-out ports for device connectivity.
Plug devices into a network switch, then connect the switch to AVHub. This method helps you streamline your infrastructure and organize your cabling. It also lets you connect more devices if your switch has more ports available than AVHub itself.
AVHub supports up to 9 video conferencing cameras, up to 8 video conferencing microphones, and up to 4 video conferencing speakers.
They don't all need to be the same camera, mic, or speaker, either. For example, let's say you have a very large classroom and you think multiple cameras might provide optimal coverage. You could use a combination of Yealink UVC84 and Yealink UVC86 cameras.
UVC86 is a dual camera: it has one 12x optical zoom camera and one panoramic camera. It uses these, plus built-in intelligence, to provide exceptional speaker tracking and presenter tracking. In other words, it can sense active speakers and automatically zoom in on them and frame them. It's a full PTZ camera and supports up to 4K Ultra HD resolution.
UVC84 is a single 4K Ultra HD camera with 12x optical zoom and full PTZ controls.
You could place one UVC86 centrally, and set that feed to follow the active speaker. The rest could be UVC84's, placed to provide optimal coverage.
You can then adjust the layout of the different camera feeds using Yealink RoomConnect. This free plug-in lets you choose from three layout options: Fullscreen, Division, and Surround.
Fullscreen. One camera feed is shown.
Division. All the camera feeds are shown.
Surround. One camera feed is large, while the others are small and surround it.
It's really easy to use. You just drag-and-drop camera feeds as you need them.
AVHub + RoomConnect provides the same simple connection and management options for microphones and speakers. You can, for example, adjust audio levels on microphones, select an EQ setting for the speakers, and so on.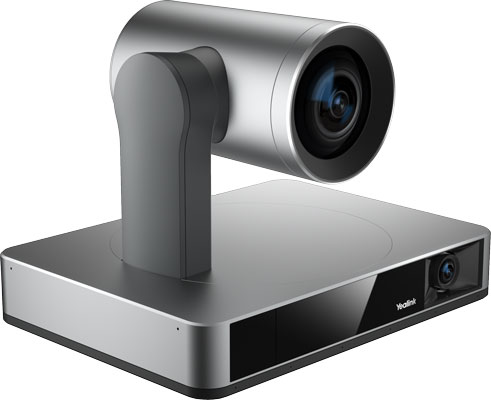 Using AVHub with Yealink ZVC Series systems
Yealink has worked with Zoom to develop Zoom Rooms video conferencing kits that come with a selection of professional-grade equipment for specific rooms sizes. They contain devices like video conferencing cameras, mini-PCs with Zoom Rooms app preloaded, sound bars, and touch panels for managing meetings.
For large rooms, check out Yealink ZVC840 or Yealink ZVC860.
AVHub works perfectly to organize these Yealink ZVC Series systems. It also gives you headroom for adding to the systems with additional cameras, microphones, or speakers.
Third-party device integration with AVHub
You don't need to use only Yealink devices with Yealink AVHub. You can, for example, use third-party microphones and speakers from such class-leading brands as Biamp, Q-SYS, and Shure.
For more information, here are the pages on Yealink's website for each of these brands (external links):