Grandstream GRP2614 is a brand new carrier-grade IP phone that makes deploying it simple and using it even simpler.
GRP2614 has a secondary display with 8 multi-purpose keys that you can customize for speed dialing or quick actions. With 8 keys across 3 virtual pages, you get 24 extra multi-purpose keys. It's like having a built-in expansion module!
The phone gives you native flexibility for connecting to your VoIP phone system: Gigabit Ethernet or 802.11ac Wi-Fi.
One of the stand-out features of GRP2614 is that it has a built-in Bluetooth radio for pairing with a wireless headset or mobile device.
Using a professional Bluetooth headset frees you up from worrying about wires while still giving you HD audio in your ears and through the microphone.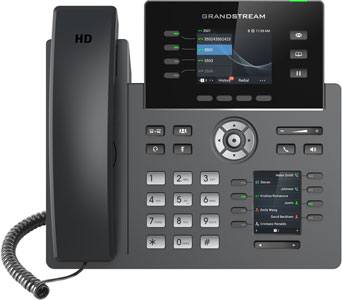 Connecting a Bluetooth Headset to Grandstream GRP2614
Here's how to connect a Bluetooth headset to your Grandstream GRP2614 IP Phone.
First, turn on the GRP2614's Bluetooth radio:
On the phone, go to Menu > System > Bluetooth
Under Power, choose On
When the radio is on, you will see "Discoverable" under Bluetooth Status
Now that the Bluetooth radio is on, you can connect a headset to the GRP2614:
On the phone, go to Menu > System > Bluetooth
Choose Start Scan
After the phone has completed scanning, you will have a list of devices available for pairing

See your headset user guide for how to make it available for pairing

Choose the desired device
Choose Pair
When pairing has completed, you will see "Connected" next to the device in the list of devices available for pairing
Using the same process, you could pair a mobile phone to the GRP2614 to make use of the excellent audio quality and familiar interface of the desk phone.
Alternately, you can connect to the GRP2614 via the mobile phone:
Turn on the GRP2614's Bluetooth radio as shown above
Under your mobile phone's Bluetooth settings, choose GRP2614

Note: the precise name might vary, but "grp2614" will be part of the name

This will send a pairing request to the GRP2614
On the GRP2614, accept the pairing request
And that's it!