With society's increased emphasis on keeping surfaces clean, what do you do with public communications devices like intercoms?
Viking Electronics has come up with a new solution: touch-free VoIP intercoms! You get the reliable performance, excellent audio quality and open SIP integration that Viking IP intercoms are known for.
And you use a highly accurate motion sensor instead of a button to initiate a call. All you need to do is wave your hand in front of the intercom.
They've just released three touch-free intercoms:
There are also options for each of these models that include Enhanced Weather Protection (EWP), which we explain below.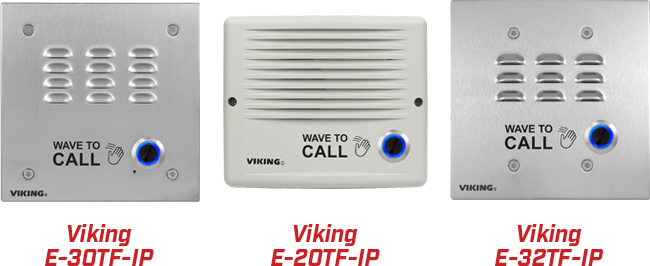 Viking Touch-Free VoIP Entry Phones
The new Viking Touch-Free Entry Phone series comprises the latest door entry solutions from the Hudson, Wisconsin, manufacturers.
The essential difference between previous models and these is the motion sensor. The sensor reduces to zero the amount of physical contact. They have clear lettering and a visual graphic to let people know how to use it.
As audio devices, they combine power and sound quality. They play sound at up to 90 dB with automatic noise cancellation, making them useful even in loud environments.
They're VoIP intercoms, which means they connect to an IP phone system or other management platform through the computer network. They support the open SIP protocol, which makes them compatible with a huge range of services. In addition, they come with automatic polling and programming software.
You can program up to 5 numbers to dial, either through the network or using a touch-tone phone. They'll cycle through the numbers in case of a busy signal or someone not picking up.
Here are answers to some common questions about the new Viking Touch-Free Intercoms.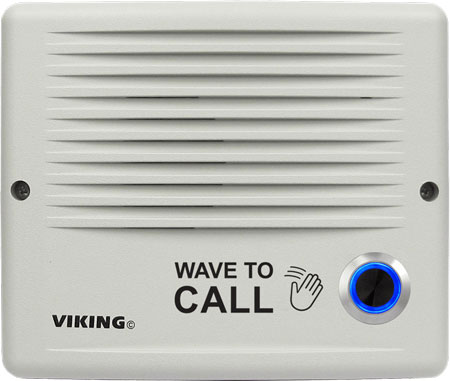 What's the difference between the three models?
The models differ by chassis, not feature or performance.
E-20TF-IP has a light grey, UV stable plastic chassis and is intended for surface mounting to a standard single gang box, standard 4" x 4" electrical junction box or just directly on a wall or other flat, vertical surface.
The other two have marine-grade stainless steel faceplates with laser etched graphics. The stainless steel intercoms come with Torx T-10 security screws to prevent physical tampering.
What's the difference between Viking E-30-TF-IP and Viking E-32TF-IP?
The difference between the two is how they're intended to be mounted:
E-30TF-IP comes with a plastic rough-in box and is intended to be flush mounted. You can surface mount it, however, using the Viking VE-5X5 Surface Mount Box (not included).
E-32TF-IP is intended to be flush mounted in a standard double gang electrical box. It doesn't include the rough in box.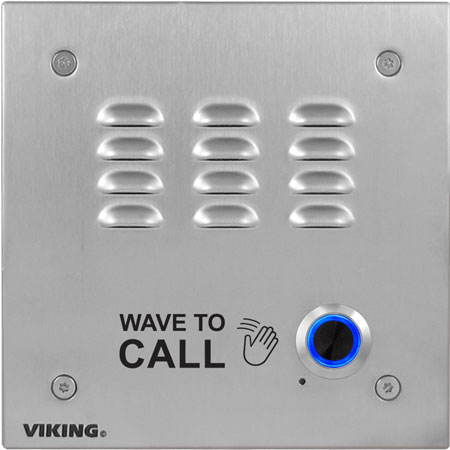 What's the range of the motion sensor?
The motion sensor has a range from 1 to 4 inches. You can set the range in the management portal.
How do you know when the intercom is placing a call?
The intercom has a ring LED around the motion sensor. When the intercom is idle, the ring light is blue, which also helps it to be used in darkness. When a call is being dialed, the light flashes green. When a call is active, the light is a steady green.
How do you power the intercoms?
They are powered via Power Over Ethernet (PoE). PoE is a standard that enables power to be transmitted over the same Ethernet cable that connects a device to the computer network. PoE helps streamline your infrastructure.
Can you connect any other devices to them?
Yes. The intercoms have 2 Amp relay contacts, which let you connect peripherals. You could, for example, set up the intercom at a gateway. When a visitor wants to get in, the attendant can activate a connected door strike. In other words, your whole infrastructure is further streamlined.
What is Viking Enhanced Weather Protection (EWP)?
The three entry phones are also available with Viking Enhanced Weather Protection:
Viking EWP is a set of additions that protect a device from precipitation or condensation. It makes the device IP66 rated.
Some of the features that Viking adds may include foam rubber gaskets, potted circuit boards with internally sealed trim pots and sealed connections.
If you intend to install the intercom in a location that will leave it exposed to rain, fog, sprinklers or other sources of water or condensation, we highly recommend you get the EWP version.