Jabra PanaCast is a revolutionary device for professional video conferencing in huddle rooms.
The small, compact PanaCast blends three 13MP video feeds from integrated cameras in real time to provide a 180° field of view in exquisite detail. It's a Panoramic-4k camera.
PanaCast is also a plug-and-play USB camera, providing instant collaboration.
Because PanaCast is a USB camera, it's compatible with virtually every video conferencing and unified communications platform on the market. And it's Microsoft Teams certified, too.
Let's take a closer look!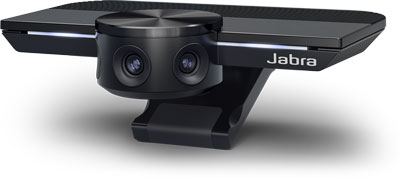 Jabra PanaCast Video Conferencing Camera
Huddle rooms are increasingly the place where workplace collaboration happens. But previous video conferencing solutions don't work well in the constrained space of a huddle room.
Work is becoming more and more collaborative with video taking a big step forward. Video conferencing saves on travel expenses and time. Space is always at a premium.
While in the past, large to midsize rooms dominated, Frost & Sullivan estimates that by 2022, huddle rooms will be far more prevalent, requiring 10x the number of video units.
Jabra has been making collaboration tools like speakerphones with HD audio for years and years.
With PanaCast, they are extending their business collaboration expertise into video.
Maximize Real Estate
PanaCast greatly reduces the amount of wasted floor space.
Consider two things:
A typical camera doesn't cover the space immediately to its right or left. Panacast can.
A typical camera has to be pushed back from the group to see everyone. Panacast can be mounted level with the group.
These two facts add up to significant savings in terms of space, which for the huddle room is all important.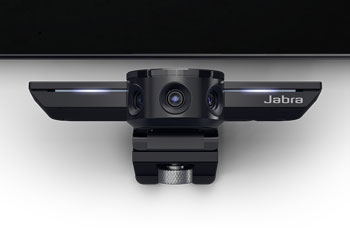 Ideal Setup
The ideal setup is a D-shaped table with people sitting around the curved edge of the D. On the wall is an HD display with PanaCast mounted beneath it.
In the center of the table is a Jabra Speak 710 Speakerphone that acts as microphone and speaker. Speak 710 provides HD audio with plug-and-play USB or wireless Bluetooth connectivity. It offers 360° audio pickup in a lightweight, portable device.
For optimal video, Jabra recommends that participants be 1.5 – 11.5ft (0.5 – 3.5m) from the PanaCast.
As with all video conferencing cameras, positioning PanaCast at roughly eye level is ideal for providing the most natural conversation experience.
Let's take a look at some of the features of Jabra PanaCast
180° Field of View
When you look at PanaCast the first thing you'll notice is that it's actually three cameras in one.
PanaCast dynamically stitches together three video streams using the onboard PanaCast Vision Processor. The combined streams give you a seamless 180° horizontal field of view.
Other huddle room solutions use fisheye lenses, which cover significantly less area. They usually around 120° - 150° on the diagonal, much less than PanaCast.
In addition, fisheye lenses (as anyone who remembers music videos from the 1990s can attest) distort images the further you get away from center, so people on the sides of the conversation are stretched unnaturally.
Because Panacast uses three cameras, it greatly reduces distortion, leading to a more natural experience.
If you don't need the full 180° field of view, you can adjust it to 90°, 120°, or 140° using Jabra Direct.
Each camera has a 13MP sensor, so when the video streams are stitched, you get a Panoramic-4k video resolution of 3840x1080 at a full frame rate.

Intelligent Camera Functions
PanaCast improves the conferencing experience with intelligent features.
Intelligent Zoom. PanaCast detects faces in the conversation and frames the group appropriately. This feature reduces wasted space on screen and ensures the viewer sees a maximum amount of detail.
Vivid HDR. PanaCast continually senses the lighting conditions in the meeting spaces and adjusts settings to ensure best picture quality.
Coming Features
Jabra improves PanaCast, even after you've purchased it.
People Count/Detection. PanaCast will automatically detect and count conference participants, which helps you improve productivity in the workplace. It does not detect specific people, so there are no privacy concerns. This feature is already available in the developer beta.
Whiteboard Capture. Share your group ideation with colleagues who couldn't make the meeting by capturing the whiteboard.
How will you get these features? You update PanaCast's firmware using Jabra Direct.

Jabra Direct
Jabra Direct is a free, lightweight application for computers. It's a simple method for managing Jabra USB devices, including headsets and PanaCast.
Control the settings of Jabra PanaCast using Jabra Direct. You can customize image settings like brightness and contrast in Direct. You can set the field of view, as mentioned above. PanaCast can be mounted upside-down. If you do, flip the video in Direct.
Direct also lets you customize the camera's operation. For example, you can control zoom manually to set it to how you want. You can activate PanaCast's internal microphones, which have a range of 8ft (2.5m). You can turn Intelligent Zoom and Vivid HDR off.
Most importantly, Direct is how you upgrade PanaCast's firmware.
Jabra Direct also lets you manage headsets. For more information on that topic, see our blog on Jabra Direct >

Jabra PanaCast Accessories
There are three PanaCast accessories you should know about: one hub and two mounts.
Jabra PanaCast Hub organizes your cabling. The Hub has a 3.3ft (1m) long USB-C attached for connecting it to a computer.
Plug all the other cables into the Hub: USB for PanaCast, USB for speakerphone, HDMI for display, and Ethernet for network.
If you don't use the Hub, all the cabling will be routed to a desktop or laptop computer.
Jabra offers two different mounts for PanaCast:
To use the wall mount, it is recommended that you mount the PanaCast directly underneath the display at a height of about 3 ft.
If you want to be able to reposition the camera easily, consider the table stand. You mount the camera on the stand, which can then sit directly on the conference table. It has an adjustable height of 6 to 12.5 inches to allow you to get the best picture.