Polycom Studio USB Video Bar has launched to incredible acclaim.
The many benefits of Studio include:
Automatic speaker tracking
Automatic group framing
Acoustic Fence, Acoustic Clarity, and NoiseBlock
Stereo microphones with 12-ft reach
Ultra-wide 120° lens
4k image sensor with 5x digital zoom
Stereo speakers
Polycom Studio also has one big advantage for business: centralized management for the entire fleet through the network. This means a single admin can securely manage 100s of Studios across campuses.
How do you manage Polycom Studio?
Using Polycom Companion.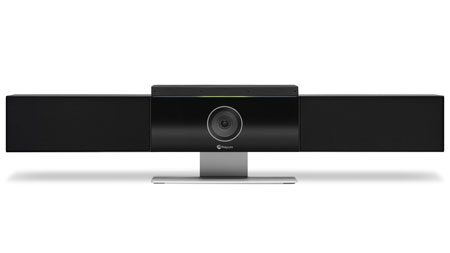 Polycom Companion
In this blog, we're going to introduce you to Polycom Companion.
What is Polycom Companion?
Polycom Companion is a free application for Windows or macOS. It is very lightweight and intuitive to use.
Companion is a centralized control center for Polycom Studio. You can also update firmware for the Polycom EagleEye Mini USB Camera using Polycom Companion.
You do not need Companion to use Polycom Studio. It really is a plug-and-play device with a remote for convenient control.
However, you need to use Companion to configure advanced settings, update firmware, connect Studio to Wi-Fi, change camera tracking, or provision Studio.
Where do I download Polycom Companion?
Download Polycom Companion from Polycom Support >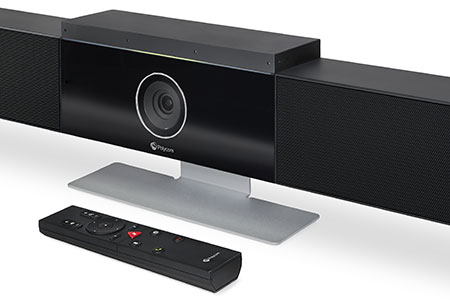 How do I access Polycom Studio in Polycom Companion?
Plug Polycom Studio into a computer on the network. When you open Companion, all the Studios on the network will appear.
The first time you use a Studio with Companion, you will need to initialize it. This is a simple process that requires you to set a secure password. You can also change the name of the Studio for simpler management.
It will ask you for a password. The default admin password is: Polycom 12#$
You can then change the password.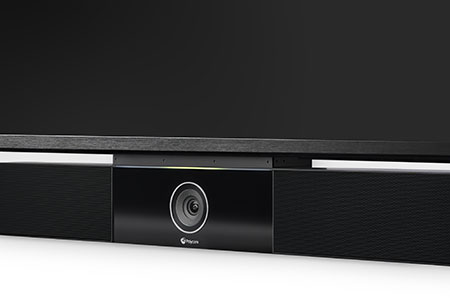 How do I connect Polycom Studio to Wi-Fi?
You need to use Polycom Companion to connect Studio to the Wi-Fi network.
After selecting the Studio you want to connect, go to Admin Settings > Wi-Fi Settings and set the status to On
Then you can configure the Studio with standard professional Wi-Fi encryption protocols, EAP methods, etc.
How do I connect to Studio with Bluetooth?
Studio can act as a professional Bluetooth speakerphone. You can connect your smartphone or tablet to Studio via Bluetooth.
Select the Studio you want to configure. Go to Admin Settings > Bluetooth and select Enable then Autoconnect
You can then connect your device to Studio.
You don't need to use Companion to connect via Bluetooth. The remote control has a Bluetooth symbol button on it. Long press the Bluetooth button until the LED lights blink blue.
You can then connect your device to Studio.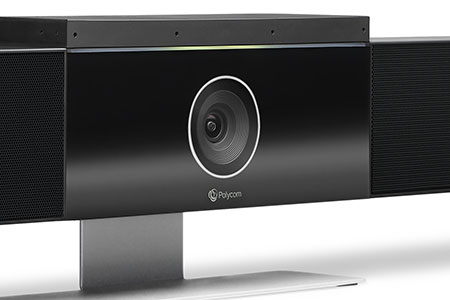 How do I get the best audio quality with Studio?
Companion has advanced audio configuration options.
Select the Studio you want to configure. Go to User Settings > Audio Settings
You then have five options to configure:
Polycom NoiseBlock prevents the Studio from transmitting background noise during video conferences.
Acoustic Fence uses the Studio's beamforming microphone to define a space. Only sound within this space is transmitted, greatly reducing background noise.
Stereo enables stereo sound.
Stereo for Skype for Business outputs Skype for Business audio in stereo. This option is only available for Windows PCs.
Bass Boost amplifies low frequencies. You must restart the Studio for this setting to take effect.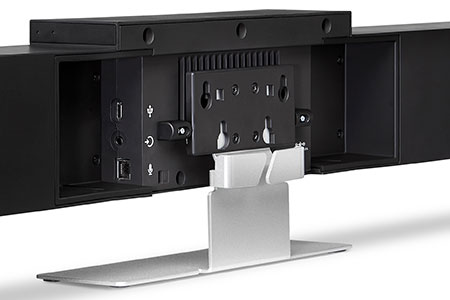 What else can I do in Polycom Companion?
In our previous blog on Studio, we covered how you can change camera tracking modes in Companion.
You can control the camera to zoom in or out and adjust the direction. You can also set up to two camera presets if that helps streamline your conference. Note that you can do both of these functions using the remote control, as well.
If you want to optimize image settings , Companion lets you set brightness, contrast, saturation, sharpness, white balance, and gain.
You can update firmware for Studio and its remote. You can also pair a different remote with Studio in case you need to replace an old one.
Admins can configure a provisioning server for Studio.
For such a lightweight application, Companion enables a lot of functionality!