Updated April 28, 2021
Since the merger of Plantronics and Polycom to create Poly, the company has been laser-focused on developing solutions for how business communications happens today.
Poly made the first series of VoIP desk phones certified for use with Google Voice by G Suite. They built a mobile phone station with seamless Microsoft Teams integration.
They're innovating and improving workplace technology.
Poly Lens is an excellent example.
In today's office, there are devices of all types: cameras for video conferencing, speakerphones for the huddle room, conference phones for the boardroom, headsets for the contact center. And on and on.
How do you manage all those devices?
Poly Lens simplifies management of your devices. This cloud-based service combines management and updating tools with professional insights into device usage.
Lens improves control while also improving simplicity. How so? Read on!
Poly Lens is currently available as a free, fully supported preview >
Check back soon for pricing and ordering information! Note that, because it is a new service, the features discussed in this blog may be forthcoming and are subject to change.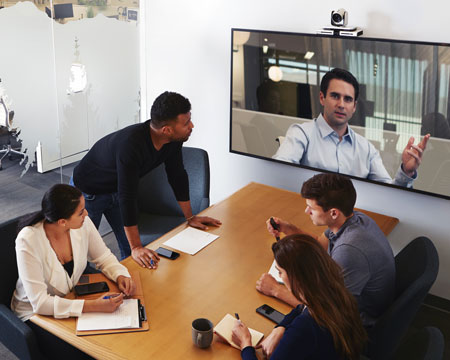 Poly Lens
Poly Lens is designed to make your business communications infrastructure simple to manage, update, and improve.
Lens provides information-rich and easy-to-digest insights.
We're going to break it down into three categories:
Device Management
Workplace Insights
Cloud-Based Solution
Device Management
Poly Lens makes management simpler.
You get an enhanced software upgrade and setting configuration experience to make sure you always have access to new features and security.
Using Lens, you can have interactive maps and filters of all connected devices, so you'll always be able to quickly find them.
You get detailed information about how the devices are being used in their specific spaces — fine-grained detail for improved decision making.
Lens also simplifies the onboarding process:
Use a QR code or PIN to link devices is frictionless
Single sign-on is secure and simple
Poly Lens works with Poly Studio X Video Bars, Poly G7500 Video Conferencing Systems, as well as several of their IP phones and headsets. Poly has an up-to-date list where you can find what devices are supported.
Workplace Insights
Poly Lens gives you detailed insights into how your devices are being used to improve productivity.
With Lens, you can actually see device adoption, device usage, and how it affects work.
Lens has an intuitive layout including familiar news feed. The most vital insights are at the top for immediate action.
The insights improve efficiency, letting the admins correct issues promptly.
Poly will also expand Lens to help you optimize the physical workspace, making better use of the devices you already have and finding new efficiencies.
Cloud-Based Solution
Poly Lens is a cloud-based service. Using a cloud-based service means three things:
Agile and innovative system with minimal labor on your end
Poly updates and upgrades the system
No need to buy servers or other new hardware
Lens also lets you migrate between service providers while still keeping the insights and device usage history.
Related Blogs