Poly just announced a new series of phones to add to their gold standard line of VoIP phones. The Edge B Series answers a simple question: What if you want pro-grade audio quality but you don't need all the fancy extra features?
Sometimes you just want an ultra-reliable phone that's simple to setup and simpler to use. That's what the Poly Edge B Series offers. And they look great doing it, too.
Who are the Poly Edge B Series phones for? These are entry-level phones, suitable for general cubicle workers of all stripes. They also make excellent public area phones for lobbies, hallways and the like. They're especially great for schools where you just need a simple, reliable solution for calling the office. Because they're durable, they also make great phones for retail stores.
There are three models in the Poly Edge B Series of IP Phones:
What's the difference between the Poly Edge B Series phones?
Edge B10 supports 2 lines. It doesn't support PoE, so it must be powered by a power supply, which comes with the phone.
Edge B20 also supports 2 lines. It supports PoE, so it doesn't come with a power supply.
Edge B30 supports 4 lines and PoE. It also doesn't come with a power supply.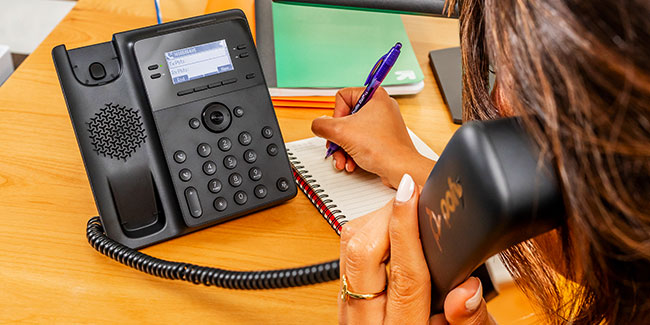 Poly Edge B Series of IP Phones
Let's take a deeper look at the Poly Edge B Series phones. They're open SIP phones, compatible with a huge range of IP phone systems and cloud phone services. You get zero touch provisioning, plus you can manage the phones using Poly's cloud management solutions like PDMS-SP and Poly Lens.
The 2.8-inch monochrome display is simple and familiar: no distractions. The phones have either two line keys (B10/B20) or four line keys (B30). The display will show up to either two or four contacts. That said, B10/B20 saves 8 contacts across pages you can flip through and B30 saves 16. These keys have multicolor LEDs to indicate status. Additionally, you have four soft keys to navigate menus.
Because collaboration is the foundation of business today, these entry-level phones support 5-way local audio conferencing.
The phones are ENERGY STAR rated for power efficiency. Poly's included in the package a phone mount that's reversible: one way it's a desk stand, the other way it's a wall mount.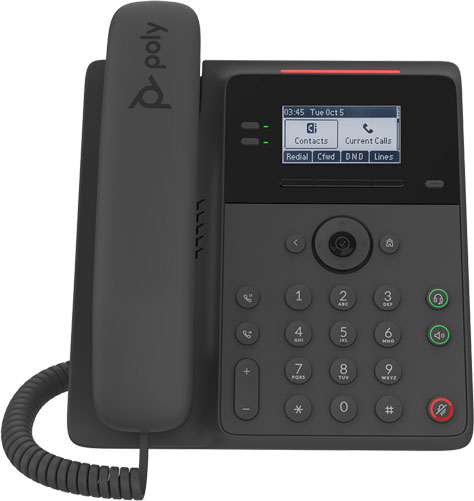 Poly Edge B Series means pro-grade audio at entry-level prices
With the Edge B Series, Poly hasn't skimped on the audio technology. You might think that at these prices, Edge B phones would sound like a tin can. But they support Poly HD Voice: rich, natural wideband audio. Better yet, you also get Acoustic Fence.
Acoustic Fence is a feature that just a couple of years ago was limited to high-end devices. It works by sensing the distance that sound travels to reach the microphone. It then eliminates sound beyond a certain point. The effect is that it creates a virtual wall around your conversation. Acoustic Fence is particularly useful in busy areas like open-plan offices.
The hands-free, full-duplex speakerphone also has advanced echo cancellation and background noise suppression. If you want to use a headset, it has a 3.5 mm port and an RJ9 port that supports EHS (Electronic Hook Switch).
Illumination as a quality-of-life feature
These phones feature lights in two places that you don't normally see with IP phones.
First, the mute, headset and speakerphone buttons are illuminated, showing you, for example, if your mic is muted or the audio is set to the headset with clear red/green lights. It's a simple thing, having large, easy-to-read buttons that are lit up, but it's the subtle things that make all the difference. The phone is made with the user in mind. The illuminated keys also act as an accessibility feature to go along with the hearing aid compatible (HAC) handset.
The second light feature is a lightbar status indicator set above the display. The lightbar lets you see if you have a call coming in or a voicemail from afar. Again: quality of life.
Related Blogs