This week, Poly has announced their most versatile series of VoIP phones yet: the Poly Edge E Series. Featuring a stylish, slimmer design, the Poly Edge E phones are packed with cutting-edge features and quality of life improvements that make them one of the most significant updates in Poly's (or Polycom's) history.
The Edge E Series adds depth to the already extensive portfolio of Poly VoIP phones. They are also the latest addition to the Poly Edge Series of IP phones, which includes the Poly Edge B Series. If you want to know more about that series, check out our blog: Poly Edge B Series brings pro-grade audio and style to entry-level VoIP phones.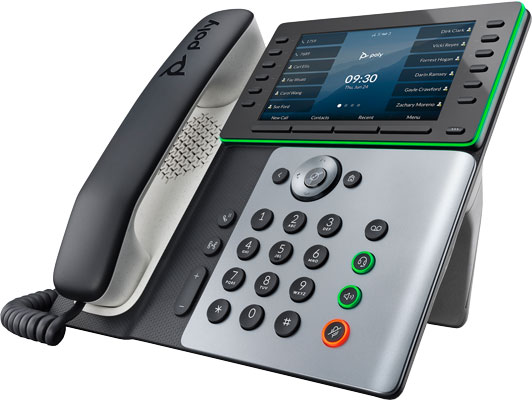 Poly Edge E Series VoIP Phones
Rather than go through every single feature in this blog (there are a lot of them), we're going to highlight the key advantages of the new Poly Edge E phones. If you'd like a full breakdown of all the differences between the models (and all the other phones Poly produces), check out our Poly IP Phones Comparison Chart.
Hybrid working and hot desking
Additional line key assignments
Improved audio
New quality-of-life features
Improved accessibility
Microban® antimicrobial protection
Hybrid working and hot desking
With this new series, Poly has developed VoIP phones for hybrid workers and hot desking, while retaining the everyday essence of the office desk phone.
A hybrid worker is one who works some of the time in the office, some of the time at home. As more and more workplaces shift to a hybrid working model, and as more and more younger workers expect this model, it becomes imperative for your business to have solutions that work with these models, like the Poly Edge E Series.
Hot desking means that multiple people use the same phone. They log in to the phone and their settings, contacts and so on are all there. In other words, hot desking is a way of using your resources more efficiently: one phone for multiple people. However, importantly, each person still gets a complete experience. For more on hot desking, check out our blog: Hot desking on VoIP phones for hybrid workers.
All the phones support NFC, which has the potential for advanced integrations. For example, you might be able to use NFC with your Android phone to securely log in to the phone by just placing your smartphone near the Poly phone, then tapping a button: no need for a password.
Poly Edge E phones that end in "50" come with Wi-Fi and Bluetooth. Wi-Fi is an important feature, particularly for home office workers who don't want to run Ethernet cabling around their houses.
Poly Edge E phones that end in "20" support Bluetooth. Bluetooth lets you pair the desk phone with your smartphone. It also lets you use a wireless Bluetooth headset.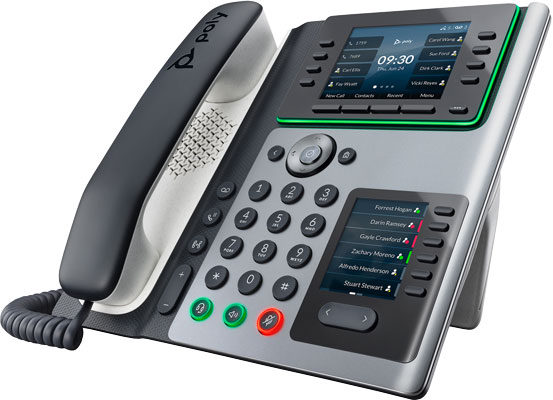 Additional line key assignments
All the phones in the new series support multiple pages of line key assignments. What does this mean, and why is it important?
A line key is one that you can set to speed-dial an extension or use for other features. Poly Edge E220, for example, has 4 line keys. However, Edge E220 supports multiple pages of line key assignments, which you can scroll through, so the phone actually supports 16 line key assignments in total. This makes all the phones significantly more useful, streamlining the work process for all users.
The models in the Edge E400 Series have 8 line keys around the main display and an integrated sidecar with 6 additional line keys, which means you have 14 line keys that you can see at any one time. The main display supports 4 pages, so supports 32 in total; the sidecar supports 2 pages. In other words, out of the box, Edge E400 phones support 44 line key assignments! This is a significant upgrade.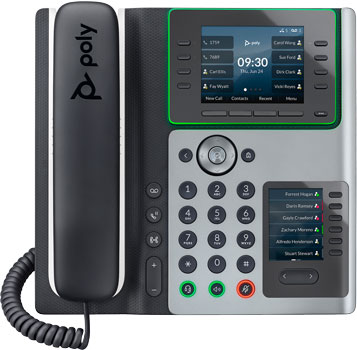 Improved audio
Poly is known for their exceptional audio quality, and the Poly Edge E Series is no different. In fact, audio has been improved.
HD Voice provides rich, naturalistic sound quality for voices. Improving audio quality has been shown to improve comprehension, a business necessity.
Acoustic Fence, which works with either the handset or a headset, senses the distance that sounds travel to reach the phone, then blocks out sound beyond a certain distance, creating a virtual "fence" around your conversation, greatly reducing background distractions.
NoiseBlockAI performs a similar function for the speakerphone, getting rid of the vast majority of background distractions on your conversations. These technologies also improve comprehension and general quality-of-life.
The Edge E400 and E500 phones have a new speaker design that enhances the bass frequencies, making the speakerphone that much better.
New quality-of-life features
A significant quality-of-life improvement is the new multicolor status indicator lights. On 300, 400 and 500 Series phones, this light surrounds the primary display, acting not only as a visual aid for you, but also as a busylight for your colleagues, letting them know when you need to focus or when you're available. You'll be able to customize the coloration of the indicator light, setting it for your preference.
All models in the series have color displays, too, so you'll have a fully modern feeling phone.
Another notable modernization is that the phones have USB-C ports rather than USB-A. The Edge E500 Series has two USB-C ports; the rest have one. You can use this port for USB Headsets, charging devices and other applications. For Edge E400 and E500 Series Phones, the USB-C port is also how you attach the optional Poly Edge E Expansion Module, if you require more lines.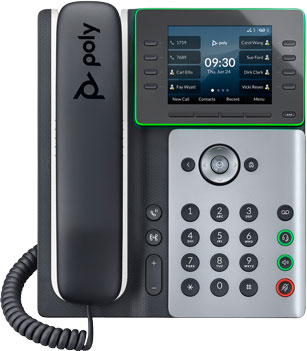 Improved accessibility
One of the focus areas with the Edge E Series for Poly is making them the most accessible VoIP phones they've ever produced.
The handset is hearing aid compatible (HAC). Other features for hearing-challenged users are visual message indicators and visual notifications. The phones also support third-party TTY devices.
For vision-challenged individuals, they've developed a text-to-speech feature. It works like this: you press the key, then the phone reads out the key information. It works for line keys and soft keys, as well as many of the other keys.
They've also implemented screen setting adjustments so you can adjust colors, change the font size or make the text bold, enable high contrast mode, and more.
To learn more, check out our blog: Poly Edge E VoIP phones offer extensive accessibility features.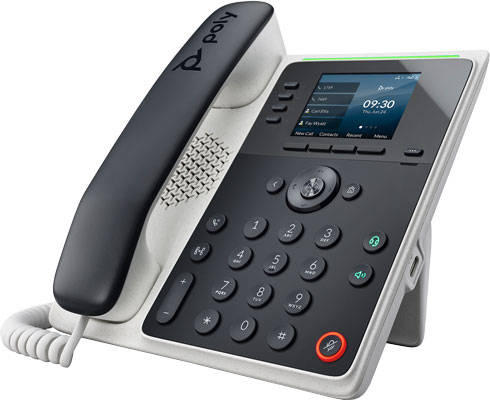 Microban® antimicrobial protection
The phone's console, handset and handset cord have integrated Microban® antimicrobial protection. That means that it has material in it that actively resists the growth of microbes.
We don't need to tell you that sanitation is more important than ever. With the Edge E Series, Poly has raised the bar. This is especially important if you use one of these phones for hot desking, or for a public area phone when multiple people will be using it.