With their contact center headsets, Poly brings the same balance of professional audio quality, all-day comfort, cost-effective design, plus advanced features that have made Plantronics contact center headsets so popular for so long.
Poly's latest entry is the Poly EncorePro Series.
There are six headset models in the series, distinguished by connector type and audio type. Here's a comparison chart: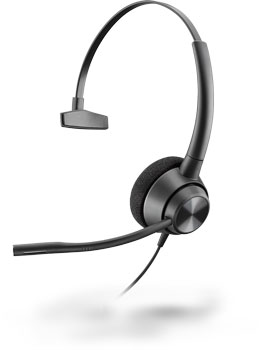 Poly EncorePro 300 Contact Center Headsets
EncorePro 300 headsets are designed for everyday use in the contact center. As Poly puts it: "Comfort. Reliability. Value."
The headsets are very lightweight and have replaceable foam covers for the headphones.
Poly USB headsets are plug-and-play solutions: USB-A for use with traditional ports or USB-C for the ports on newer computers and laptops.
You can use Plantronics Hub with the USB headsets, which is a lightweight application that makes it convenient to adjust settings, update firmware, and more.
The USB headsets have additional features. We'll explain below.
Professional Audio
The headsets offer excellent audio quality.
The microphone is placed on a flexible boom, which lets you position it optimally: about two fingers from your mouth.
The 4mm mic is unidirectional with noise cancellation.
The speakers provide voice-optimized frequency response. This feature improves comprehension for a superior customer experience.
The dynamically switching frequency response also improves the quality of sound for multimedia (music, video).
With all-day headsets, long-term damage from sustained loudness can be a big problem.
But it's not a problem with EncorePro 300: the USB models come with acoustic protection, including G616 anti-startle protection and time-weighted average controls.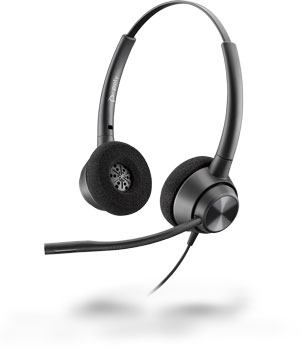 Mono vs Stereo
EncorePro 310 is a mono headset. EncorePro 320 is a stereo headset.
Mono headsets are useful in the office, because they leave one ear uncovered. The user stays in touch with their surroundings while working.
Stereo headsets improve focus by having both ears covered.
Which one is better for you is entirely up to your and your worker's habits and preferences.
Inline Controls
EncorePro 300 Series USB headsets have inline call controls: call answer/end, volume up/down, and mute.
You can set the controls to make tones when the button is pressed.
The headsets also have convenient inline call indicators for a visual signal of status: green means in a call, red means mute is on.
If you'd prefer an audio signal, the headset offer a dynamic mute alert that tells you when you're speaking with mute on.

Poly EncorePro 300 QD Headsets
Poly also offers models EncorePro 310 and 320 that connect to desk phones using Plantronics QD cables.
QD (Quick Disconnect) is a proprietary connector for headsets. QD lets the user disconnect and reconnect the headset cable without taking the headset off. If the user is on a call, the call is automatically put on hold.
In other words, QD gives a wired headset a taste of mobile convenience. The QD connector has been tested to over 30,000 cycles.
EncorePro 300 QD models provide the same rich audio as the USB models; however, they do lack some features. They don't have dynamic mute alert, audio protection, inline controls, and can't be used with Plantronics Hub.