Google Meet is Google's secure voice and video conferencing application.
Formerly known as Google Hangouts Meet, it is part of the Google Workspace suite of business apps, which was itself known until yesterday as Google G Suite.
Meet leverages Google's secure worldwide infrastructure and engineering expertise for an enterprise class experience — in the office, at home or anywhere you have network service using the Android and iOS apps.

All Google Meet video conferences are encrypted, meeting the DTLS (Datagram Transport Layer Security) and SRTP (Secure Real-time Transport Protocol) standards. Meet also features extensive anti-abuse measures, including meeting codes that are designed to repel brute force password guessing.
Meet integrates with the familiar apps in Google Workspace. For example, you can setup and join a meeting using a Calendar event or Gmail email. You can migrate from Chat to Meet for face to face communications. And, of course, you can collaborate on Docs and Sheets while on a Meet call.
Google uses their incredible technological intelligence to provide productivity and accessibility enhancing features like live captions, noise cancellation and low light mode.
For the most professional Meet experience, particularly at home, you'll want a headset. Using a headset for video conferencing improves audio quality and allows you to focus better on the conversation.
Poly has worked with Google to provide a full portfolio of certified Google Meet headsets. Here's a list as of right now:
Poly Blackwire 5220
Poly Savi 8220 UC
Poly Savi 8240/45 Office
Poly Voyager 4210 UC
Poly Voyager 5200 UC
Poly Voyager 6200 UC
Poly Voyager 8200 UC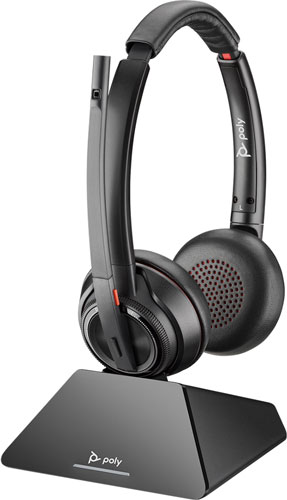 Google Meet Headsets from Poly
We're going to give a brief overview of the options to point you in the right direction if you're looking for a headset to use Google Meet.
Blackwire 5220 is a stereo headset with dual plug and play connectivity: USB or 3.5 mm. (It comes in either USB-A or USB-C models.) The headset offers passive noise cancellation, digital signal processing, an inline call controller and all day comfort.
Savi 8220 UC is a wireless stereo headset with active noise cancellation hi-fi audio quality. It uses DECT 6.0 to provide secure wireless connectivity with the base up to nearly 600-ft line of sight or almost 200-ft in a typical office environment. The headset features Close Conversation Limiting technology to greatly reduce noise.
Savi 8240 Office is a wireless monaural headset that offers your choice of three wearing options: earhook, headband or neckband. Incredibly light, it features Close Conversation Limiting technology and DECT 6.0 connectivity like the 8220. In addition, its base supports Bluetooth, so you can use it for your smartphone, too.
Savi 8245 Office is the same as the 8240, except with unlimited talk time using a hot swap battery. You can remove the headset's battery and insert a fully charge one while you talk. Recharge the expended battery in the headset base.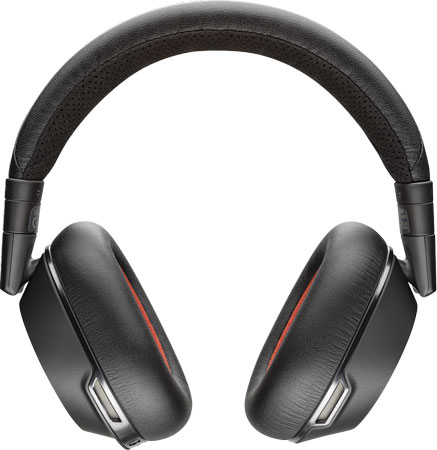 Voyager 4210 UC is a Bluetooth headset with mono sound. It offers a dual microphone system for passive noise cancellation and support the A2DP audio profile for music worthy sound quality.
Voyager 5200 UC is an ultra lightweight Bluetooth headset that fits over your ear. It uses Wind Smart technology to reduce environmental distractions, making it perfect for an on the go headset. Its charging case offers up to two full charges, so you'll never be hurting for power.
Voyager 6200 UC is a professional neckband headset with Bluetooth connectivity. Designed for comfort and convenience, it features intelligent noise cancellation and wideband audio quality. The neckband can be set to vibrate for a subtle notification.
Voyager 8200 UC is an over the ear Bluetooth headset for a luxurious experience. Call controls are integrated on the earpieces. It uses a boomless four microphone array with dual mode active noise cancellation for executive class audio. In fact, it's as good to use for music as it is for Google Meet conferencing.