Poly, the merged company of Plantronics and Polycom, has taken the lead when it comes to combining business-oriented design, extensive interoperability, and top-class audio.
Take the new Savi 8200 Series of wireless headsets. This series pushes the limits of wireless connectivity while retaining cutting-edge noise cancelation, HD audio, and more.
In this blog, we're going to give you a detailed introduction to the four newest models of Savi 8240 and 8245 Office Headsets:
The Microsoft models are identical to the others in features. They are compatible with Skype for Business and Microsoft Teams.
Let's take a closer look!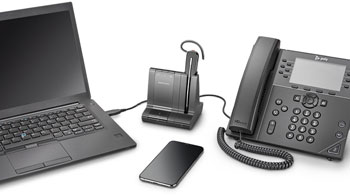 Savi 8240 & 8245 Wireless Headsets
To introduce the headsets, let's talk a bit about wireless.
Savi 8200 headsets use DECT 6.0 to communicate with a base station. The base station connects to a phone or computer.
By using DECT the headset offers wireless range far beyond what Bluetooth can offer: up to an incredible 180m (590ft) line-of-sight or 55m (180ft) in a typical office environment.
Does having such range leave your communications unprotected? No.
The headsets are DECT Security certified by the DECT Forum. Poly applies eight discreet security measures to provide professional security, including authentication, verification, and encryption.
Using DECT also reduces spectrum density by reducing the number of wireless devices using Wi-Fi or Bluetooth in the office.
In this blog, we're going to explore the stand-out features of the new models:
HD Audio Performance
Unlimited Talk Time
Convertible Wearing Style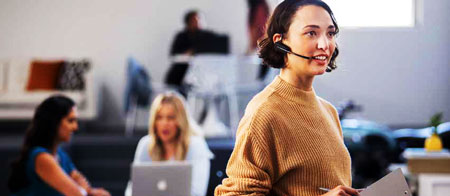 HD Audio Performance
Savi 8240 headsets offer HD monaural audio.
For conversations you get wideband audio and for multimedia you get 20 Hz to 20 kHz fullband audio.
The microphone takes noise cancellation a step further with Close Conversation Limiting . This new feature greatly reduces the volume of nearby talking when you're on a call.
In other words, it's an incredible feature for the open office.
When using the headset with Bluetooth, the headset supports profiles for improving sound quality:
A2DP (Advanced Audio Distribution Profile)
HFP (Hands-Free Profile)
HSP (Headset Profile)
In addition, Poly offers features to protect the wearer's ears.
SoundGuard DIGITAL guards against extreme volume above 118 dBA, which can damage ears. Anti-startle technology guards against sudden spikes in volume.
Everyday volume levels can also damage ears over time. You can set a time-weighted average so your ears aren't exposed to more that 85 dBA on average.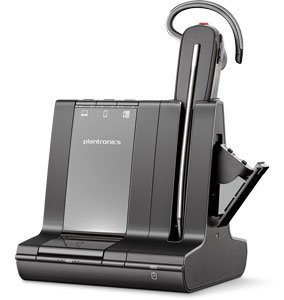 Unlimited Talk Time
The Savi 8200 Series convertible headsets come in two models: 8240 and 8245.
What's the difference between Savi 8240 and Savi 8245?
Savi 8245 offers unlimited talk time.
How? It comes with an extra battery that charges in the base station.
You can hot-swap the batteries.
That means that when the battery is running low in your headset, you can remove it and put in the fully charged, spare battery — without any disruption. The headset won't turn off when you remove the battery and put in the new one.
The 140 mAh Li-ion polymer batteries are rated for up to 7 hours of talk time and up to 30 hours of standby time. The batteries charge in only 3 hours, so the spare battery will have plenty of time to recharge.
Bonus: The batteries are replaceable, unlike with many wireless headsets.
Instead of having to replace a whole headset when its battery's power declines – as all batteries do – you can just get a new battery.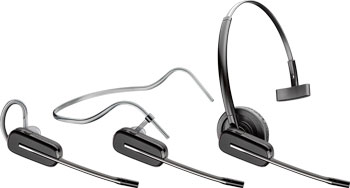 Convertible Wearing Style
Savi 8240 offers your choice of three wearing styles:
Over the ear
Behind the head
Over the head
The package comes with the three options, and you can switch between them as you like.
When you use the headset with the earhook, it weighs only 21g. That's roughly weight of four US pennies. You'll hardly notice it's there!
If you're going to use a headset all day in the office, shaving the grams can make a huge difference ergonomically.